Almost everyone has  experienced trouble trying to park or reverse and if that isn't the case, at least you might have instances where you were worried about the vehicle behind or by your side bumping into you. Here is why backup and dash cameras are very essential to you as a road driver. If your vehicle doesn't already come with an inbuilt backup camera, you can always purchase one of high quality and one of such is the DMYCO Backup Camera /Car Mirror Dash Cam.
As a driver, these experiences can be quite stressful especially since you have to be extra careful to avoid collisions resulting in an accident.
About Product
One thing that makes the DYMCO Backup Camera/Car Mirror Dash Cam topnotch is its dual functionality and how it comes highly equipped with useful specifications and functions.
The DYMCO backup/Mirror Dash Camera comes with an 11ft car charger, 18ft cable charger, a 32G TF card, a reset and installation tool.
With a product dimension of 32.77 x 11.18 x 8.13 cm and weighing about 900 grams, the DMYCO Backup/dash camera comes with a 12″ IPS display screen that provides an easy touch navigation, visual angles that are wide and aid video clarity, ensures parking and reversing safety and assistance.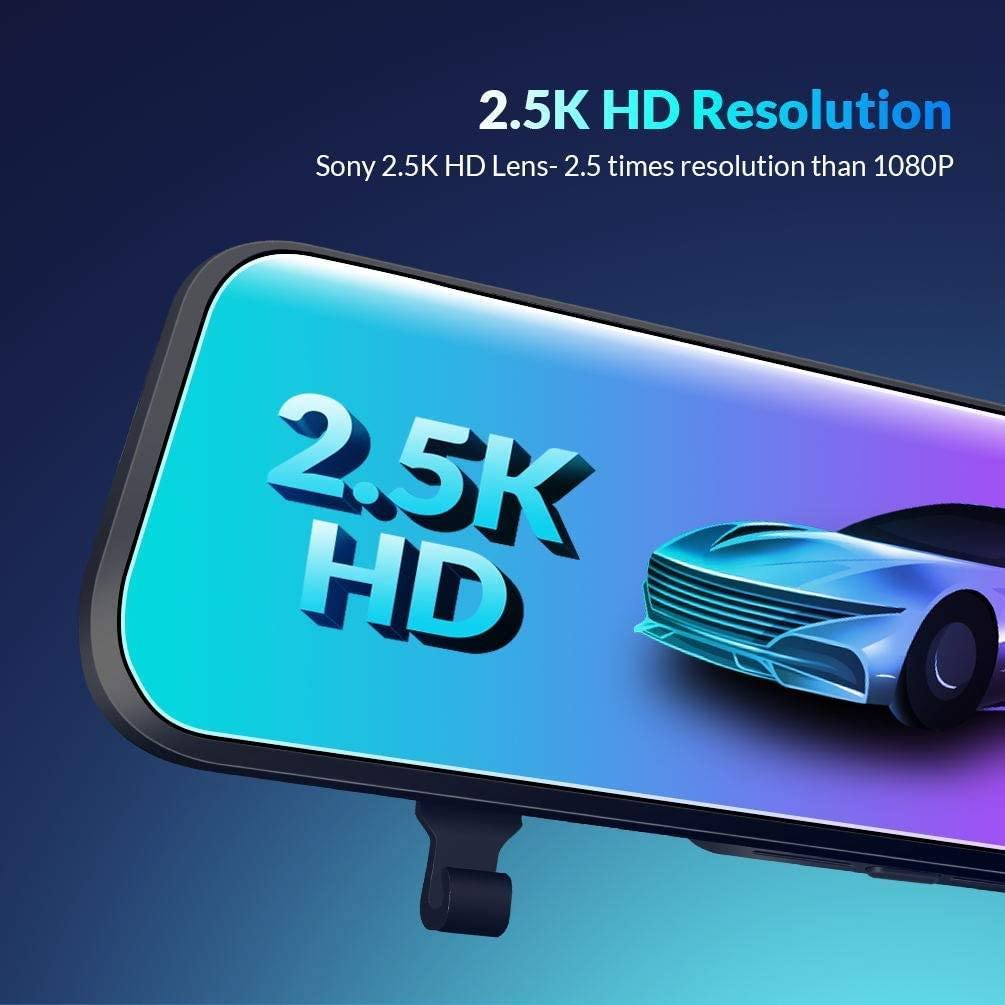 With an upgraded higher resolution of 2560p/1080p for both dash camera and backup cameras, the DMYCO has been made to provide smooth and improved images that records everything going on around your car.
This device costs $159.99 and is also equipped with a streaming media feature that allows you to get the best views of both your front and rear cameras. It comes with an advanced Analogy High Definition (AHD) Technology that gives you the best video recording experience at night with its super Night Vision feature.
The DYMCO Backup Camera/ Car Mirror Dash Cam comes with another wonderful feature which is G-sensor technology that allows the gravity sensor to automatically save video clips once a collision is detected.
What is Product For
This product is great for reversing and parking efficiently and without mistakes.
It also gives you an edge over other drivers as you are now aware of all that goes on the road around you, thus eliminating the strain of always trying to balance driving and turning to monitor what's happening around your car. It is one of Best dashcam like Haloview RD7 Backup Camera .
Who is it For and How Helpful can it be
This device is for the average car owner who is out to protect his vehicle from every accident that might occur while on transit.
The DYMCO Dual camera system is also beneficial to the driver as it is durable and guarantees effective protection against impacts and forceful collisions to your vehicle.
With its quality dash cam and rear view camera, this product is able to record what goes around your vehicle and in cases of accidents, the recorded files are stored as evidence against lying culprits or extorting insurance officials.
FAQs on DYMCO Backup Camera/Car Mirror Dash Cam
What storage capacity is best for the DYMCO backup camera/car mirror dash cam?
This device supports a maximum of 128G SD card, and comes with a 32G SD card already included in the package.
How can I use the parking monitor function on my device?
To use the parking monitor function on the DMYCO dual cam system, you'd have to install a hardwire kit to power the device. However, the hardware kit is not included in the package. Furthermore, You'd have to contact the DYMCO company to purchase a hardwire kit separately.
Can I use another cigarette car charger for my dash cam apart from the one that came with the package?
It is advisable that you use the original cigarette car charger that comes with the package, as other car chargers may have the propensity to affect the sensitivity of the touch screen and disrupt the overall stability and performance of the device.
How to install it in a car
Installation instructions vary from brand to brand and the DYMCO has different backup/dash cameras available.
To install this device in your vehicle you'd have to refer to the installation manuals which come contained with the system's package.
You can also watch installation videos online as these installation videos are available on YouTube.
Pros
Has great user interface.
Wide and bright Display screen.
Great quality.
Comes with a free 32G TF card.
Easy to use.
Super HD video quality.
Great sensor and parking motion detector.
Cons
G-sensor is set to high-sensitivity
Mirror Dash Cam may become loose after some time.
Conclusion
You may have your misgivings about purchasing the DMYCO dual dash cam as it is a new product that just came into the car accessories market.
However, be rest assured that this product is already gaining grounds amongst car users with its amazing functions that makes it stand out from other famous competitors in the market.
The DMYCO dual dash cam is a modern and well-designed camera system that provides important and exquisite functions to its users. It offers a 12″ large IPS display screen and is equipped with 2 cameras that have been upgraded to the latest version and offer the best recording quality no matter the time the video is recorded.
With this device, you're guaranteed a smooth driving experience while driving.
If you are thinking of a product that you can get that won't break the bank and still manage to live to its potential, then I'd say the DMYCO Backup Camera/Car Mirror Dash Cam is a sure bet for you.