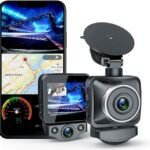 Dashcams help you capture video footage while driving. They come either with a battery or super capacitor to help save video footage once your car is turned off. Dashcams can be very useful in the event of an incident or for taking video recordings of trips or monitoring your vehicle's passenger seat. One of the dashcams available in the market is the ANKEWAY Dual DashCam 2021 with Built-in WiFi & GPS that you'll get to know more about in this article.
 About the product
The ANKEWAY 2021 New Dual Dash Cam is a dashcam with a rotatable suction mount that turns up to 360°. It also comes with a 2.0 inch LCD screen, Full HD front and cabin dashcam and Super Night Vision.
The dual dash cam records events happening at your front and in your cabin simultaneously. Nothing misses its eye. It supports a class 10 micro SD card of up to 128GB. Moreover, It also uses a lithium polymer battery. However, it's important to keep in mind that the package doesn't come with batteries or an SD card.
It possesses a 175° rotational camera and WiFi. In addition, The WiFi feature allows you to easily and quickly access recordings from your mobile device. This includes both android and IOS devices and is done via the "Kakaok app" which can easily be downloaded on your app store. The app allows the user to download and share videos and recordings.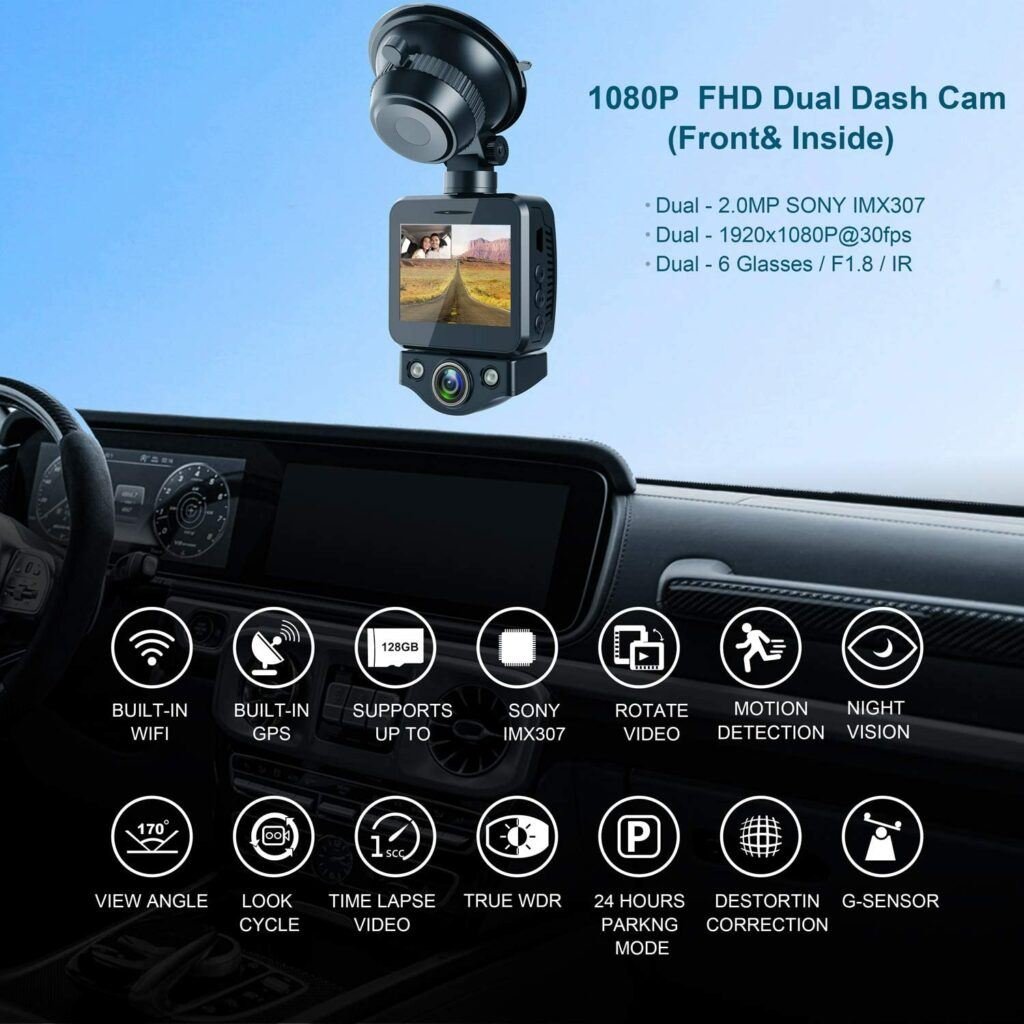 The ANKEWAY 2021 Dash Cam cameras come with Sony sensors, 170° wide angles and HDR. Equipped with super Night vision, the device has the ability to capture amazing images even in ultra low light conditions.
It comes with a G-sensor and Motion Detector. While the G-sensor locks and saves video footage in the event of a collision, the Motion Detector automatically starts recording once motion is detected around the vehicle. It also comes with loop recording as well.
To watch videos on your PC, you can use the GPS player which can easily be installed via steps given in the user's manual. Moreover, This device has a built-in GPS feature that records your speed and location in real-time.
What is the product for?
The product is for capturing video footage of events taking place outside your vehicle and within your cabin.
Who is the product for and how helpful can it be?
The product is for drivers who need video footage as evidence or as a means of monitoring their vehicle. It is extremely useful as it also captures images even in ultra-low lighting conditions.
FAQ's for ANKEWAY 2021 New Dual Dash Cam
● Can I view FHD recordings through my phone or PC?
The device allows you to view the 1920X1080 FHD recordings on any device of your choice.
You can choose to view it through your mobile phone via the Kakaok app or through your PC via the GPS player.
● What are the package contents?
The package comes with a crowbar, a USB charger and data bundle, a 360° suction mount, one dual dash cam and a user manual.
● How easy is it to lose the WiFi network?
When connecting WiFi to this device, you are advised to connect to WiFi within a 5 meters range. Moreover, If you exceed this, you will lose the WiFi network.
How to install it in a car
● Firstly, Insert a MicroSD class 10 card into the device.
● Secondly, Using the suction mount, mount the dashcam on the windshield.
● Finally, connect the dash cam to a USB car charger and power on the device. You can hide wiring by the edge of your vehicle's windshield.
Pros
● Rotatable suction mouth
● Super night vision
● WiFi
● Ability to watch videos from mobile devices and PC
● Easy installation
● Wide-angle camera
● G-sensor
● Loop recording
● Motion detection
● GPS features
Cons
● Doesn't come with a battery
● Doesn't come with an SD card
● No audio recording
● Doesn't have a dedicated parking mode feature
● No super capacitor
● Lacks gesture control
Conclusion
For the budget-friendly price of $99.99 the ANKEWAY 2021, New Dual Dash Cam with Built-in WiFi & GPS possess all the needed features.Moreover,  It has the ability to capture stunning images both in day and nighttime conditions as it protects your video footage through G-sensor, emergency locking and loop recording.
It also possesses a motion detection feature and the ability to watch videos from your mobile phone and PC. Although, it doesn't have certain features like a super capacitor or parking control and it doesn't come with a battery or an SD card.
However, it's budget-friendly and does all that a dashcam is required to do. Furthermore, It also has a track record of customer satisfaction based on customer reviews. In conclusion, even though there are dash cams with more features, it would be a great decision to purchase the ANKEWAY 2021 New Dual Dash Cam.
We hope you found our ANKEWAY 2021 Dash Cam review interestingly helpful. If you have a comment or question, leave it in the box below, We will be glad to hear from you.