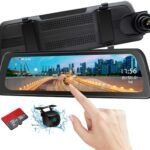 With every passing day, new dash cameras are being sold to drivers and almost everyone of these manufacturers are in a competition to outdo one another when it comes to how functional their dash cameras are. Even with a proliferation of dash cameras with this ability, choosing one can still be a bit of a problem. However, one dash camera that you should probably take note of is the 9 inch Mirror DashCam Backup Camera
There's no denying that dash cameras are very important to drivers because of the purpose they serve. These accessories help provide surveillance for your vehicle against unplanned emergencies and accidents, especially as they serve as an important tool for providing evidence in serious cases where investigations have to occur.
About Product
The Mirror Dash Cam 9 inch Backup camera weighs 1.76 pounds and has a package dimension of about 13.7 x 5.3 x 2.9 inches
Along with the package includes a Mirror Dash Cam, a backup camera, 1 car charger and a mini USB cord. It also comes with screws, a 3M tape, 4 mounting rubber straps, a user manual, a 32G SD card and a 26ft rear extension cable.
One feature of the Mirror Dash Cam 9 Inch Backup Camera is that it has a G-sensor technology that makes it possible for your dash cam to immediately start recording once a collision to your vehicle is detected and these video clips are then stored immediately after recording. It also features a Loop Recording function where older recordings are overwritten except those that have been locked and saved.
Mirror DashCam 9 inch Backup camera
The Mirror Dash Cam comes with a 9.88 Inch IPS touch screen that makes navigating very easy as the screw is highly responsive to touch. The backup camera has a 1080P camera quality and also a visual angle of 150° that provides very clear images of what's happening behind your car as you drive and this is most useful when trying to reverse or park safely with its assist parking lines.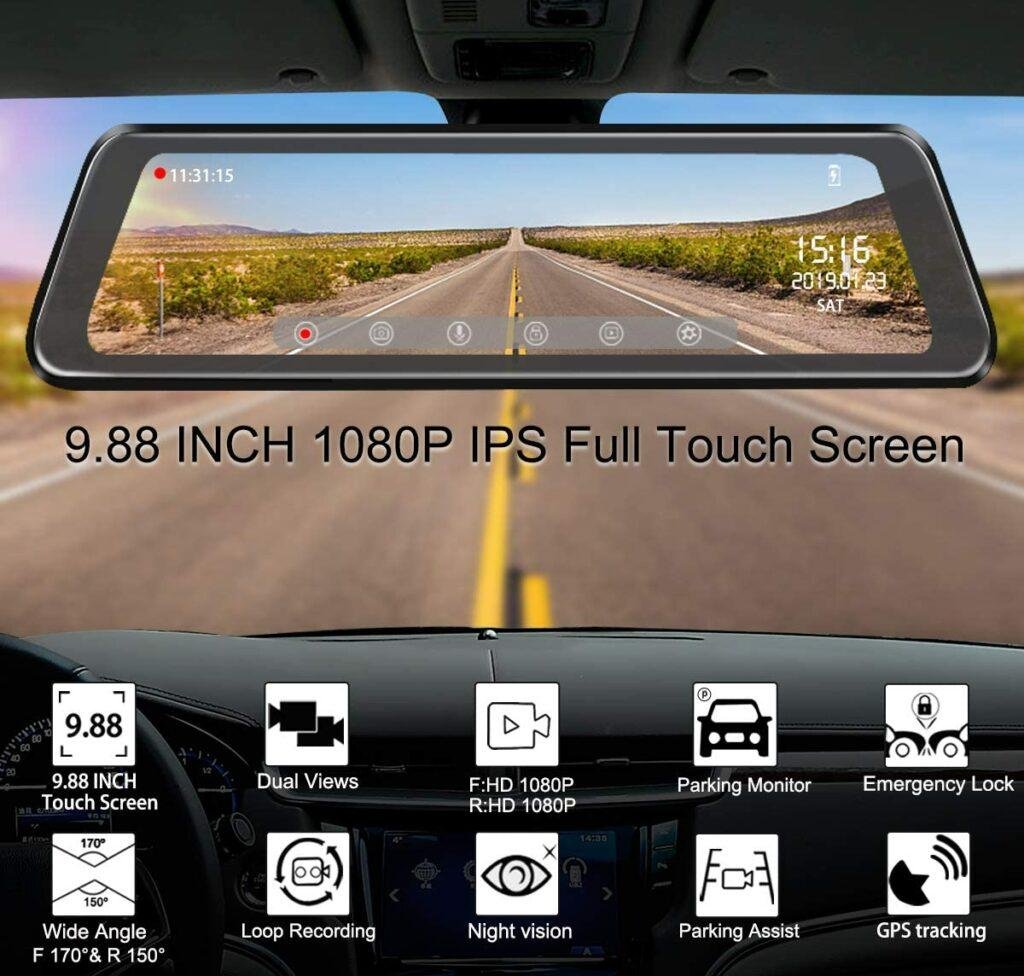 Equipped with a Packing Monitor function, you can turn on the packing monitoring mode to act as surveillance for your car when packed in busy places. However, this might not function 24-hours till you connect the dash camera to your vehicle's fuse box while having a 5V/2A hardwire kit which is usually purchased separately.
The device is also great for any climate as it performs excellently in really bad or extreme weather conditions. Its Super Night Vision so ensures that your camera produces high quality clips during night time ensuring that you're protected whenever you choose to drive at night.
Finally, the Mirror Dash Cam 9 inch Backup Camera offers a GPS tracking function that records all that you do with your vehicle such as your driving Speed, route, location and even the direction you're taking. However, you'd have to purchase a GPS antenna separately to use the GPS tracking function.
What is Product For
This device is designed to provide all round surveillance and security for you and your vehicle with its video recording functions that serve as evidence in the event of an accident or when you're in need of an insurance claim.
Who is it For and How Helpful can it Be
The Mirror Dash Cam 9 Inch Backup Camera is for all drivers who drive regularly and want to be assured that their vehicles are efficiently protected from dangerous drivers who might likely cause accidents.
It is beneficial because it keeps the driver informed of all that is going on around him, and ensures convenience as the need to always turn around to check what's going on is eliminated once your dash camera is mounted and functioning properly.
FAQs on Mirror Dash Cam 9.88 Inch Backup Camera
Does this device have a Wi-Fi option for connectivity?
Unfortunately, the Mirror Dash Cam 9 inch Backup camera doesn't support a Wi-Fi function
Is it true that the rear camera is powered by the front camera?
Definitely. The rear camera is power by the front camera once its cable is directly connect to the mirror unit.
How can I use the GPS support function on my dash cam?
You can only use the GPS support and tracking function if you have a GPS antenna mounted in your vehicle already. If you don't, you'd have to purchase one separately as it doesn't come with the package.
How can I download and save video files directly to my smartphone?
There is no way to download or save video files directly from camera to your phone unless you take out the SD card or use a Mini USB cord to transfer to your PC.
How to install it in a car
To install the front camera, follow these steps
Use the rubber straps that come with the package and mount your mirror dash cam to your normal rear view mirror.
Plug in the dash cam to the power supply and watch your camera come on.
To install the rear view camera, follow these simple steps
Find a suitable mounting spot, preferably close to your license plate.
Run the rear cable from the rear to the front unit of your car.
Just like that your rear view camera is up and working
Pros
Excellent GPS logger
Nice display screen
Super camera quality for both rear and front cameras
Works effectively with a 64G TF card
Touch screen is super responsive
Quality packaging
Simple to use
Inexpensive
Cons
Not glare resistant
Poor quality of rear camera
Doesn't has a WiFi function
Doesn't have the Lane Departure Warning System (LDWS) feature
Conclusion
Aside from the fact that the package comes with a Mirror Dash Cam, a backup camera, 1 car charger and a mini USB cord and so much more, there is no denying the fact that the product has a lot of value for the price at which it is sell.
Perhaps one fascinating thing about the Mirror Dash Cam 9 Inch Backup Camera is that it is quite easy to mount and install in your vehicle. The device comes with some features and functions that all aim at providing the best driving experience for you, while ensuring that your security is place at top priority.
The only major problem I seem to have with this product is that it doesn't come with a Lane Departure Warning feature which is basically essential for drivers especially beginners. Asides that, the product is one that comes highly recommended.
Overall, it's easy to say that this device comes with an amazing quality and functions in a way that really would leave you pleased especially if your car doesn't come with an inbuilt dash or backup camera.