For smart driving experience in both known and unknown regions, GPS Navigation systems have been used as a basic medium for achieving this unprecedented comfort. The XGODY 9 inch GPS Navigation system is a sleek device that orchestrates your perfect driving experience.
While you relax in the driver's seat and follow the well-laid, safe routes on the high-definition LCD touchscreen brought up by the device.
About Product
The XGODY 9 inch GPS Navigation device goes for $95.99 on Amazon. And it has a 9-inch-high definition touchscreen with easy-to-read, a clear resolution that does not provide any discomfort while in use.
The device also uses the touchscreen as a command input format that responds to your motions made by your finger over the screen. The device operates a high sensitive GPS receiver module, so there should be no problem getting precise locations and turns. And it has an SD card reader that is compatible with Micro SD cards with a capacity of up to 32GB.
The device operates 236MB RAM and 8GB internal memory. It is powered by a built-in Li-ion 2000mAh battery with a working time of about 1 hour. The charge time of this device is about 2 to 3 hours for the system to get fully charged. However, it is quite disturbing that the charge time is higher than the working time.
Although, this product also has a real voice Navigation feature that takes your spoken requests and communicates with you for the best user experience.
The device operates a 3D map feature that also comes in handy while driving through multiple lanes and it helps determine the most appropriate lane.
XGODY 9-inch GPS Navigator Review
This product comes with all American maps, including Chile, Canada, Brazil, Argentina, Columbia, Costa Rica, and the United States. These maps can be update if the need arises and all that has to be done is to contact the manufacturer via email through Amazon.
The XGODY 9 inch GPS Navigation has a rather superb customer support service that takes care of regular map upgrades and any requests of interest.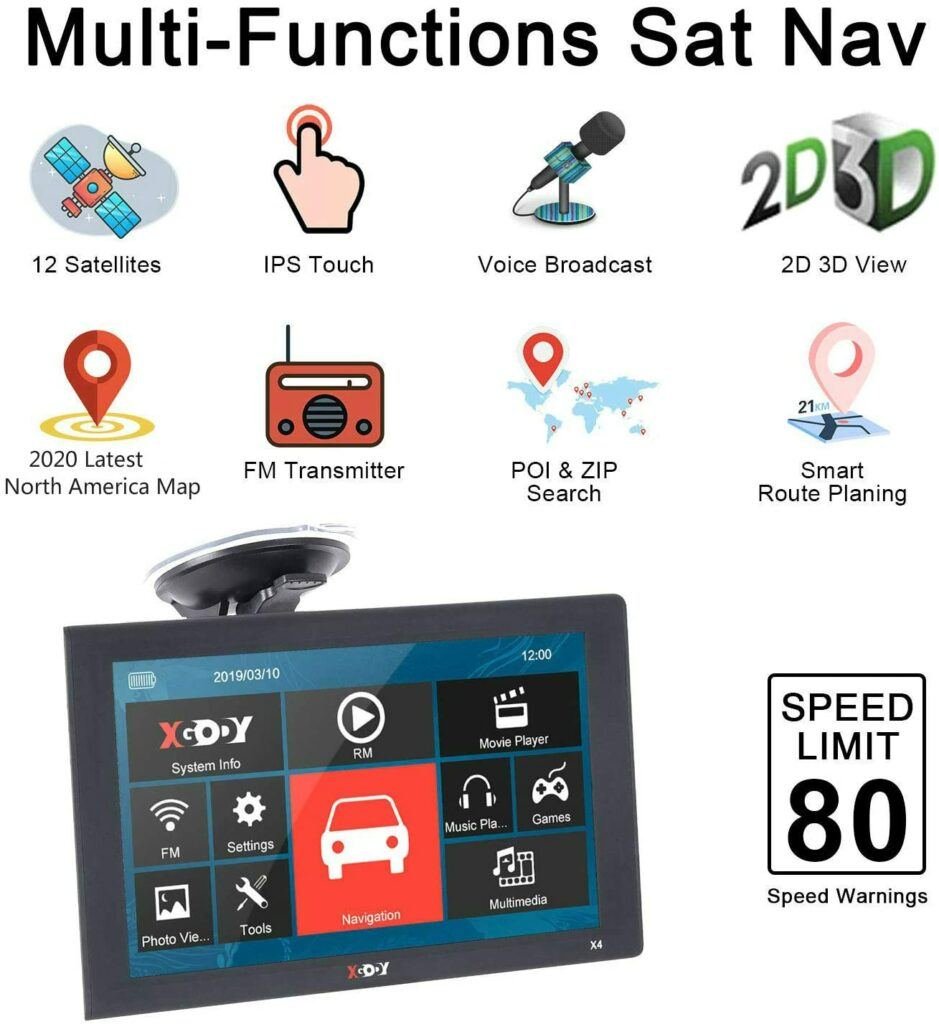 The device operates based on smart route settings based on your vehicle's configuration. This feature allows the XGODY 9 inch GPS Navigation device to fix the most suitable routes for your vehicle based on its weight, size, and height; avoiding routes that have height and width restrictions.
The device also allows the best selection of road types: unpaved, toll routes, charge roads, and highways while all the while looking for the best way to satisfy you. The product is also wire to ensure your safety with its constant warning alerts speed cameras.
The XGODY 9 inch GPS Navigation Is configured to give you access to places of interest like airports, hotels, railway stations, restaurants, and gas stations. The device also has multimedia functions that are compatible with video playback formats of ASF, AVI, WMV, 3GP, MP4, and RMVB perfect for entertainment purposes.
What Is Product For?
The XGODY 9 inch GPS Navigation system functions as a device that saves you the trouble of taking wrong turns. Moreover, it saves you the stress of not knowing where to go. Furthermore, the embarrassing act of asking for directions at every road turn. Other Best Truck GPs is Truckway GPS.
Who Is It For and How Helpful Is It
This product offers a wide range of multiple functions that allow real voice selection of either male or female preference to give driving precisions while your hands are on the wheel without you going through distractions while driving and the stress involved in understanding the device.
This product aims at helping car owners navigate their routes easily for the best driving experience.
https://www.youtube.com/watch?v=E9ON7UekAcg
Answer A few FAQs if You find Any
● How do I charge?
The XGODY 9 inch GPS Navigation device can be charge with the car plug-in socket.
● Can I update country maps?
Yes. If you require map updates, contact the manufacturer via Amazon.
● Does this device work for a semi-truck?
The XGODY 9 inch GPS Navigation device would serve well for a semi-truck.
How To Install It In a Car
Press the suction cup of the mount firmly against your desired location. Turn the rubber grip near the base of the mount in a clockwise direction until you feel it lock.
You may have to moisten the suction cup to successfully affix it to either surface. Plugin the appropriate end of the power cord into the GPS.
Pros
● Real voice Navigation.
● High-resolution display.
● Advanced lane guidance.
● Sold at a decent price.
● Easy to read 2D and 3D maps.
Cons
● Low battery working time.
● Does not show the speed limit.
Conclusion
At $99, the XGODY 9 inch GPS Navigation device is easy to use. Moreover, offers exquisite navigational features that allow for the best driving experience. The functions of the product are absolutely worth the price.
Furthermore, The product is user-friendly and can be use in cars, trucks, bicycles, ambulances, taxis, buses, and even pedestrians.