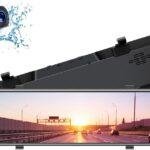 The TOGUARD company has become one of the leading manufacturers of security technologies. TOGUARD 2.5k Mirror DashCam is one of there best dashcam
Established in 2008, the TOGUARD company has ensured that they produce security items that are great for both personal and commercial uses. With a range of affordable products, this company is concerned about producing high-quality products that will safeguard you, your home and vehicle.
One of such high quality products produced by the company for the safety of your vehicle is the TOGUARD 2.5k Mirror Dash Cam for Cars With Waterproof Backup Camera that comes highly useful in protecting you from reckless drivers.
About Product
The TOGUARD 2.5k Mirror Dash Cam has a product dimensions of about 9.8 x 2.68 x 0.59 inches and weighs 10.2 ounces.
The product comes with a 10 inch 2.5K Mirror Dash Cam that features a 1080P Backup Camera and an 18 ft cable for the backup camera.
It also comes with screws, 3M tapes, a car charge, about 4 rubber straps, cable clamps, installation tool and a user manual that comes pretty handy.
This device costs $109.99 and comes equipped with an advanced Analogy High Definition (AHD) technology that ensures that the backup camera with its 1080P has enhanced Night Vision, providing you with an excellent image even when you drive or try to backup at night.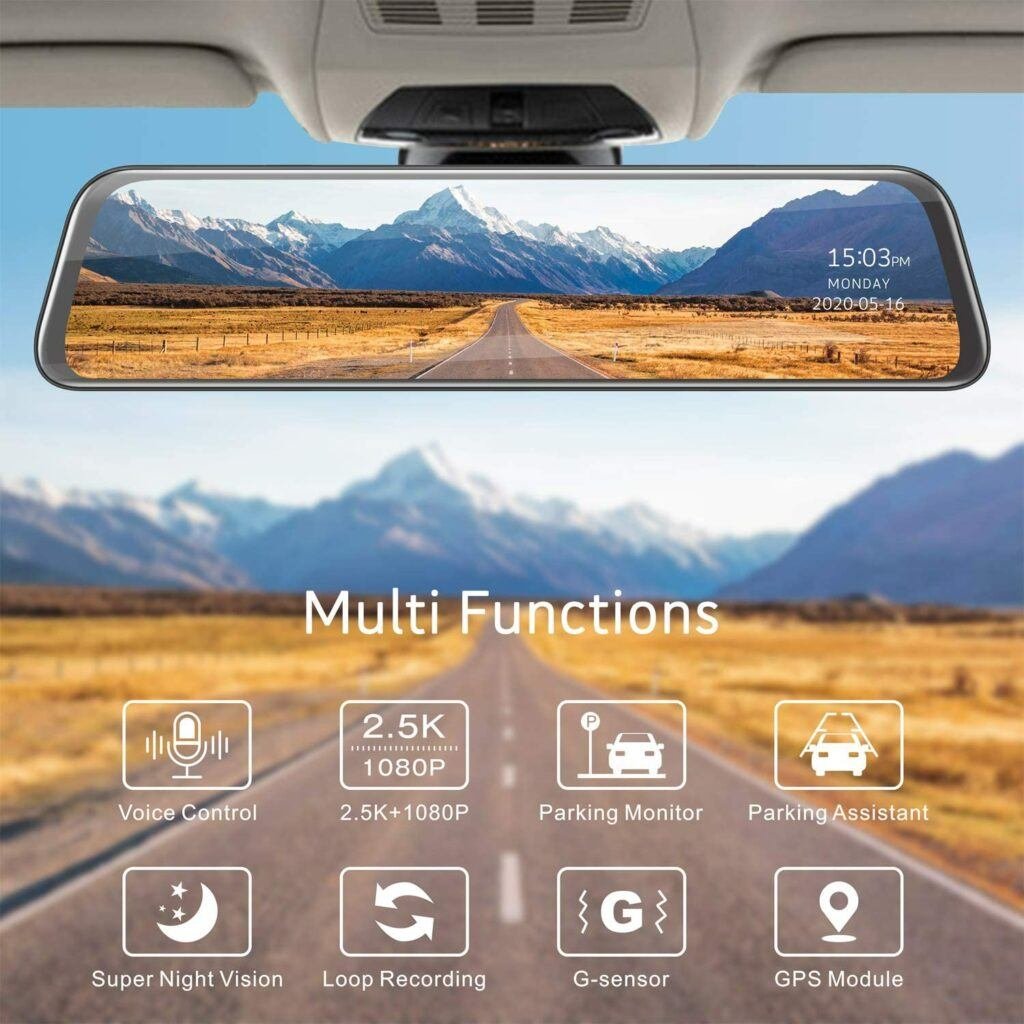 With an HD quality of 2.5K for the front camera and 1080P FHD quality for the rearview camera, this device has a super bright full screen that makes it possible to see and record the license plates of vehicles surrounding your vehicle whether in front or back of you, and this is clear whether during the day or at night.
Another specification is that both front and rear cameras can simultaneously record whatever is happening around your vehicle, guaranteeing your safety from hit-and-run drivers and providing evidence to be used during insurance claims.
The TOGUARD mirror dash can automatically switch from default to rear camera immediately your device is powered up and this ensures that drivers are safe especially when they're trying to reverse or pack as the front camera offers a view of 170° angle and the rear camera offers a wide angle of 140° ensuring that you miss nothing when driving.
Its Loop Recording features ensures that this product automatically overwrites the existing unlocked recordings as well the ongoing recording.
Furthermore, its G-sensor enabled function that ensures videos are automatically locked and saved in cases of accidental collisions.
What is Product For
The TOGUARD 2.5k Mirror Dash Cam for Cars With Waterproof Backup is designed for the purpose of providing security coverage and surveillance for your car, especially with image clips and recorded clips that serve as important information/evidence in the event of an accident, or insurance claims. It's one of best dashcam like karsuite M7 mirror dashcam.
Who is it For and how Helpful Can it Be
This product is for all vehicle owners who want to ensure that cars are well protected from unexpected damages, from reckless drivers or cases of accidents involving people or even animals.
The TOGUARD 2.5k Mirror Dash is a useful device as it helps you have real time visual and audio information of all that is happening as you drive.
Its multiple media functions are all geared at ensuring maximum safety for both vehicle and driver.
FAQs On TOGUARD 2.5K Mirror Dash Cam for Cars With Waterproof Backup Camera
 Is it possible to keep the rear view camera on full view of the mirror while I drive?
Yes, you can do this. The TOGUARD Mirror dash cam is designed to immediately switch from default to rear camera full screen upon starting it up, and the rear view camera remains on full view while you drive.
 Can my device still record at nighttime if someone damages my car, even after I must have parked my car outside?
The TOGUARD dash cam can absolutely do this as it comes with a parking monitor and G-sensor function. Once someone damages your car or there is an impact to your vehicle, the dash cam will automatically power on to record and then save the recorded clips.
Help! I haven't been able to view my rearview camera ever since I installed this device. What can I do?
First of all, you have to check if you installed the rear camera properly. If that is set correctly, try powering it on and stop recording.
Once you've done that, try sliding the camera horizontally to the left to switch both the front and rear camera display mode.
However, if your rear camera still doesn't work, you can choose to contact the TOGUARD company to request a rearview camera replacement.
 Can I add another camera to my device?
Unfortunately you cannot do this as the product only provides one port to add the original rear camera.
How to Install it in a Car
Installing the TOGUARD mirror dash cam is simple. All you have to do is to follow these steps for both the front and rear cameras.
For the Front camera
 Mount mirror and front camera where your existing mirror is located using the rubber straps that come with the package.
For the Rear camera
 Attach your rear camera near or close to where your license plate should be.
 Use adhesives and screws that come with the box to hold the camera and cables firmly in place.
 Make sure the camera is mounted horizontally for easy adjustment.
Pros
 Easy to operate.
 Excellent image and video quality.
 Easy to install.
 Intuitive and simple user interface.
Full screen display.
 Proper packaging.
 Parking monitoring function.
Cons
 Have to remove the mirror to access the SD card.
Bright light affects the screen.
 Takes up much storage space.
 High sensitivity.
Conclusion
Dash and backup cameras are important accessories that every driver should own in cases of emergencies and even for better driving.
However, while you're concerned with getting a dash cam, make sure you're investing in one that offers maximum security for you and your car.
The TOGUARD 2.5k Mirror Dash Cam for Cars With Waterproof Backup helps record videos that can serve as evidence in the event of an accident or even for legal purposes. TOGUARD dash cam operates well and is a reliable product that any driver can trust to deliver.
This device comes highly recommended as it comes packed with functions that makes it one accessory that all car owners must own and if you're skeptical about getting the TOGUARD 2.5k Mirror Dash Cam, this review should clear your doubts.