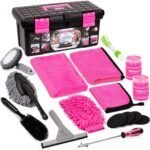 Having a cleaning kit that helps you keep your vehicle spotless is important, hence you would have to get one that comes with quality car cleaning essentials. Thinkwork Car Cleaning Kit is the perfect gift or parcel for someone who takes the neatness of his or her vehicle seriously.
About Product
The Thinkwork PINK WASH car cleaning kit is the perfect cleaning option for your vehicle as it comes packed with the necessary tools that will aid you in effectively cleaning your vehicle thoroughly.
This kit, sold at $32.98 includes 2 cleaning gels, microfiber towel, waxing sponges, a storage box, a car dash duster brush, and other essentials making it the perfect option for every driver who's often on the road.
You can make use of the cleaning gel to remove all dust particles in the car as the gel has a strong absorption quality that ensures no speck is left.
Another thing you get when you use this Car Cleaning Kit is the spotless and polished look of your car, from the roof to the tires using the car wash mitt and towels to clean these outer surfaces of your vehicle.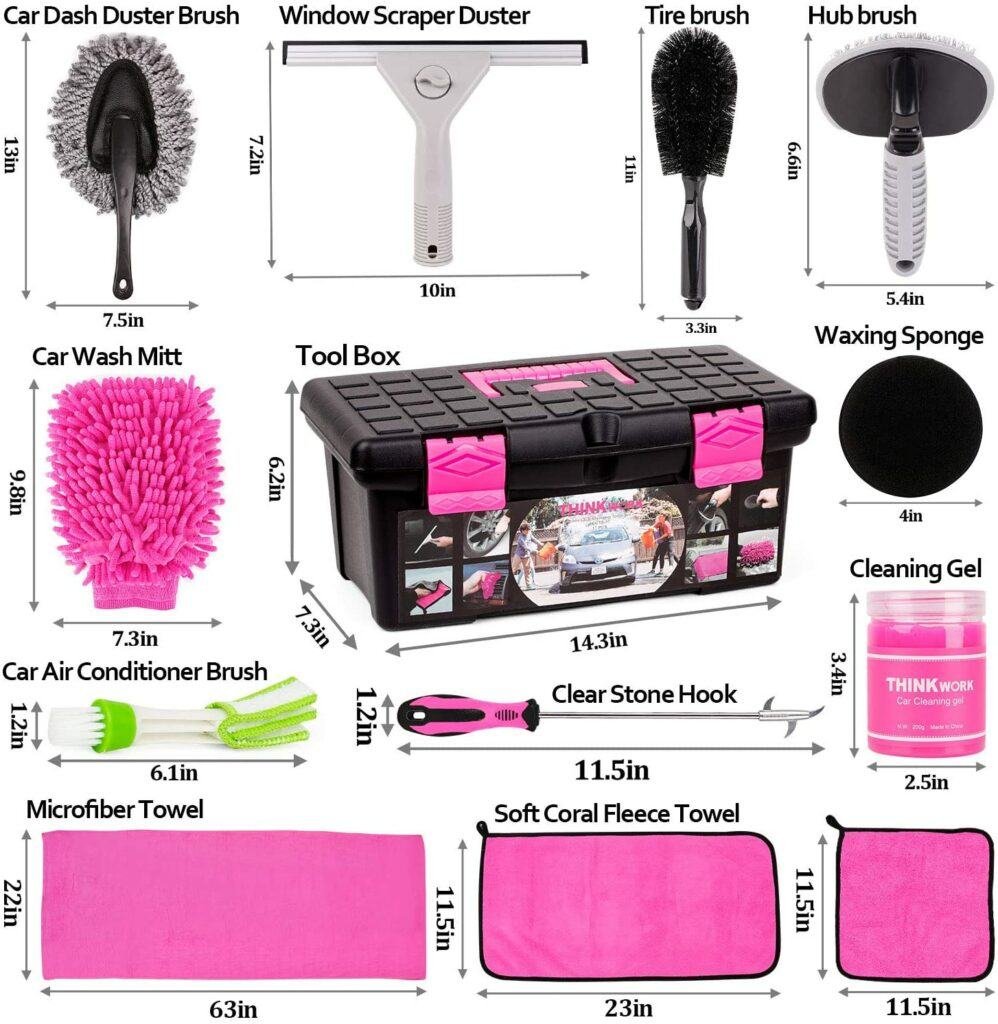 The good news is, you can always choose to return the package if any of the items are missing or damaged. Thinkwork Car Cleaning kit can also serve as the perfect gift for your wife, daughter, mother, relatives or friends. So, it's a win-win case for all users.
What is Product For
This product is great for cleaning your vehicle meticulously. With its well-packaged cleaning materials, you get to effortlessly keep your vehicle spotless and looking neat as new.
Who is it For and How Helpful can it be
This Cleaning Kit, although advertised for women, is useful for all drivers. It's for the maintenance of your vehicle as it helps you ensure that you keep a neat and tidy vehicle.
With this kit, you don't have to spend much on car wash services as you can efficiently carry out your car's cleaning activity from almost anywhere.
FAQ's Related too Thinkwork
 What does the microfiber towel do?
The microfiber towel easily absorbs and cleans dirt and dust found on your vehicle's surface
 Is this product available in other colors?
No, currently it's available in just pink.
How to Install it in a Car
There's no need for installation as the Thinkwork Car Cleaning Kit is a box package that can be stored in your car trunk and brought whenever it's needed.
Pros
 Awesome packaging and color
 Easy to carry
Easy to use
 Relatively affordable
 Comes with quality cleaning materials.
 Comes with a microfiber towel.
Cons
 Storage box is quite small for some users.
 Comes in only pink color.
Conclusion
The Thinkwork Car Cleaning Kit for Women has almost every essential material for cleaning your vehicle [internal and the exteriors]. It comes with quality cleaning materials like cleaning gel, towels, brushes, sponges, and even a compact storage box.
For a relatively affordable price of $32.98, the kit comes with high-quality materials that easily reach every corner of and holes in your vehicle to absorb and clean dirt and dust.
This product comes highly recommended for drivers who prefer washing their vehicles than visiting a car wash. The cleaning materials are durable and would also serve as a great gift for a family member or friend just like car vacuum cleaner.
If you're still skeptical, then it is worthy to note that almost 95% of those who have used the product had positive reviews as evident on Amazon. Hence, thinkwork Car Cleaning Kit is a car care product recommended for all drivers, irrespective of gender.