Sometimes, your high tech car speakers aren't enough to deliver quality sound always which makes amplifiers a very vital part of your music journey. Massive Audio EX5 is a blade series product of the massive audio speakers producing company renowned for their durable and high quality electronic products. Its five way advanced protection and custom high grade components, the device is guaranteed to provide excellent services and promised to last through time.
A car amplifier is a device that boosts little electrical audio signals to a much higher voltage current which can drive large loudspeakers. Majority of car stereos are incapable of offering high power outputs that can drive speakers with high volume and clarity capacity.
Massive Audio EX5 Blade Power Series Review
Sold for $440.00 and higher on Amazon and other digital electronic stores, the high priced amplifier comes with a lot of enhanced features which makes it worth the price and worth buying at any time.
Using the nano block military speck circuit board and "N" drive MOFSET power supply to assure excellent performance, the EX5 amplifier ensures you don't have to experience glitches during use. It also comes with an inbuilt OEM line converter which uses a direct current (DC) off set music setting system to activate the auto turn on feature which causes the device to power on and off whenever your car goes on or off, helping you lessen battery consumption.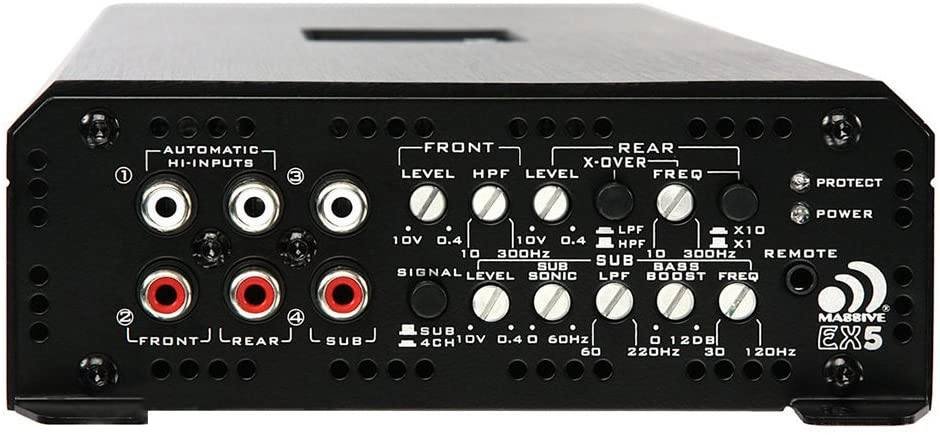 These OEM converters also enable the device to take in a high level speaker signal at up to 10 Volts directly in.
Ensuring you minimize battery consumption and experience powerful, crystal clear and clean sonic output, this device comes with a bass boost 0~12dB and hybrid 4 channel class AB and 1 channel class D.
An additional feature of the EX5 massive audio amplifier is that it comes with a high power in an extremely small heat sink so you don't have to worry about your device overheating after it has been in use for long hours.
What is Product For?
This EX5 e-series amplifiers comes with  new precision audio which includes an adjustable 1 band parametric EQ with up to 12 Db bass boost, a switchable 12V out terminal, a preparatory docking input for optional custom matching massive audio 4 farad "Rail CAP-E" capacitor and on all 2, 4 & 5 channel amp crossovers adjustments a X10 switch which means that "EDGE" can be programmed as a high pass or a low pass at 3K Hz adj ustable up or down or even band passed enabling the use with raw drivers for more output control.
In essence, the multi channel amplifier's multiple features ensures it is the best option for your car speakers and subwoofers.
Who is Product for and How is it Helpful?
Built with high quality materials to resist rust and high temperature, the device is designed to last through years of use and provide excellently clear sound at every time, providing you with your money's worth. It is one of best like Massive Audio PX6.
FAQ's Related too Massive Audio Ex5
What power sized cable is required to connect to the device for it to operate?
It is recommended to use 4 AWG for power and 16 AWG for speakers.
Does installing this device require experience or professional assistance or can it be installed by oneself?
You can install the device by yourself if you have existing knowledge and experience in installing vehicle amplifiers.
 How to Install it on a Car
Installing the device requires a bit of expertise as the connecting cables colors and positioning ports can be quite confusing. The device also requires a 0-4 power and ground wiring to install it.
Refer to professional assistance to install the device.
 Pros
Pulse Width Modulated MOSFET power supply
LED power (green) and protect (red) indicators
5/4/3/2 or Mono channel operation
3-way protection circuitry (thermal, overload, and speaker short protection)
Heavy duty aluminum alloy heat-sink
Dual speaker terminals simplify the hookup of multiple speakers
1 Band Parametric Equalizer
Class-AB/D Full Range 5-Channel Amplifier
Cons
High cost price makes it to be out of reach for most drivers as it is not budget friendly.
Conclusion
This 12v E series car amplifier features a lot of awesome specifications that are all aimed at providing you with the clearest bass sound at all times for your vehicle.
When you purchase this device with its 12V Remote Output for External Devices (Hi-Level Inputs), and 4 Layers PCB design with SMD parts, you're assure that its quality matches its value and more.