Nobody is happy whenever a crash happens to a vehicle and the culprit blatantly denies causing the crash. This means you'd have to shoulder the expenses of fixing and repairing the damages. Karsuite M7 Mirror DashCam is one of best mirror Dashcam.
There is also the issue of insurance officials demanding evidence of the accident before helping you out. All of these can be pretty frustrating, especially when it clearly wasn't your fault.
Here is where you need a dash cam that monitors all that happens. Dash cameras are important accessories that every driver should own, especially if you want to avoid trouble with other car owners and insurance agents.
About Product
The Karsuite M7 Mirror Dash Cam comes with a car charger, card reader, wiring clips, rear camera kits, some rubber straps, a 64G TF card, installation tool and a user manual.
The device also comes with a front camera that supports 2560 x 1440P (2.5K) quality and an 12 Inch Anti-Glare IPS touch screen that is super responsive to touch activation and gives the best viewing experience. It also has a 1920 x 1080P waterproof rear view camera that can record even on rainy days.
With its 64G TF card, the Karsuite M7 Mirror Dash Cam can support large-sized video files. It also has a loop recording and Gravity sensor technology that allows your camera to start recording once something hits your vehicle. These videos are automatically locked and saved once recording is done to avoid accidental deleting of these recorded evidences.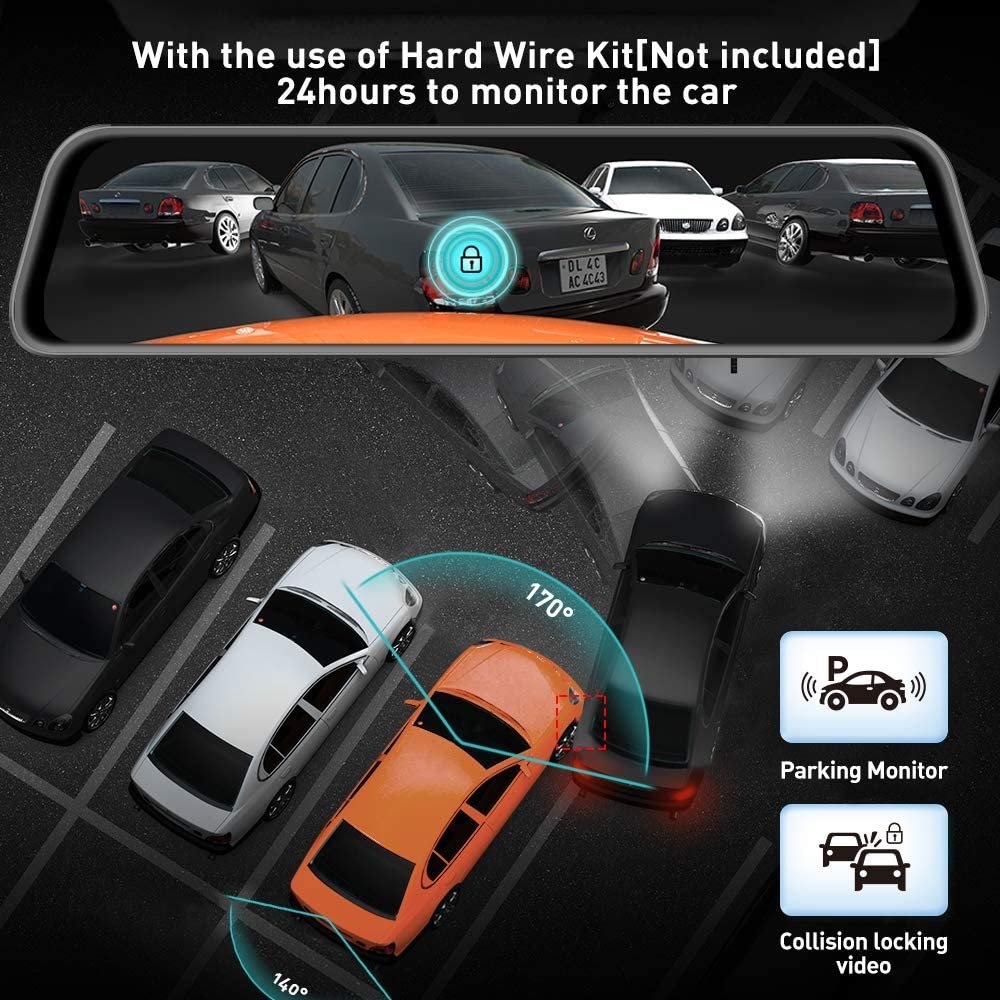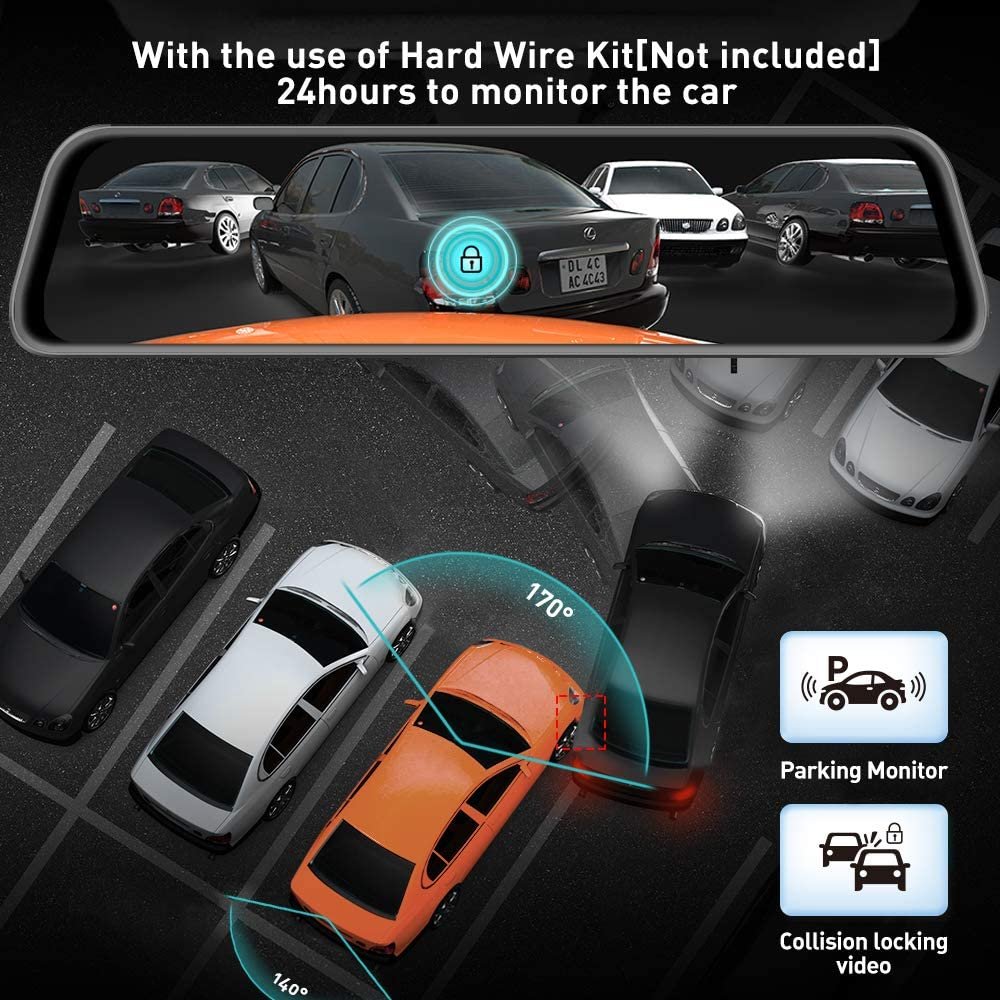 The Karsuite M7 dash cam also offers a 160° wide front lens view and a rear lens view of 140°. To reduce blind spots and capture the scenery surrounding your vehicle.
Also, the Karsuite M7 Mirror Dash Cam automatically enters the parking monitoring mode where the dash cam is immediately turned on and starts recording a 20-seconds video once there is an impact or vibration felt.
However you can choose to want a 24/7 parking monitoring so you'd have to purchase the buck line separately.
What is Product For
The Karsuite M7 Mirror Dash Cam is useful for protecting your vehicle from accidents that occur on the highway.
It is designed to provide optimal surveillance and protection of your vehicle. It is one of best dashcam like DMYCO mirror Dashcam.
Who is it For and How Helpful can it be
This product is great for all drivers whether private or commercial. This product is useful in providing security to your car while on transit.
The Karsuite M7 Mirror Dash Cam is helpful because it guarantees a convenient driving experience for you while giving you real-time information on what's happening around you as you drive.
FAQs on Karsuite M7 Mirror Dash Cam
 The cable seems to be too short for my 18ft long car. What can I do?
 The length of the standard rear camera cable that comes with this product is 20 feet, which is generally suitable for most car models that are usually between or under 18 feet long. However, since your car is longer than 18 feet, you'd have to purchase a 30 feet extension cable separately from the company's store.
Can I use my own car charger and rear extension cable for my Karsuite M7 Mirror Dash Cam instead of the one that came with the package?
It is recommended that you use the original 5V, 2.5A car charger and the rear extension cable that came with the package, otherwise other accessories might affect the smooth performance of the dash camera.
My car battery voltage is 24V. Can I still use it for the product?
 Unfortunately, this product only supports 12V battery output. Using a battery voltage above 12V might end up damaging your device.
Why does my Karsuite M7 dash camera restart irregularly and the screen also goes blank sometimes?
Please, do ensure that you're using the original car charger that came with the box for power supply. Also be sure to check if the car charger is firmly fix in the cigarette lighter slot.
I don't know how to make my device's parking monitor work. What can I do?
The parking monitoring mode can only work when your vehicle is turned off. Once your car is powered off, the parking monitor automatically turns on especially when it is subjected to vibration or impact to your vehicle.
How to Install it in a Car
Installing the Karsuite M7 Mirror Dash Cam in your car is perhaps one of the easiest things to do.
All you have to do simply attach your dash cam to your  rearview mirror using the rubber straps with the box.
Ensure that the mirror dash cam is mounte d at a position that gives you full view of all that is happening around you.
Pros
Great display quality.
Easy to install.
Very cheap.
Great day/night view.
Simple user interface
Portable wide mirror
Well packaged
Comes with a 64G TF card
Cons
System fails to save settings sometimes.
Touch screen sometimes become unresponsive.
Doesn't start unless connected to a power source.
Cables are short.
Keeps restarting.
Bright light sometimes the camera.
Conclusion
Surely, anyone would get discourage from purchasing this product after seeing the disadvantages it possesses.
That's a normal way to feel but aside the critical analysis of this product's advantages and disadvantages this product has some really nice functions that any driver would find worthy.
For a product that cost just $79.99, I'd say that this product performs above average compared to other overpriced dash cameras that have almost similar specifications.
This device is easy to install, has a very simple and Intuitive user interface. It also provides super clear images and videos taken whether at daytime or night.
In all, this product is relatively useful for its price and is useful to drivers, especially beginners who don't really know much about dash cameras. With the Karsuite M7 Mirror Dash, you'd experience simplicity and safety while you drive, although you'd have to save up to purchase a better product after some time.