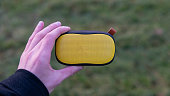 Take your party to the roads from anywhere with excellent sound quality and impressive power handling; roll down your windows and turn up the music with exhilarating sound, turn up the sound volume of your ever-ready dependable speakers, subwoofers, amplifiers including your speakers from JBL.
The new generation American audio electronics company was founded in 1946 and has been making quality loudspeakers ever since without disappointing their consumers!
There are lots of car speaker brands in the market but JBL has always stood out. It has constantly been one of the formidable names when blasting out big sounds in wide-open spaces, stacked living rooms to the portable Bluetooth speakers and to the underlying systems of a car stereo.
JBL offers a wide range of well-engineered car speakers of different types and sizes that hit sweet spot for a lot of fun seeking and music loving consumer. Join us in this trip to find out what exactly fits your car and music aspiration as we discuss more in this JBL car speakers review, your sure way to treat yourself to the best music experience while driving.
What is a JBL Car speaker?
JBL is a brand of car speakers that uses a +1 woofer-cone technology and rugged construction materials plus UniPivot tweeter positioned in the I-Mount system of the tweeters to deliver good music. With JBL speakers mounted, you would have greatly enhanced the value of your car's entire audio system at once.
JBL speakers are designed to sound great and loud enough to fill even a large SUV space and create a theater like quality sound. They are built with carbon-injected Plus1 woofer cone supported by butyl rubber surround for consistently long-lasting performance. This unique cone-designed woofer expands the diaphragm area to give you better low-frequency response.
The patented UniPivot tweeter allows you to aim the sound at your ears even when the speakers are mounted down low in the doors for a much more life-like sound. The speaker comes with a tweeter whose volume can be adjusted in two ways to enhance quality of the sound and suit your preference and taste.
Features of JBL Car Speakers
JBL series are low-impedance, three-ohm speakers that compensate for the undersized wires found in many of today's cars and make the most of every watt your car stereo can deliver.
It comes with a dedicated 12dB/octave high-quality crossover components which direct the highs and lows to the appropriate speakers for the best audible sound possible.
Currently, our best five JBL car speakers are GTO609C premium 6.5" component system, GTO629 premium 6.5" Co-Axial, CLUB6520 6.5″ 300W Club Series 2-Way Coaxial, GT-BassPro12 and GX963 3-Way.
JBL's line of portable car speakers is a good example of how companies have perfected the production of high quality audio in a small package. With models such as the Flip series, JBL strikes a good balance between portability and quality sound production.
The JBL speakers also carries an edge-driven silk balanced dome tweeters which are designed to ensure a rich experience in the upper frequencies.
This feature permits you to swivel the tweeters and direct the sound at your ears giving a more detailed soundstage. You can also use the adjustable level control to tweak your tweeters to your taste sort of customizing the sound to match your desire.
Do JBL speakers have good bass?
JBL carries a large carbon-injected Plus-One cones that move in more air to produce deeper bass. For high quality bass production in your car, you can rely on JBL especially the GTO609C premium 6.5" component system.
It is of high grade offering clearer uncensored heavy bass sound. Its bass is crispier, deeper and stronger when compared with others.
As a music lover, all you need is getting good subwoofer in place to excellently pair with a JBL speaker inter-spiced with high-sounding external tweeters, then enjoying a soul-thrilling bass-filled music becomes the norm.
JBL is the name to check out for when rendition of quality bass production is considered.
Is JBL speaker a good brand?
You can count on JBL based on its high-quality sound and general durability. However, there are other determinants such as the space provided in your car vis-a-vis the size of the car speaker.
Actually, JBL occupies lesser space as it comes in more compact series that can be hidden away in your car yet giving you the best sound ever imagined.
If you are addicted to quality music, JBL is your best bet as it comes with rugged construction material as well as UniPivot tweeter controlled on two sides to deliver life-like unadulterated sound.
Its dedicated 12dB and octave high quality crossover components direct the highs and lows to designated speakers to deliver clearer sounds for your listening pleasure.
JBL carries a carbon-injected Plus-One cones which are larger than others in size and move more air to produce more bass.
It comes with fewer wires than others and commensurate wattage that your car battery can adequately power for optimum performance.
Why choosing JBL speakers instead of others?
It's a good question to ask. In all modesty, when it comes to the world of car audio speakers and mostly when quality sound is your top priority JBL is one of the top brands to consider.
JBL renders good bass with its larger surface area on its cones, offer better, crispier and clearer audio quality and for the most part budget friendly. JBL comes with improved technologies for today's generation and in designs and styles that conforms with the new order.
Conclusion
The JBL car speakers come in varieties. Some is built with a 3-way coaxial speakers and comes with removable grilles while some in 6.5" and 6×9" respectively.
The size to choose will unarguably depend on speaker provision made already in your car. For someone who ride a big car with large space such as a space-bus or any roomy Toyota car-bus or SUV, the type of JBL speaker desirable will be such that can produce heavy louder sounds to fill-in to capacity if maximum enjoyment is needed.
In any case, we can assure you it is a good choice to buy if you find any that suits your taste and you will sure get value for your money if you settled for any of the JBL speaker series when next you desire to change your car audio system.
We hope you found our JBL car speakers review helpful, if you have a comment or question drop it in the box below, we will be glad to hear from you.