Maintaining focus on the driveway and following the status of your vehicle while driving can be demanding sometimes as it will require taking your eyes off the road to catch a glimpse of your speed or gas level without losing control of the wheel.
The Dweekiy HUD A8 5.5 inch OBD II possess outstanding features which couple with it's really affordable price makes it distinguishable in the world of electronic devices.
A heads up display device (HUD)  is a gadget that displays useful data concerning your vehicle on a screen, which eliminates the stress of turning over at some point to check the status of your car while on transit. Here is one of the Best HUD you can buy.
Although its design is quite bland and unattractive, the device still maintains its value with its outstanding features.
Dweekiy HUD A8 5.5 inch OBD II Review
The A8 Dweekiy heads up display is a modern device that displays the data of your device's current status such as the driving mileage, vehicle's speed, distance travelled, gas level, engine's condition etc, on the front windshield as you go.
Sold for $61.22 on Amazon and other digital stores, this device is affordable and does provide value for its price.
Its automatic plug and play feature allows the device to connect easily to your vehicle automatically as you connect it's cable to your car's OBD II port.
The Dweekiy HUD A8 5.5 inch OBD II also uses nano technology to eliminate unnecessary reflections which causes displayed features to appear more clear and sharper so you don't have to worry about straining your eyes.
Also, it is automatically set at auto brightness so it regulates the brightness to suit the environmental light conditions at all time.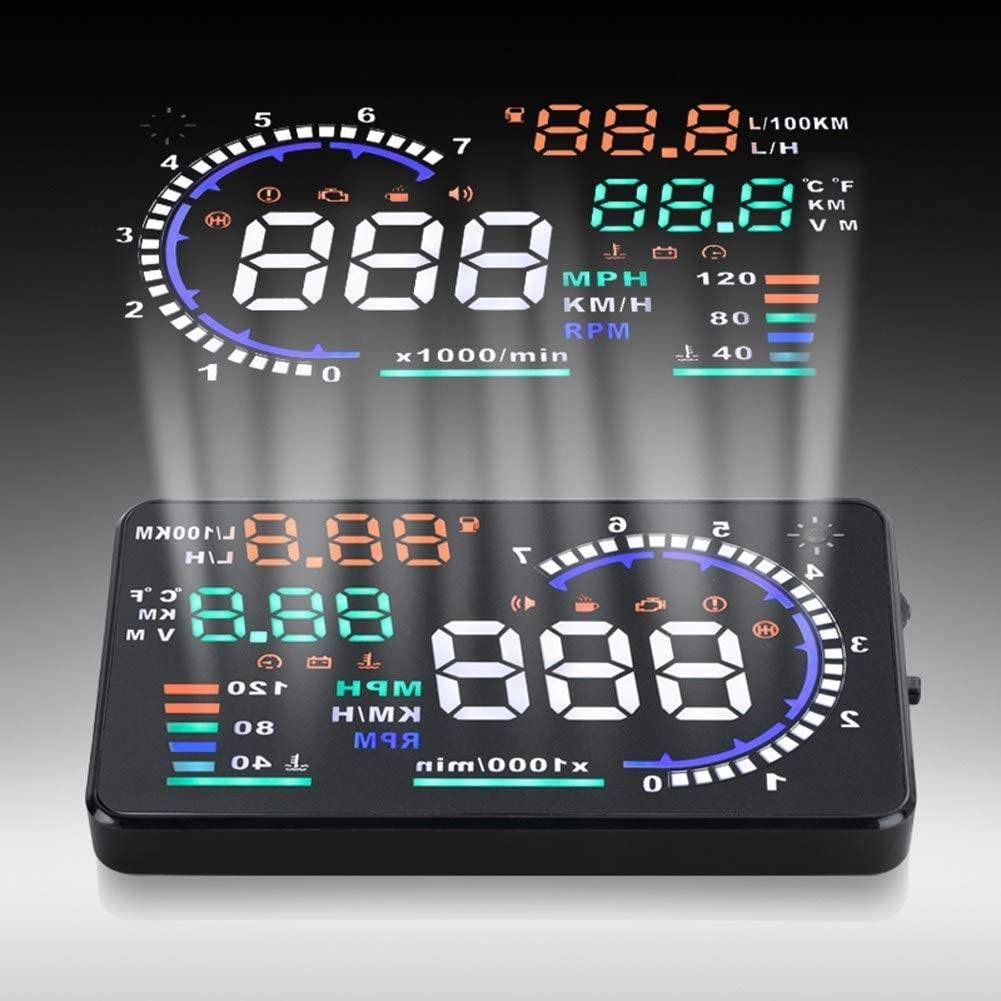 The Dweekiy's HUD requires at least 9 volts of electricity to power. However, it's auto on and off with vehicle features helps save your vehicle's battery from constant consumption as the device only powers and works when your vehicle is turn on.
Additionally, the device comes with a 2 years quality guarantee period in which you can return the gadget in case of self developed faults.
However, it's bland design is one of its downside as most drivers will usually go for products with elegant designs to complement the interior of their cars.
What is Product For?
The Dweekiy HUD A8 5.5 inch OBD II is an important utility device that makes driving much easier and allows its users to monitor the vehicle's status as they drive on.
Its Nano technology display features increase it's display contrast and makes it possible to view projected data clearly viable under any light conditions.
Who is Product for and How is it Helpful?
The 5 inch Dweekiy heads up display plug and play feature makes it readily easy to connect to, its installation procedure is quite basic.
The device is for all drivers in need of a HUD device that don't really mind the not so elegant design.
FAQ's Related too Dweekiy HUD A8 
Can the device be connected through the USB port?
No, the Dweekiy HUD A8 device can only be connected through the car's OBdD port. Connect the cable to the port to power the device.
What features make this device spectacular from other heads up display devices?
The A8 Dweekiy heads up device uses Nano technology for display clarity. Additionally, it's quality is top notch and it is very resistant to extreme temperature. It also comes with a 24 months guarantee period span.
How to Install it on a Car
Dweekiy HUD OBD II device is quite easy to install with a user manual, but professional installation is highly recommended.
 Pros
Durability
Button setting control
Power saving
Photosensitive light
Plug and play
Clear display
Cons
Bland design.
Cannot connect through USB port
Conclusion
Officially released in June, 2019, the Dweekiy HUD A8 5.5 Obd II pack comes with the following;
A8 Head Up Display
Reflective Film
OBD Cable
Anti-skid Pad
English User Manual.
In addition, it can be connected and powered through the OBD 2 port which makes it compatible with most cars.
We hope you found our  review interestingly helpful. If you have a comment or question, leave it in the box below, We will be glad to hear from you