Mono amplifiers are single channel amps, but they can be used to power more than one subwoofer. Mono amps typically produce more power than multi-channel amps, which makes them ideal for powering subwoofers. CT SOUNDS AT 1400 comes in white color, and totally provides a number of features worth considering.
Class D mono amplifiers are the most efficient of all amplifier designs because they draw less current and as a result generate less heat in comparison to the classic mono amplifier design.
A mono amplifier puts out only one channel of sound, as opposed to a stereo amp that puts out two channels of sound. A mono amp is generally used for extremely low frequencies, such as bass, that are channeled into a single subwoofer.
Most times, it doesn't matter that both stereo channels are combined for these low bass frequencies because you couldn't tell which channel the sounds are coming from anyway because you feel the sound pressure more than hear the sound.
About Product
Perhaps the most challenging part of buying a new mono amplifier is sifting through the dozens of products on the market today. It can be hard to distinguish between quality amplifiers and those which are just marketing hype.
Although pricey, selling on Amazon at a price of $379, the AT-1400, however, justifies the reason it was manufactured. It offers good value for money. It's a Class-D amplifier, and has notable features— which we would consider in this review.
With product dimensions of 18.9 x 7.56 x 1.02 (L× W × H) inches, this mono-amplifier weighs about 2.08 ounces and has 1400 watts RMS power at 1-ohm load (12.8v); 700 watts RMS at 2-ohm load (12.8v); 350 watts RMS at 4-ohm load (12.8v); Frequency response: 10Hz to 250Hz. It has a bass knob included. And a clip indicator.'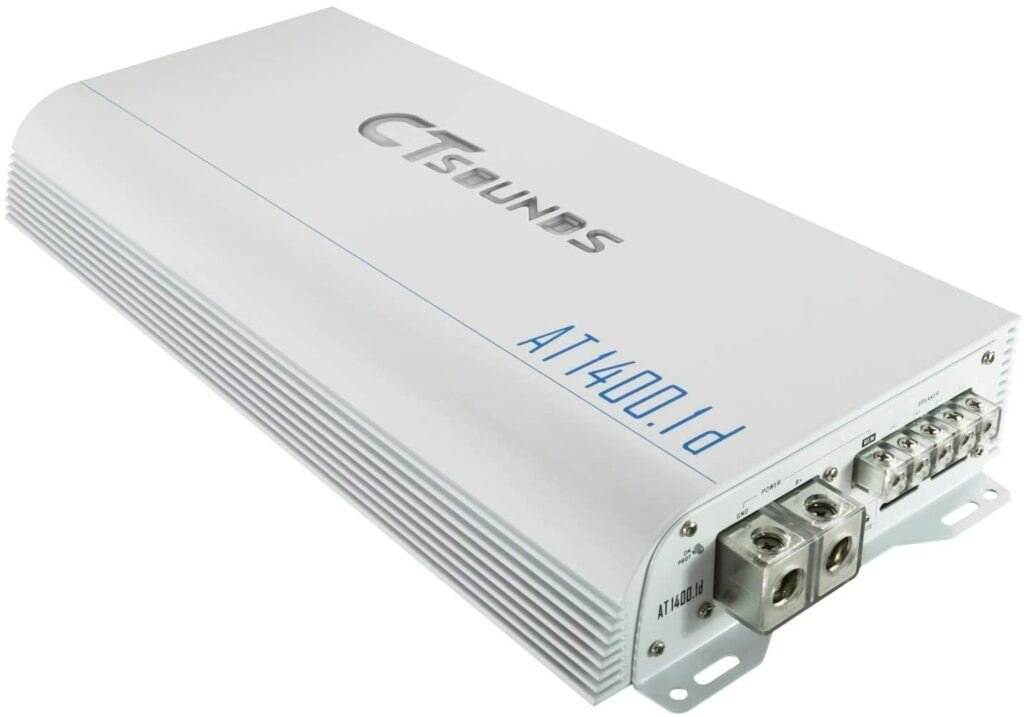 When you are ready to add thunderous bass to your car audio system, it's time to invest in a mono amplifier to power your subwoofers. This monoblock amp meets the specific requirements of a subwoofer without compromise. The circuitry of the mono amp creates power for low frequencies. It handles all the power well without overheating.
CT Sounds AT-1400 Review
CT Sounds engineers this amplifier to handle low-frequency with plenty of power. The circuitry is specially design to ease gain setting and provide big bass. The car monoblock amplifier is strappable (with a master/slave switch), which presents you the option to get more power output if your system requires it.
This device is equip with four-way protection circuitry along with a Diode 5402 & 6A60 for reverse polarity protection, offering you a good night's sleep, knowing your car audio amplifier is protected.
What Is Product For?
This car amplifier serves to boost a small audio signal to a higher voltage to increase audio volume. In simple terms, it helps boost the signal from your car radio to larger speakers, resulting in louder audio inside the vehicle. It is one of best amplifier like Massive Audio Px6 .
Who Is It For And How Helpful Can It Be?
CT Sounds AT 1400 maximizes optimum performance of creating the best car entertainment during long drives, vacations, and times when you just want to chill.
FAQ's Related too CT SOUNDS AT-1400
This product weighs about 2.08 ounces.
How will this affect quality on my HCCA 15.2?
You don't have to worry about the AT1400 affecting your HCCA 15.2 as it would be greatly compatible.
Can you use this bass knob on the T1500 and will the clipping indicator work for it?
This device's bass knob is only compatible with AT series.
If I run this amplifier and a 125.4, what amp fuse do you recommend? 100 amp,150 amp, or 200 amp fuse?
An 80 amplifier fuse would do the job just fine.
How To Install It In a Car
A car amp can be a difficult installation since you're working with your vehicle's electrical system, but you can finish within about 3–4 hours.
Start by finding a flat spot inside your vehicle and screwing your amplifier down to mount it.
Run the wires from an amp installation kit along the sides of your vehicle so you can connect them to power and the stereo system.
Once you plug all the wires into their matching ports, adjust the volume settings on the amp to prevent distortion and finish the installation.
Just be sure, do disconnect power from your vehicle while you're working on it, and possibly do the installation under professional supervision.
Pros
Options to meet any system.
Durable
Cons
Conclusion
With the e AT1400 Amplifier, it serve to increase the output from your vehicle's sound system so you can listen to music louder and improve the sound.
Getting this device offers you good value for money, so while it may be a bit too expensive, that shouldn't discourage you from purchasing if it tops your list.