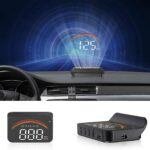 Does taking your eyes off-road to stare at the lower dashboard while driving come as a bit of distraction? The Adilammy Head up display, car 4-inch HUD/OBD2 is a HUD product with excellent features that enhances your driving experience as you drive.
Are you in need of a device that'll make driving easier by displaying necessary data right in front of you so you don't have to get distracted? Then the heads-up display device might just be exactly what you need.
A heads-up display device (HUD) is a useful electronic gadget that displays important real-time time data concerning the status of your car, right there on your dashboard, so that you are kept informed should anything go wrong. This way, you can drive safely without having to take your eyes off the road
About Product
The 4-inch HUD/OBD2 multiple functions make it one of the best and most affordable heads-up display devices for you. It exhibits both OBD and GPS functions which makes the gadget more valuable as it performs these extra functions seamlessly.
The device's dual switch connection mode between HUD and ODB2 through its double USB interfaces. Furthermore, ensures smooth data transmission and stable performance all day round.
Its OBD2 features allow you to monitor the vehicle's speed, water temperature, voltage, single mileage measurement, engine's RPM auto light adjustment, alarm sound switch, KM/H and MPH free switching, ℃/℉ switching, auto power on and off, etc,
The device's HUD feature displays the current speed, voltage, buzzer switch, and speed alarm satellite number, voltage alarm, auto power on and off, 4 segments reminders, etc.
Adilammy HUD, car 4-inch HUD/OBD2 Review
This particular car OBD has 6 kinds of reminders that aim to help you avoid accidents. There are water temperature alarms, over-speed alarms, RPM alarms, fatigue driving, low voltage alarms, and shutdown reminders.
The Adilammy HUD device is made of PC and ABC material which makes it very durable and resistant to very high temperatures of up to 170° Fahrenheit and very low temperatures up to -40° Fahrenheit, so you wouldn't have to worry about your device getting damaged by extreme weather.
Additionally, the device also comes with decorative light. Furthermore, which you can alter to suit your taste or color of the car's interior. Along with its streamlined shape which enhances the look of the car.
Another added feature of the device is that it adopts nanotechnology to eliminate double reflection. The integrated sunshade on the HUD helps avoid interference with vision and ensures a clearer display and visibility during daytime or night and enjoys driving without glare.
What is the Product for?
The Adilammy HUD, car 4-inch HUD/OBD2 is a utility device that assists the driver by providing data related to the vehicle's status and displaying them on the dashboard of the vehicle, helping the driver monitor the overall state of his car while maintaining focus as he drives.
Who is Product for and How is it Helpful?
Its sleek and creative design, ultra-clear display mode makes displayed data appear very clearly, its dual connection mode (HUD and OBD2) makes the device compatible with a lot of vehicle models.
The Adilammy HUD, car 4-inch HUD/OBD2 is a utility device that comes very handy for every driver who requires a heads-up display device.
Frequently asked questions and their Answers
● Can this device be installed in a Honda Accord 2012 model?
Yes, as long as the device has a functioning OBD2 port, the device will connect and function properly.
● What is the installation procedure for this device?
To install this device is quite basic and does not require much experience in fixing and installation of car gadgets.
Firstly, Just read the manual and ensure to follow the instructions carefully.
How to Install in a Car
To install this device successfully, follow the following instructions carefully.
● Find out the OBD or USB interface in the car or vehicle and plug it in.
● Hide the OBD or USB cable according to the seam
● Put the car HUD in a place that doesn't obstruct your view.
Pros
 Dual system
 Clear and legible
 Energy saving
Cost-saving
 Photosensitive display lights
 Durable
Weather resistant
Cons
● In addition, Not readily available in digital stores
Conclusion
Having acquired a heads-up display device, learning to operate and maintaining the device is very essential if you hope to receive the value for your product.
Besides its multiple advanced features. Moreover, The Adilammy HUD, car 4-inch HUD/OBD2 has a professional and innovative design that enhances the overall beauty of your interior.
Sold at 31.99 on Amazon digital store accompanied by its classy design. The device is very much affordable for the value it provides and this is one gadget you should totally go for. If you have considered purchasing it.