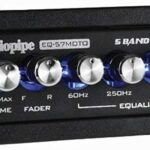 No car is acoustically perfect. This can mean that your stereo system does not sound as good in your car as it did when you heard and bought it in the shop. And the 5 Band Graphic Equalizer 7 Volt Line Driver Flush Mount Mobile Audio 5 band EQ-57MOTO performs just the right function for this job.
Furthermore, ordinary car stereos are often drowned at high road speeds by engine noise and the rushing of wind. The best car EQs can safeguard your sound system by providing higher, clearer volume without taxing components such as the speakers, which can only handle certain tones and levels of amplification.
Therefore, the solution to both problems is to fit a graphic equalizer/sound booster.
5 band Graphic Equalizer Review
Many sounds beyond your control, including those generated by your vehicle and the road, can affect your audio system's sound. An equalizer for car audio can resolve this.
To purchase the 5-band equalizer EQ-57MOTO, you can check on Amazon as it is sold at $45.
Quite lightweight in pounds, the device weighs about 1.05; so it is completely portable and concealable.
With dimensions of about 8.11 x 6.69 x 1.81 inches, the product fully combines powerful features in a compact and it can closely fit in small spaces. It comes in color black. The equalizer has a sleek design that would easily pass as a great unit for your car interior without looking odd.
An amazing feature of the 5 band EQ-57MOTO is that it has two stereo RCA outputs to independently control front and rear audio amplifiers. This half DIN equalizer features five bands! The bands have frequencies of 60Hz, 250Hz, 1kHz, 4kHz, and 16kHz respectively. And each of these frequencies are adjustable from -18dB to 18dB, making provision for enough clearance in transmissions for high fidelity audio output.
This product also comes with an extended frequency response from 20Hz to 30kHz with an active exceptional 100dB signal to noise performance.
While increasing corrosion resistance in certain applications, the product makes use of nickel plated RCA connectors for longevity and durability.
Many units contain basic bass, treble, and mid-range adjustments. The EQ-57MOTO equalizer for car audio offers you more choices. For example, the EQ can be used to give more bass, less bass, more treble, and so on.
What Is Product For?
Buying this product allows you the offer to cut or boost the levels of specific frequency ranges, providing more granular control of the sound volume. Audiopipe also have 7 band Graphic Equilizer.
Who Is It For And How Helpful Can It Be?
If you are listening to good music that was poorly recorded, or you are using lousy equipment, you may use the equalizer to somehow correct the overall sound. It is for all car owners that enjoy good audio performance.
FAQ's Related too 5 Band Graphic Equalizer
Could one output be used to send a signal to a sub. I'm trying to find a small equalizer to send signals?
Yes, this device can do that perfectly
Hi, this device is 12v, right?
Yes, the EQ-57MOTO is 12v.
Could anyone give me the dimensions, please? I want to see if it will fit in a tight spot.
Alright, this product has dimensions of about 8.11 x 6.69 x 1.81 inches.
The unit weighs about 1.05 pounds.
How To Install It In a Car
Find a position where you can reach the equalizer easily. Most units are designed to be hung under the dash on the bracket provided.
If your car is one that has an extra DIN slot in the dash or centre console to take an equalizer, you may be able to fit it there instead.
Connecting the device to your car includes
Connection of input wires. Follow the speaker wires from the radio-cassette, and disconnect or cut them near to the equalizer.
Connection of output wires. Identify the equalizer's output wires, making sure you know which are the left-hand channels and which are the right.
Connect live feed.
However, it is fully advisable to fix this car unit under professional supervision for full functionality.
Pros
Nickel plated RCA connectors.
Clean signal.
Built-in crossover.
Cons
Might prove to be a bit difficult to adjust.
Conclusion
Quite frankly, the 5 band EQ-57MOTO is a useful device that has a clean signal, smooth volume control, and it's quick and easy to install.
If you're looking for something less pricey, consider the 5 Band Graphic Equalizer 7 Volt Line Driver Flush Mount Mobile Audio EQ-57MOTO with Built-in Crossover.