Most car rides, journeys and vacation trips with family or friends might eventually stretch into a long, boring drive and can create uncomfortable silent moments with no source of entertainment whatsoever. In this Zbark Overhead Flip down Monitor Review we will be talking about how helpful this monitor can be in that regard..
In lieu of this haunting shortcoming, car technology has incorporated quite a number of manufactured devices that would aid in keeping high spirits while on the road for short or long rides and during vacation trips with the car.
From the production of car stereos for high quality audio fidelity to the manufacturing of car stereo devices with screens that support video playback function, the entertainment  level in vehicles have been interestingly upgraded.
Inasmuch as these manufactured car stereo devices often come with screens for leisure moments, they always have to be fixed to a particular spot on the car's dashboard, limiting the view of the passengers that occupy the back seat.
This has been an issue of major concern as just a few eyes get to watch what's being displayed, hence, the production of car Overhead flip down monitor screen display devices.
About Product
Weighing just about 8.98 pounds, this product from ZBARK has a 17.3 inch digital screen that can be flipped over to about 130° ensuring an incredible view range for its viewer.
The monitor features large screen with sophisticated design and can be be the perfect unit in large vehicles like: coaches, buses, motor homes etc.
The sleek touch panel design makes this unit well fitting in your car interior, enhancing both inner touch and design.
The device, however, does not come with an audio output function, but a variety of sound-out choices can be set based on the  built-in infrared or FM transmitter. Also to it's disadvantage it doesn't have a DVD player.
However, it comes with a remote control device for giving commands. A plus on the car entertainment gadget is that the product is not only restricted to video playback formats and image display, the overhead flip monitor display screen built-in HDMI is also compatible with games!
The overhead flipdown monitor takes your gaming sessions to a whole new level and it is just one connection away from your mobile device.
Zbark 17.3 Inch Car Overhead Flip-down Monitor Screen Display Review
The Zbark 17.3 Inch car Overhead flip down monitor screen display device supports USB and SD connection technology with appropriate plug in units situated on the device.
It also has a rather beautiful effect of blue atmospheric LED bars that gives the best lighting condition in your car at night. And, with the built-in HDMI port in the device, the movies and music on your phone can easily be shared if you'd want that.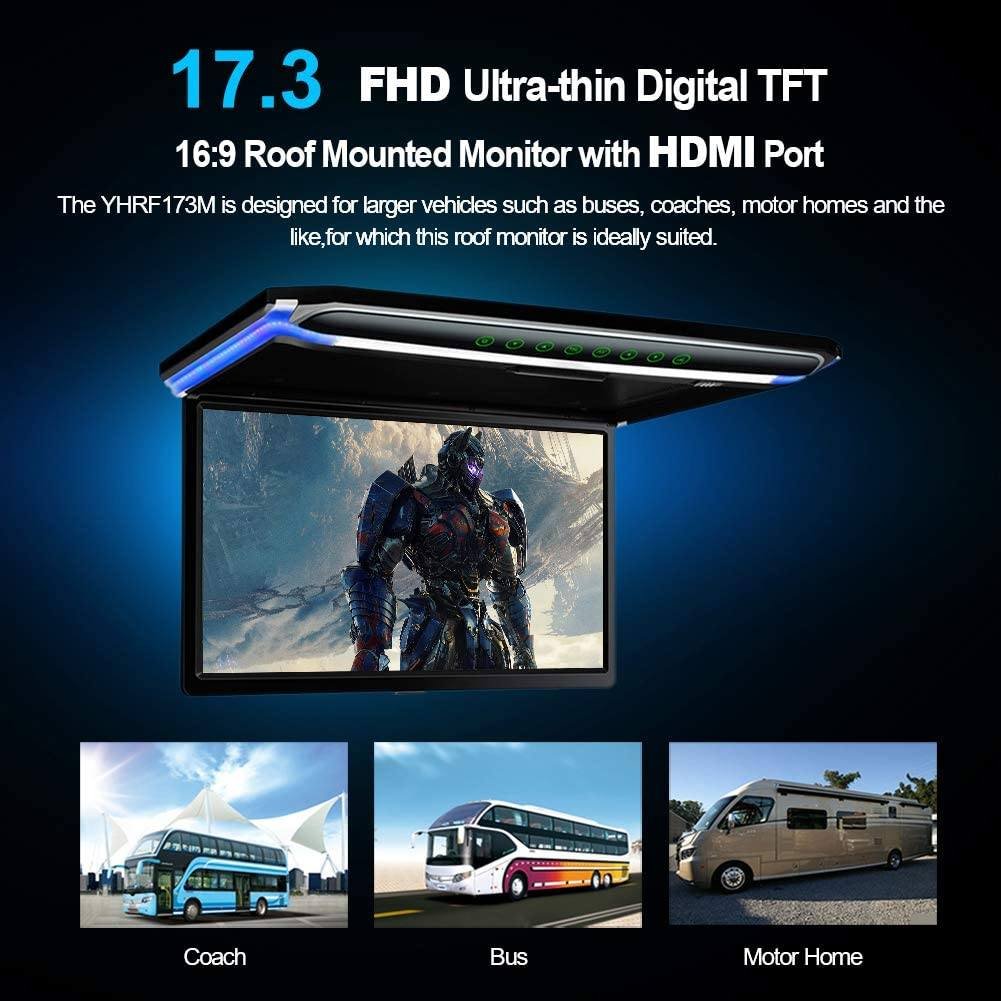 Equipped with a rather impressive FHD display, choppy video playback is not an option for this product, as it is well configured to play full 1080p HD videos without the least stress and in the most vivid colors.
The ZBARK is also compatible with freeview digital TV receiver connection while enabling you to watch digital TV in your car.
Also, if your car has either a positive or negative door control wire, the lights on this unit can be automatically turned on or off depending on your door status.
What Is Product For?
The product is for eliminating boring moments while travelling, supporting video playback functions to keep up spirits.
Who Is It For And How Helpful Can It Be?
The Zbark device is primarily for owners of large vehicles like coaches, buses, motor homes etc., who desire to increase their fun moments while having the best driving experience with family and/or friends by accessing your favorite media.
FAQ's Related to Zbark 17.3 Inch Car Overhead Flip-down Monitor
Will the USB power Roku stick?
The USB cable only serves the function of reading USB drives.
Does it have audio output?
No. The Zbark flipscreen does not have an audio output function.
Does this come with its own audio/speaker output?
The Zbark, unfortunately, does not have its own speaker/audio output.
How To Install It In a Car
The product comes with a user guide for proper electrical and mechanical installation.
However, the first thing to do when considering installing a ceiling-mounted screen is to make sure that you have enough room, that there's enough ceiling clearance, and that the screen won't hit someone in the head when it folds down.
Pros
Clear FHD display with vivid colors.
Amazing LED bars lighting effect.
Large screen.
Supports gaming features.
Cons
No DVD player.
No audio output.
Small remote.
Conclusion
For a $227 flip-down device, it's quite disappointing that it doesn't come with a DVD player and an audio output function.
But notwithstanding, the rest of the highlighted features delivers optimum performance.
While functioning as a source of giving you access to your favorite media, enhancing the best driving experience with family and friends.
Serving the primary function of keeping happy faces and making interesting rides, the overhead flip monitors is built to display images and videos to give the most pleasurable experience.
And the $227 Zbark 17.3 Inch car Overhead flip down monitor screen display device entirely fulfils this function.