Backup cameras are great car accessories designed to help you see all that happens behind your car, which is more convenient than always having to turn your head backward. With backup cameras, you get clear video recordings, which saves you from accidents and gives you a view of the vehicle behind you.
And should an accident occur, you get a clear view of the license plate of the car that hit you serving as proof in case it is taken up legally. Here is Yuwei Wireless Camera Review for you.
About Product
The Yuwei Digital Wireless Backup Camera comes with a 720P HD rear camera that makes it easy for you to get crystal clear images, irrespective of the time the clip is captured or recorded.
This camera also comes with a split view option, that enables you to split your screen into two for easy viewing.
When you purchase the Yuwei Digital Backup Camera, you get to easily install your camera at your desired spot to give you the best views, especially when you need to adjust the angles of the images your backup camera captures.
For a clearly lit screen, this wireless backup camera comes with a bright LED light that offers you clear images and video clips irrespective of the lighting of the surroundings you find yourself in. That way, you get super clear images during the day or night.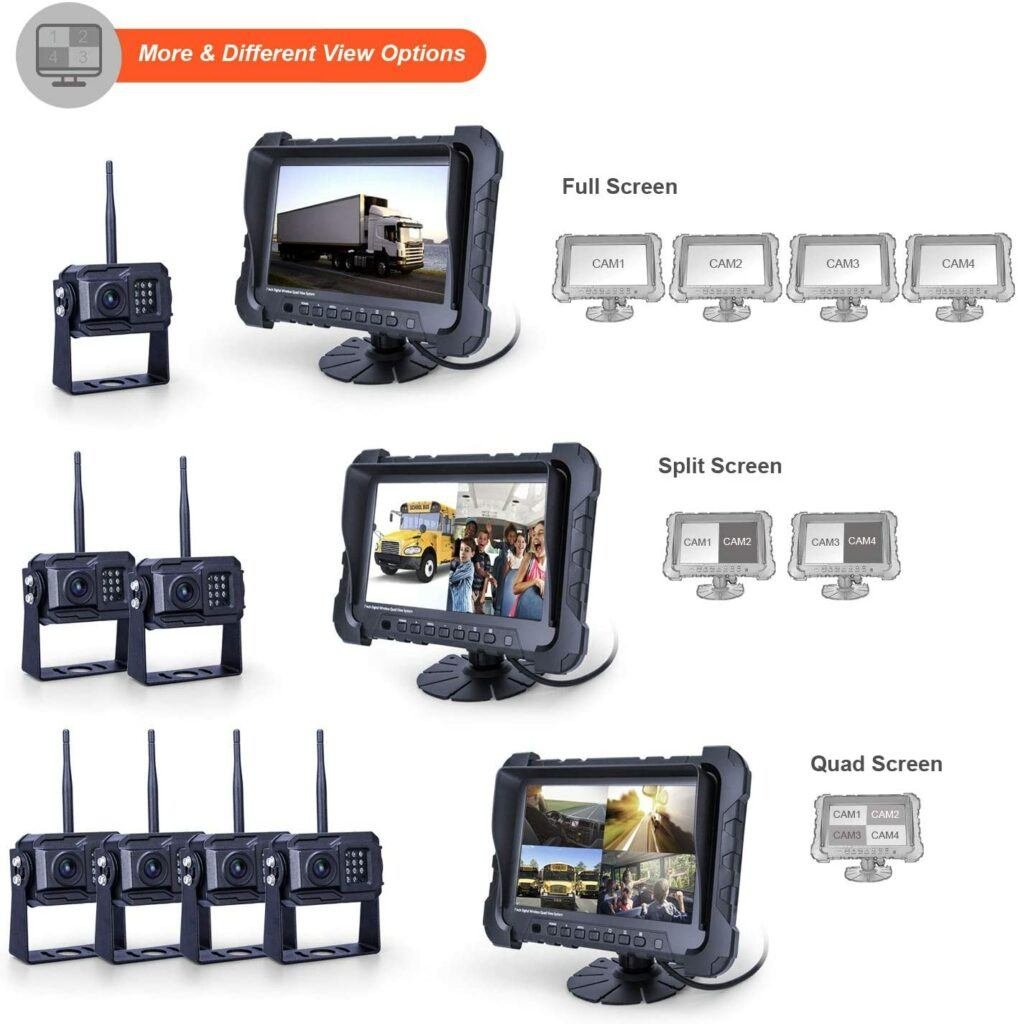 If you like you can expand your unit to have a four-camera view. You can also choose to get a spare camera that would afford you different views and angles within and outside your vehicle.
This wireless backup camera system sold at $238.88, also comes with all the necessary kits needed for easy installation to your vehicle and it is suitable for all types of vehicles.
It comes with an inbuilt DVR recorder that can record clips for up to 6 hours and it supports a 32G SD card. With a waterproof design, you can rest assured of quality recording regardless of the weather or temperature.
Yuwei Wireless Camera Review
This product is great for reversing and driving safely and easily. It comes with functions that provide you with a clear view of all that's happening behind you as you drive.
With the Yuwei Digital Wireless Backup Camera System, you never have to worry about the safety of your vehicle, especially behind as you're aware of all that's happening through the screen in front of you.
Who is it For and How Helpful can It Be?
Suitable for all drivers, the Yuwei Wireless Backup Camera System comes with excellent technology that allows for easy backing up and parking.
It has a split-screen view mode and a great camera that comes with a full HD video resolution that gives you a clear image video, even when recorded at night.
FAQ'S Related to Yuwei Digital Wireless Backup Camera System
 Is there a signal extension or additional antenna to boost the signal?
 It doesn't come with the package. However, you can always get it separately and install it.
Is there a particular way to mount the Yuwei Digital Wireless Backup Camera System ?
You can mount your device any way you want to. You can also rotate the screen to give you the best views.
How to Install it in a Car
Installing the Yuwei Digital Wireless Backup Camera System can be a bit tricky although quite easy if you've installed a backup camera in your vehicle before.
However, you can do this by downloading the backup user manual and follow its instructions carefully.
Pros
Easy to install
Great image quality
Waterproof
Inbuilt DVR recorder
Offers natural cool colors
Great packaging
Wide viewing angle
Easy to operate
Great display screen
Cons
Might not work in extremely hot temperature
Conclusion
The Yuwei Digital Wireless Backup Camera System is a great backup camera. That offers you a full view of all that's happening behind you as you're on transit.
With this device, you get a wide view of all that's happening. It offers super clear images and recorded video clips even at night due to its Super Night Vision technology. It is also waterproof so you can use your device even in extreme weather conditions.
Although it's pricey, the Yuwei Digital Wireless Backup Camera System is one product you can never go wrong with. We hope you find our Yuwei Wireless Camera review interestingly helpful, If you have a comment or Question, Leave it in the box below, We will be glad to hear from you.