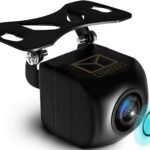 The incredible backup camera from Yanees, is one of the best backup cameras if you desire a backup camera that gives crystal clear images with vibrant colors with proportions that appear almost true-to-life. Yanees Backup Camera is one of their best camera.
Equipped with a camera pixels resolution of 1080×720 for a perfect and a more detailed picture shoot with an NTSC video system that delivers flawless results in video recording.
This backup camera ensures that your parking experience is easier, involves less stress and gives you the extra confidence you need when driving.
This camera's design is unique, portable, easy to install and operate. With its unique rearview camera alone it ensures reversing is done without accident.
About Product:
The Yanees Backup Camera is a camera-only product. That means, it doesn't come with a monitor, but it supports monitors from other brands and as such can be easily connected to those monitors, especially those with RCA inputs.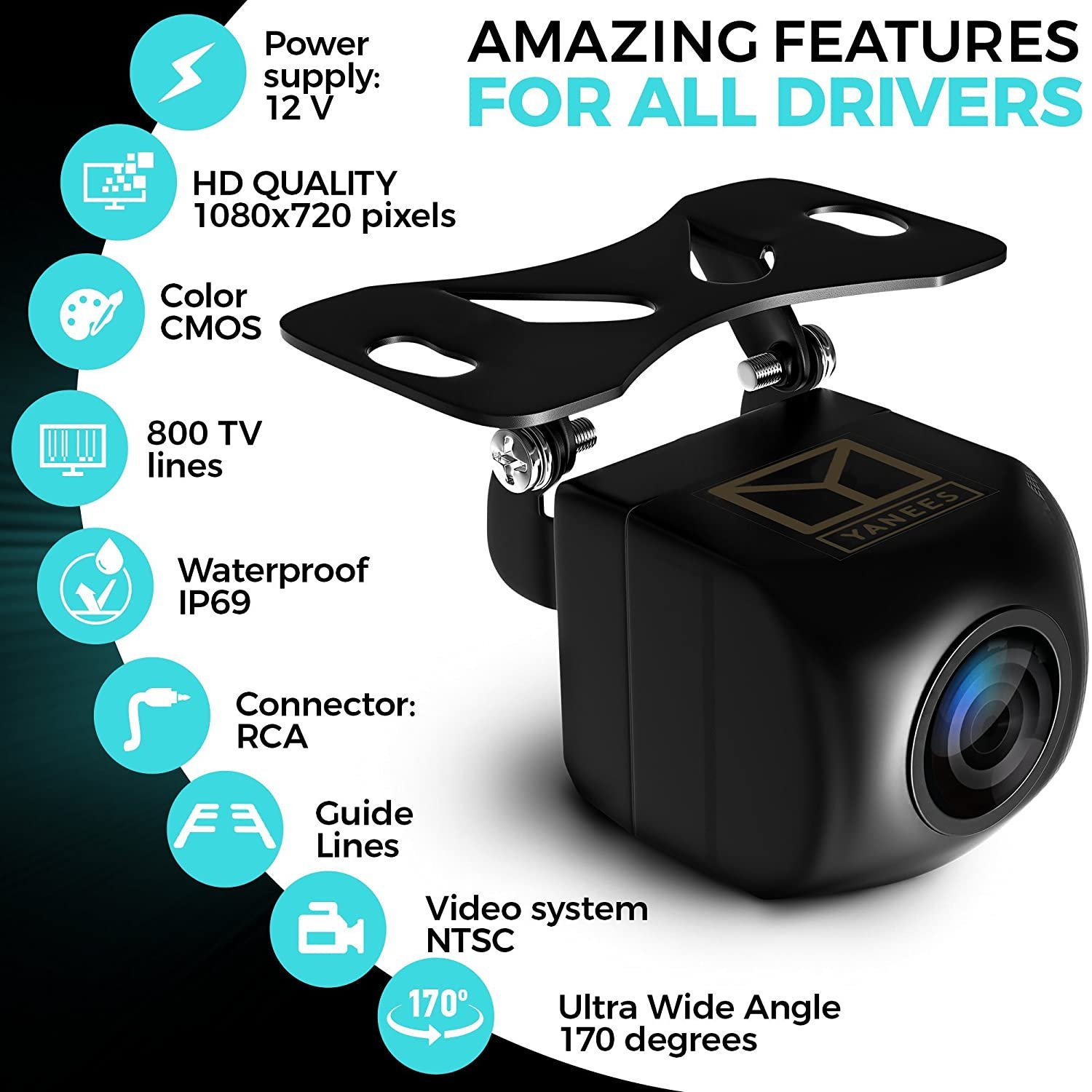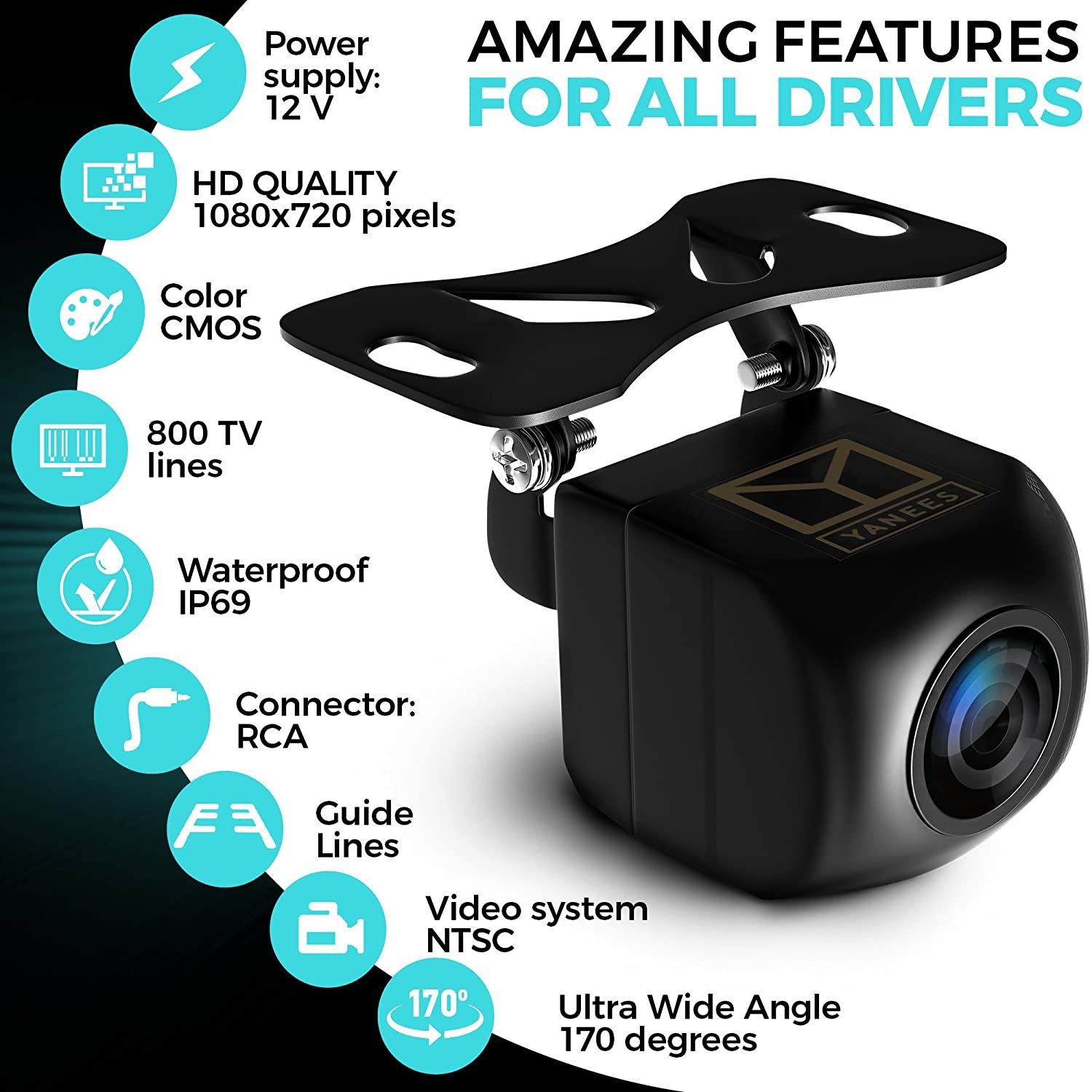 This camera is also a rearview only camera as it doesn't support front or side view cameras. It comes equipped with a 12V power supply, a race wire of 19.7FT, a power wire of 8.2FT, and an IP69 waterproof camera for uninterrupted live video no matter the weather condition. In addition, it offers a whooping 170o lens viewing angle, to enable wider viewing.
Who is the product for and How is it beneficial:
Valued at $55 dollars this backup camera is for those who ply the road with trailers, trucks, SUVs and it is well suitable for drivers that are not yet experienced. Its wide range angle view of 1700 diagonally and 145o horizontally allows for an even wider capturing of what's at the rear. With its waterproof protection ensuring that your camera is protected from unfavorable weather conditions, while still delivering maximum quality clips.
Its guidelines that stays always on ensures there's never a time you need to panic about quickly turning on your device and if it is recording as the recording is always on and available for viewing. It's one of best backup camera like DMYCO Backup Camera.
INSTALLATION:
 You've got to first take off the license plate found at the back of your car, preferably with a Phillips head screwdriver for easy removal.
 Take off the interior panel of your trunk which covers the opposite side of your vehicle's license plate mounting area.
 With a trim removal tool, carefully pry that place off.
 Now you can drill a hole in the license plate mounting area. The hole should be a small one though. If you're bothered about how to go about drilling, here's some simple way to go about this properly:
(i) Hold your camera to the area you desire to mount it, then observe where its splitting cord sits.
(ii) Drill a hole that's large enough to accommodate its power cable and video cable.
(iii) Drill something of about 0.32 and 0.64cm diameters.
5. Put a rubber grommet around your camera cable, one that can fit into your drilled hole
6. Pass the camera cable into your trunk, now locate the reverse light of the car and connect it to the reverse light wire
PROS:
 This camera supports Night Vision, hence delivers excellent quality even at nighttime.
 It has a wide angle view range.
 Can still operate in unfavorable weather conditions.
 Affordable and highly effective.
 Good video quality.
CONS:
 It doesn't come with a monitor.
 The camera is just for rearview alone.
 Difficult to install.
 Limited functions.
FAQs on Yanees Backup cameras.
 I want to disable the backup lines. Can i?
This camera doesn't have that feature, so you can't disable the backup guide lines.
Unfortunately, the Yanees backup camera system is sold with only the cameras, and no monitor.
 What if I want to hook this to an existing rear view mirror system?
It is only possible to do that if your mirror comes with an RCA input.
Can I rotate the lens to 180o if I mount the camera upside down?
No. The maximum limit to rotate the lens when camera is mounted upside down is 145o
 Will it make a beep noise when my car is too close to another car?
Sadly, this backup camera doesn't have that function.
Conclusion:
The only thing I have against this brand is their camera does not come with a monitor, and it is only for Rearview viewing. However, the price for it in relation to what it offers makes it somewhat viable.
At least, you get the option of purchasing monitors with RCA input from anywhere and attaching it to your camera. You can also connect it to your mirror if it has RCA input as well.
Its wide range, unique night vision, waterproof camera and guideline that doesn't go off, all makes it your best bet for the security of your vehicle.
If you don't mind that the camera doesn't have a display monitor, then you can go for the Yanees Backup Camera system.