As a motorist, it is important that you and your vehicles are protected from casualties. Also, nothing beats having a device that ensures that your driving experience is stress free with vvcar mirror dashcam.
If you're concerned about the safety of your vehicle and want to be able to monitor all that is happening all around your surroundings, then it is crucial that you get a dual camera that can serve as a dash camera and also a backup camera.
There are lots of devices that can perform these functions, but it is important that you get one that offers seamless functions with ease and one of such is the VVCAR 12 inch Mirror Dash Camera
About Product
The VVCAR 12″ Mirror Dash Camera performs the dual function of acting as a dash camera and a rearview camera that is great for reversing safely and properly.
With a 1296P dual streaming lens with high quality chips, this camera records videos in really clear quality and ensures that the scenery and all vehicles are clearly displayed on your screen.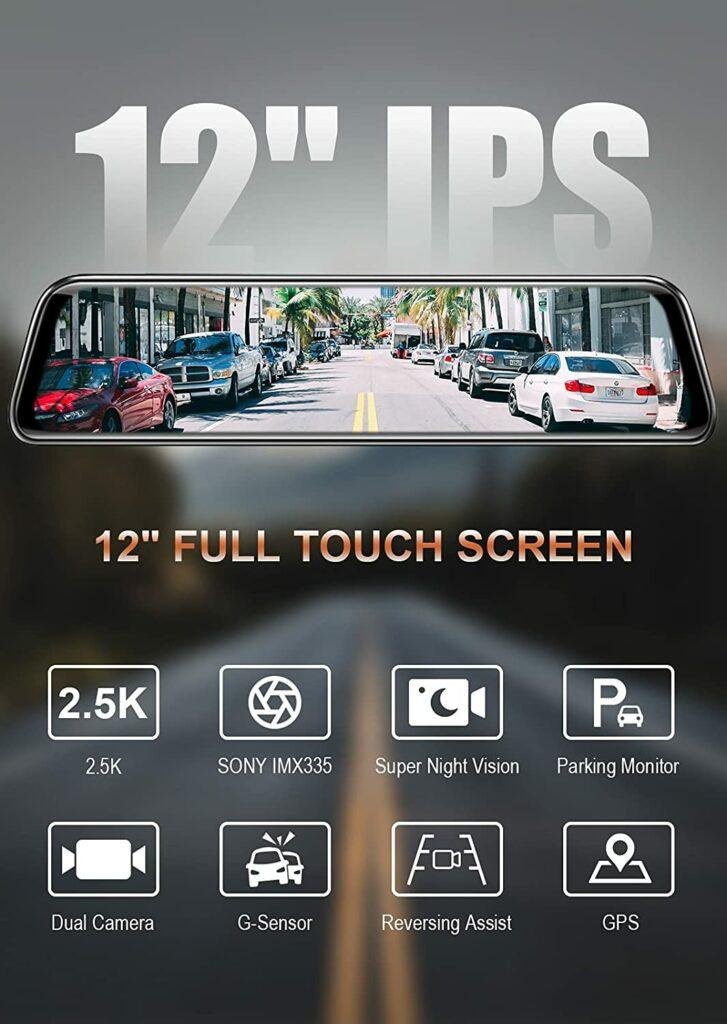 VVCAR dash cam costs about $189.99 and comes in the color Black. The product dimension is about 11.81 x 2.83 x 0.39 inches. It also comes with a 12-inch Touch screen and a GPS tracking feature that allows the device to record your location, driving speed and even the routes you're taking.
.This dashcam is also equipped with the reflectivity IPS LCD technology that secures the camera from the glare of the sun and reduces the level of reflection bouncing off the screen.
Also, it has a front viewing angle range of 170°, a rear view angle of 140° that all serve as the perfect parking assistant for you especially when you have to reverse in dim or tight spaces.
Moreover, VVCAR dash camera features a F1.8 large aperture and WDR, so that the HDR ensures the clarity of images at night, and helps with the elimination of blind spots.
Its Lane Departure Warning feature sets off an alarm once your car has gone off the driving lane.
Finally, with the loop recording and G-sensor technology, your dash camera automatically starts to record once there is a sudden and forceful impact on your car. After that, it locks and saves the video as proof and these files can always be accessed whenever you need it.
All of these specifications and functions makes the VVCAR 12″ Mirror Dash Cam a valuable product for you as a driver.
What is Product For
This device is basically for monitoring all that happens within and around your vehicle.
The VVCAR Mirror Dash Cam is designed to enhance your driving experience and ensure that you're protected from accidents by serving as a reliable driving assistant to direct, record and protect you and your vehicle.
Who is it for and How Helpful can it Be
This device is great for drivers who are always on the road. Your vehicle's safety is of utmost importance to you so getting this dash camera is for you.
The VVCAR 12″ Mirror Dash Cam is helpful to you as a driver because it reduces the stress of always having to turn to check what's happening behind and around you, especially when you want to park or reverse.
FAQs on VVCAR 12″ Mirror Dash Cam
 How can the VVCAR 12″ Mirror Dash Cam be set to kilometers only?
You can set your speed unit to kilometers only by setting your speed unit to either km/h or mph.
 Can this device show the altitude while driving?
The VVCAR 12″ Mirror Dash Cam can not only display the altitude, but can also display the longitude, latitude, direction and even your driving speed on the monitor. However, you'll have to make sure your GPS module is plugged to your mirror dash camera.
 How can I get my Lane Departure Warning system to work perfectly?
You can simply do this by turning on the switch marked LDWS and ensuring it is set to 'ON'
 How long is the rear camera cable of the VVCAR 12 Mirror Dash Cam?
The rear cable of the VVCAR 12″ is about 20ft long, although you can request for a 50ft cable if you own a bigger vehicle like a truck or trailer.
How to Install it in a Car
Installing this dash camera in your vehicle is quite easy although it may take a little while to mount it correctly as it isn't a wireless camera system.
However, with these few steps you're good to go.
 Mount the display screen over your rearview mirror using the rubber straps that came with the package.
 Connect the rear wire to your rear camera.
 Place your rear view camera above your license plate.
 Connect to your vehicle's tail light.
Pros
 Easy to understand and navigate.
 Eliminates blind spots.
 Clear video quality.
 Loop recording function.
 Dual functionality
 Not expensive.
Cons
 GPS Module could randomly go off.
 Picture quality could get choppy especially at night.
 A bit difficult to install.
Conclusion
The VVCAR Dual Dash Cam is a modern rearview camera that comes with a lot of amazing features and functions that makes driving very easy for you as a driver.
This dual dash cam comes with a lot of specifications that is all aimed at providing the best driving experience while ensuring you and your vehicle are well guided. This device is quite perfect for drivers who are used to driving a lot.
First of all, it is quite easy to install and mount, it also has an enhanced Night Vision feature that makes recordings come out clearly irrespective of the time and weather, and also, the device warns you of when you are driving off course as well as loads of other benefits.
Finally, you should know that the VVCAR 12 inch Mirror Dash Cam comes with a free 32GB SD card and a 3-year warranty. Although there are certain issues like the GPS module automatically going off on its own and the fact that installing might look harder than it appears. Even then the VVCAR is a good buying choice.