With a proliferation of dash cameras sold all over stores today. Getting a dash camera that can serve you perfectly could be a dilemma. You're ridden with the task of choosing out of the countless cameras. The one that you think is the best for you and sometimes. This can be difficult because you're faced with different choices. Moreover,  Read on to learn more about this Dashcam in this VIOFO A129 DashCam Review.
One thing you should bear in mind when choosing a dash camera is getting one that not only functions as a mirror dash camera but also doubles as a backup camera because you need a product that guarantees the overall safety of your vehicle as well as you the driver.
The VIOFO Al29 Plus dash Cam 2k is one of the top dash cameras that should come to your mind when choosing one for your vehicle because of some of its interesting  specifications and functions we shall be discussing in this VIOFO Al29 plus dash cam 2k review.
About Product
The product comes with a mini USB cable, a micro SD card slot that can accommodate a maximum of 256GB storage and it has a dimension of 3.25 x 2x 1.62 inches. It also comes with a dash camera, 5 clips, 2 stickers, a car charger, a GPS mount, a card reader adapter, and a trim removal tool.
VIOFO A129 Plus dash cam is one that records clearly at a camera quality of 1440P and it comes with an Aperture 7 Elements Glass Lens that ensures your camera captures all scenery in highly defined quality, especially objects like license plate, street and road signs.
This device also comes with a built-in WiFi system that allows you to connect the camera directly to your smartphone using the VIOFO APP.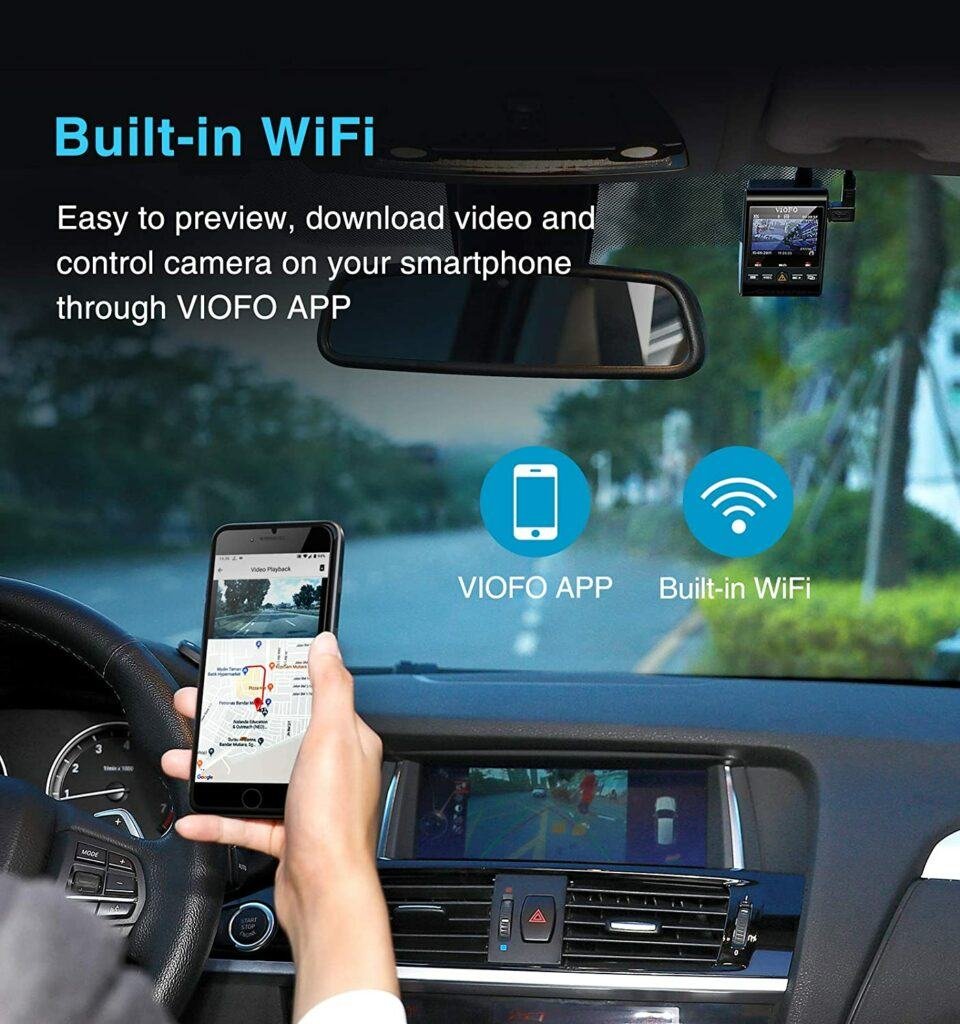 With the Wi-Fi connection, you get to download, preview and even change camera settings via your smartphone. You can also view your map and discover your location and the direction your vehicle is headed next.
The product also comes with a GPS logger that saves and records all that is happening with your vehicle. For example, it records your speeding data, location, routes and even directions and ensures that this data is available in playback mode.
The VIOFO A129 Plus Dash Cam 2k is also with a super capacitor that guarantees a more stable power supply. This dash cam is also great for any weather or temperatures as it can excellently perform in whether extreme hot or cold weather conditions. This device also has a 3 parking mode function from which you can choose from.
What is Product For
This product is designed to save you from the inconvenience of always turning to check whatever is going on around you while you drive.
With its unique design and functions, the VIOFO Al29 plus dash cam 2k serves as the perfect driving assistant to help protect you and your car from accidents.
Who is it for and how helpful can it be
Owning a dash camera should be a priority of every driver irrespective of the purpose of your vehicle. Getting a dash camera that also functions as a backup camera is beneficial to you as a driver.
Because it not only ensures that you're informed of the things around and close to your vehicle, it also serves as a means of proof/evidence in cases where accidents occur and you need proof for an insurance claim.
FAQs on VIOFO A129 Plus Dash Cam 2k
● What brand of micro SD can I use effectively with this camera?
When getting a micro SD card for your camera, it is best that you get one that is of high capacity with MLC technology. You can choose to get the SanDisk Ultra A1 micro SD
● There's an inscription on my camera tagged "emergency recording", does this indicate that the camera has eMMC?
eMMC on this camera doesn't mean Emergency Recording, eMMC rather refers to the Internal Storage and media unit of the device. It is called embedded Multi-Media Controller.
● The package says that the device requires 1 Lithium battery but I just received my package and it is against lithium components. What exactly does this mean?
The VIOFO A129 Plus Dashcam comes equipped with a capacitor. Meanwhile, the battery mention is the RTC battery. Which is used to maintain the system's clock so that it keeps working even when the device is off.
How to install it in a car
Installing the VIOFO A129 Plus Duo Dash camera is similar to installing other dash cameras. For easy installation, all you have to do is follow the instructions. That come with the user manual and your dash camera is successfully mount.
Pros
● Built-in Wi-Fi
● Functional GPS logger
● Excellent video quality
● Excellent night vision
● Portable design
● Stable mount
● App is easy to use
● Buffered parking modes
● High sensitivity
Cons
● Wi-Fi service can be unstable sometimes
● You can't save to the cloud
● App can be flaky
● Doesn't rotate to the left or right
● Parking mode takes lots of energy
● GPS mount failure
Conclusion
The Viofo A129 Plus Duo camera is a pretty useful device as it takes nice quality footage and has a lot of nice features that performs excellently.
However, installing it might seem easy but there is the issue of the wires sticking out and blocking the wind screen. This can be a problem and somewhat of a distraction while you drive. So it'd be okay if there was a way the wires could be make to fit more perfectly when fixed.
Still, there is no denying the fact that the VIOFO A129 Plus Duo Camera provides some nice functions that makes it one of the best cameras of top value. specially for a price of $249.99
The product's camera quality is very sharp and the night vision is quite excellent. You can also use the H. 265 encoding for a seamless playback and streaming. It also comes with a VIOFO APP that is very easy to use and allows you to connect device to smartphone. It also offers buffer parking modes and other amazing functions. That places it at the top of the most sought after dash cameras out there.
In conclusion, the VIOFO A129 Plus Duo dash camera is one of high value that works perfectly and is highly recommended for you, as you get to enjoy an updated version of the VIOFO camera series.
We hope you found our VIOFO Al29 plus dash cam 2k review interestingly helpful. If you have a comment or Question. Leave it in the box below. We will be glad to hear from you.