A radar detector is a necessity for you if you want to avoid the cops and save yourself the stress of getting speeding tickets. In this Vantrue T3 1520p dashcam review you'll be getting to know more of this dash cam that doubles as a radar detector.
Most radar detectors use superheterodyne receivers to detect the electromagnetic emission from radar guns of cops and law enforcement agents. Depending on the brand you choose. It can pick up these emissions of these radar guns from a very far distance, alerting you of it. Long enough to be able to adjust your speed before getting closer to the cops.
Also, most radar detectors come with speed camera detectors and red light detectors. Delivering all-round safety from radar guns and speed camera detections while saving you from traffic tickets and court fines of breaking traffic rules. That sounds great, right?
Having a device in your automobile that can detect speed cameras is an absolute necessity. Especially when you think of the level of protection guaranteed when you add a dashboard camera to the equation.
Dashboard cameras are necessary as accidents are inevitable and many insurance firms will demand evidence before attending to your emergency which are many times not available due to the unexpectedness of the accident.
About the Product
The Vantrue T3 1520p Dash Cam with Radar Detector cost $169.99. Comes with a radar motion detection parking mode. And also a car dashboard camera that is of super capacity even at night, a 1600 wide angle. And up to 256GB memory capacity space.
This device has high heat resistance from 14 to 158oF to ensure a more stable recording, with an advanced processor and image sensor which provide clearer image quality.
The Vantrue T3 1520p Dash Cam with Radar Detector is fully equipped with a Large Aperture possessing 6 layer glass lenses that delivers a wider viewing angle. And its HDR feature makes recording in low-light conditions come out clearly.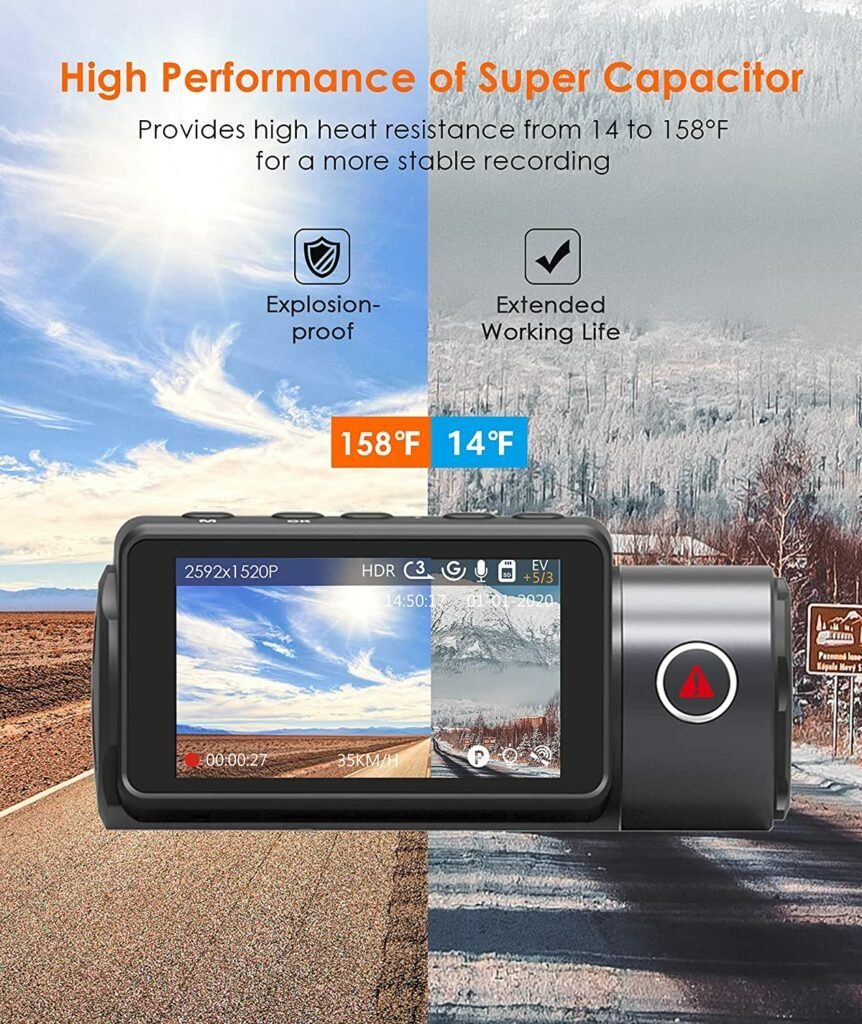 A dashboard camera should always be on standby video recording as this will save you in these unexpected moments and that's double protection for you.
All of these are actually what the Vantrue T3 I520p dashboard camera with radar detector offers – which is all round protection. From the radar and laser gun detectors of the cop and enough evidence should there be an accident for your insurance firm.
If being thoroughly protected on the road is what you desire. The Vantrue T3 1520p dashboard camera with radar detector is just what you need. It is a reliable witness with a G Sensor technology to record and lock video in case your insurance company needs it.
Who is the product for and how is it beneficial?
With its unique time-lapse feature, the DVR feature of the Vantrue T3 1520p dash cam with Radar Detector takes one photo every second, combining them into a 30 frps video, which is like compressing an 8-hour video into a 16minutes video.
The device is also super in taking clearer videos at night, and in case of a collision, even the plate number of the other car will easily be recognized.
Its 160o large view angle helps record multiple lanes of traffic and it doesn't miss any important information of the video. With the Radar detection parking monitor. Your car's safety is even more guaranteed when parked. As it takes videos once a vibration is detected until it no longer is. If all round security is what you need for your car, this device is simply for you.
How it is installed
1. First, attach the suction mount to the camera's mount connector, keep pushing it in until it clicks
2. Firstly, Clean the windscreen using water or alcohol, wipe with a dry cloth.
3. Moreover, Clean the suction pad on the suction mount.
4. Now, attach the suction mount to the windshield and rotate the locking clamp on the mount, rotate 90o upward until it clicks
PROS
● Effective camera recording even when vehicle is parked.
● Wide range traffic capturing up to 160o.
● The motion camera of the Vantrue T3 works well regardless of the time of the day.
● Good resolution, it is so easy to understand.
● It has amazing video quality.
CONS
● You can't save from your device's system to the cloud
FAQs on Vantrue T3 1520p dash cam with Radar Detector
● Can I remove my speed from the video?
Ans: Yes, you can choose to remove your speed details from the video. To do this, you simply have to turn off the stamp in the settings of the dash cam.
● Won't the sun or heat affect the dash cam in the car?
Ans: Assuredly, the sun or heat can't affect your device's dash cam because the dash cam comes with a built-in super capacitor, that produces greater endurance to cold and heat within temperatures 14 – 158oFF.
● What if I want to hardwire it to a hybrid vehicle?
Ans: You can choose to hardwire your device to a hybrid vehicle.
● Can I save directly to the cloud from my system?
Ans: Unfortunately, you can't save from your device's system to the cloud.
Conclusion
This is one of the best dash cam device you can find out there. Because of its ability to perfectly capture videos during low lighting and even at night.
With this device in your car, you need not worry about providing evidence to your insurance company, because with its G-Sensor. It automatically begins video recording if there is an impact, collision or vibration from the vehicle.
What's also best is that these videos are locked and you alone have access to it. The Vantrue T3 1520p dash cam with Radar Detector also has an adjustable memory of over 250GB, and as such larger storage. You can record so much regardless of the length of the trip.
The device also takes good pictures of the vehicle plate number of any vehicle that collides with you even when parked. And even at that parked state can take videos of vibrations and collisions. Which is good as it is in line with to protect vehicle from collision while avoiding speeding tickets.
The Vantrue T3 1520p dash cam with Radar Detector is a recommended product for you if you're comfortable with paying highly for a dash cam that doubles as a radar detector.
We hope you found our Vantrue T3 1520p dash cam review interestingly helpful. If you have a comment or Question, Leave it in the box below. We will be glad to hear from you.