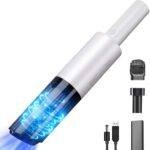 Getting a cordless vacuum cleaner from your car takes away all the hassle and struggle that comes with corded vacuum cleaners. A cordless vacuum cleaner is usually portable and works with rechargeable batteries just like Tomule Cordless Vacuum Cleaner.
When not in use, you can plug in your vacuum cleaner to charge the batteries. A good cordless vacuum cleaner presents you with all the benefits of a vacuum cleaner including freedom from cords.
And one to consider for your vehicle is the Tomule Cordless Portable Handheld Vacuum Cleaner.
About the product
The Tomule Cordless Portable Handheld Vacuum Cleaner cleans up both wet and dry dirt. It is a 6000PA vacuum cleaner that works dual-purpose, you get to use it to clean both your house and your car.
Sold at an affordable price of $25.88 on Amazon, the white vacuum cleaner is perfect for cleaning both indoor and outdoor.
It is durable and thanks to its cordless nature, there is no limit to where you can clean. You can easily reach all hidden corners and clean up dirt meticulously.
Built with strong suction, the device enables you to clean every corner of your car more effectively as it comes with a turbine and fan blade made specifically for this purpose.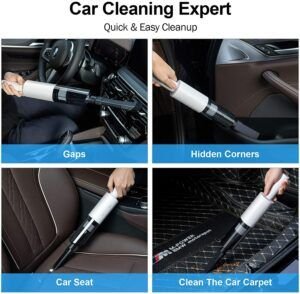 This Vacuum Cleaner can be held with a single hand and switched on with just a button. It comes with three different nozzle types and a HEPA filter, that allows you to easily dispose your dirt. However, this filter is detachable and washable so your vacuum cleaner also stays clean.
The product is great for mothers, home keepers and everyone in general because it doesn't require effort or too much energy to operate.
Weighing just 0.88lbs, it isn't designed for just housekeeping and maintenance. You can also use it in cleaning your vehicle as it is portable and mobile.
Therefore, you don't have to wait for the next car washing session, because with the Tomule Cordless Vacuum Cleaner, you can always clean your vehicle on the go.
The product also comes with an amazing after-sales service that promises to attend to any of your queries within 24hours.
Its batteries is not so good as it takes three hours to get fully charged but works for just twenty-five minutes.
Hence, you are advised to fully charge the vacuum before each use. After that, you get to experience a seamless cleaning process with the device.
What is Product For
The Tomule Handheld Vacuum is designed for offering maximum cleaning service to its users with its high-end functions that ensures easy cleaning of the surroundings and car interior. It's one of best vacuum cleaner like Farsala cordless vacuum.
Who is it For and How Helpful can It be
This product is great for everyone, especially mothers, home keepers and drivers.
Because of its compact and portable design, it is easy to carry.
Owing to its cordless nature, stressing about cleaning hard-to-reach areas is eliminated as it has a washable HEPA filter and three different kinds of nozzle for scrupulous cleaning.
FAQ's related too Tomule
 Does it come with batteries included?
Yes. It does.
 How often do I have to change the HEPA filter?
You are to change it as often as possible. If you discover that the suction power seems weak, please change the HEPA filter immediately.
 How much noise does this product make?
The product produces very low noise. It is about 68db.
How to install it in a car?
The device doesn't require any installation. Simply charge it till it's fully charged, switch it on and use it to clean your car's cabin.
Pros
 Lightweight
 Portable
 After-sales support
 Comes with batteries
 Strong suction
 Low noise
 Rechargeable batteries
 Comes with three different nozzles
 Requires three hours to get charged
 Twenty-five minutes fully charged working time.
Conclusion
The Tomule Cordless Portable Handheld Vacuum Cleaner is a dual-purpose device. It works incredibly well in cleaning your vehicle and also does a great job in cleaning your home. The device doesn't require any installation and simply needs three hours of charging.
However, that's quite a long time for certain users. Considering the fact that even while it's fully charged, it has a working time of only twenty-five minutes. Regardless, thanks to its cordless nature it is easy to clean every corner of your car.
However, the product has gotten a ton of negative reviews, saying it doesn't work well on cleaning car dirt. So it's important to keep that in mind if you still want to purchase the device. You can check here for amazing vacuum cleaners.