Every good sailor needs to be a master at navigation. But then again, the act of moving from place to place is not just restricted to water bodies, but on land and air, too. The method of determining the distance traveled, course, and position of automobiles: cars, SUVs, trucks, bikes, and people too has been made a lot easier in the process of time through years of technology.
This product, the TomTom Go 52 GPS 5-inch Navigation Device saves you the trouble of missing your way alongside its multiple functions.
TomTom Go 52 Navigation Review
Weighing 15.2 ounces, the TomTom Go 52 GPS 5-inch Navigation Device has a 5-inch LCD touchscreen and is created to be a personal companion, a reliable and intelligent friend.
Getting stuck in traffic affects people's salaries and/or wages; it costs some people their jobs even. Moreover, no employer would be excited about their staff reporting late to work consistently with the excuse of being caught in traffic. For the people concerned, the upgraded TomTom Traffic feature is a great help.
This feature inspects the grid and looks for the most suitable route to arrive at a set location in the quickest, traffic-free, and direct route.
Think of it as a hack to bypassing heavily stuck traffic routes. It has easy access to downloading maps of whatever location you desire and readily sets it up for use.
The device is completely user-friendly and will keep you engaged with its compatibility with Siri and Google. Siri, the personal voice assistant, will save you the stress of swiping and tapping buttons by taking your voice commands and reading SMS with the TomTom Go feature, while your mobile device is safely tucked away.
This hands-free feature allows ease of use in making and receiving calls while on the steering. An advantage is the TomTom prediction which on its own is a wow feature— activated by regular drives and perfected with constant usage, the feature allows the device to predict your next stop on a particular route. Fun!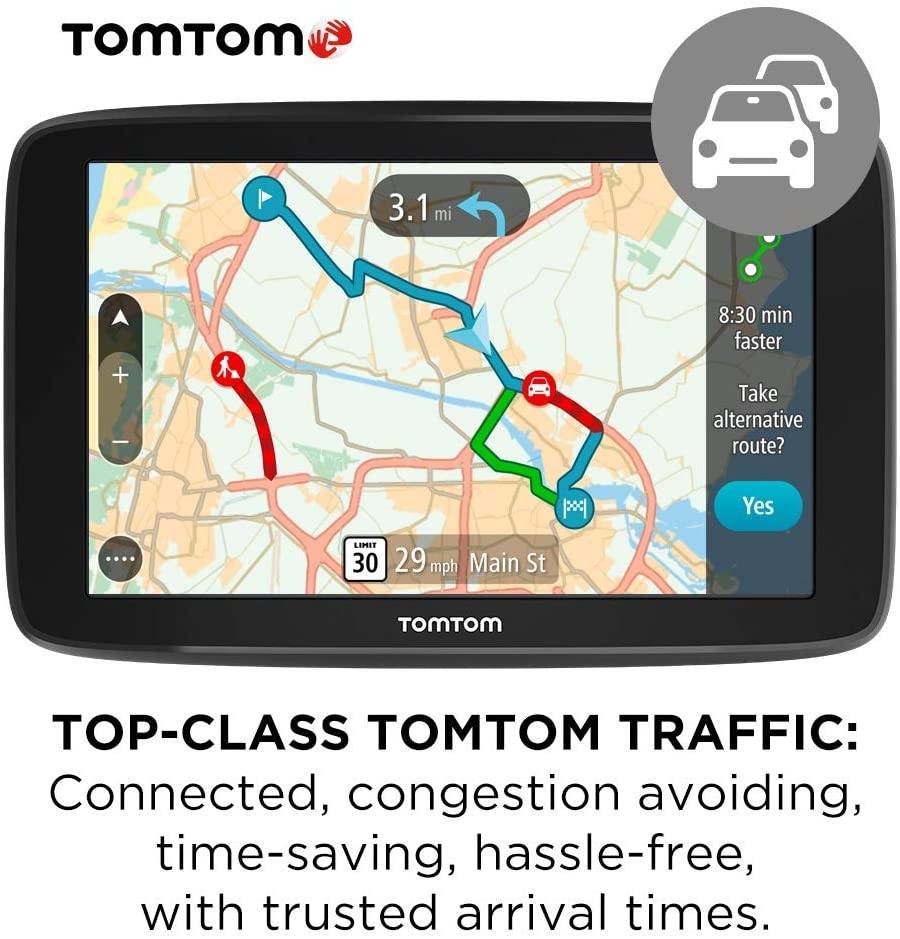 The device is easy to use and user-friendly, Furthermore, it saves every single voice command, every swipe, every turn, every tap for the best user experience through smart learning.
Firstly, the device isn't just restricted to USB connection technology, it also has wireless connection technology via Bluetooth and WiFi.
Secondly, The TomTom Go 52 GPS 5-inch Navigation Device constantly notifies you of updates that would allow you the best user experience.
This device also would set as a reminder to speed limits of different lanes, and would effectively remind you of safety cameras, with advanced warnings, mounted on highways and roadsides to check drivers' compliance with community speed standards.
It is one device that saves you from the next painful and embarrassing 'pull over' experience.
What Is Product For?
The TomTom Go 52 GPS 5-inch Navigation Device is a less complicated assistant that will aid your daily routine drives, save you from time-consuming traffic, and will ease your making and receiving of calls while driving.
The device is designed to function as a guide through the most appropriate route in your next drive.
Who Is It For And How Helpful Can It Be?
This device is virtually for every car owner who desires a quick and smooth ride to the mall, their workplace, vacation trips, and ease of work in terms of making phone calls. Moreover, it uses real-time traffic feedback to work out the easiest route.
FAQ's Related too
Can the device connect with my phone's Bluetooth?
Yes. The device is Bluetooth compatible.
Does the device include a battery?
The device requires 1 lithium-ion battery. And it is include at the time of purchase.
How To Install It In a Car
Use the supplied mount to install your TomTom GO in your vehicle. Read the instructions about positioning your device before you install your GO.
To install your GO, do the following:
Connect the supplied USB cable to the mount. If the mount is integrated into your GO, connect the USB cable to the device.
Note: Use ONLY the USB cable supplied with your GO. Other USB cables may not work.
Connect the USB cable to the USB car charger and plug this into the power supply on your dashboard.
Choose the best smooth location, on your windscreen or side window, to mount your TomTom GO.
Tip: If the mount is integrated into your GO, you can easily change the rotation of your device.
Push the button on the back of the device to release the mount, then slide the mount out. Insert it back into the other side of the device.
Make sure that both the suction cup on the mount and your windscreen are clean and dry.
Press the suction cup of the mount firmly against your windscreen.
Turn the rubber grip near the base of the mount in a clockwise direction until you feel it lock.
If your mount is not integrated into your GO, place your GO in the mount, making sure that it clicks into place.
Secondly, Dashboard adhesive disks are available as part of a range of accessories for your GO.
Pros
Hands-free service for ease of calls
Compatible with Siri and Google.
User friendly.
Real-time traffic updates to select the most favorable route for the next drive.
Cons
The device updates might be a bit annoying.
Touchscreen actions that have been registered via the smart learning protocol might be difficult to change.
Conclusion
The frustrating feeling after waking up late and thinking about getting stuck in traffic before getting to work all fades away like a mirage with the services of the TomTom Go 52 GPS 5-inch Navigation Device.
It is wholly user-friendly and doesn't require extra configurations to function properly. We hope you find our TomTom Go 52 Navigation Device review interestingly helpful. If you have a comment or question leave it in the box below. We will be glad to hear from you.