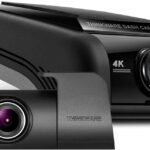 If you've ever wanted 24-hour security for your vehicle, a dashcam might just be the way.Some dash cams do more than just offer video footage, some offer extra features. One of those dash cams is the THINKWARE U1000 Dual DashCam 4K UHD
Dash cams are like CCTV cameras but for your car. They record video and sometimes audio footage and you can always get to see what happens even when you are not paying attention.
About The Product
The THINKWARE U1000 Dual Dash Cam 4K UHD is a cloud-enabled dual dash cam, equipped with a 2k 2560X1440 rear cam and UHD 3840 x 2160 front camera.
This dash cam features a wide-angle camera, a G-sensor, parking mode alongside WiFi and GPS features. Also, it takes amazing videos with exceptional quality and has a feature that alerts drivers to prevent accidents and keep them safe.
The device comes with night vision technology that allows the product to capture quality videos even at night and in low light conditions.
In addition, you get to capture minute details such as license plate numbers and other details that would otherwise be difficult to read.
Thinkware comes with an optional parking surveillance system that allows you to monitor your vehicle even while your car isn't moving.
The package comes with hard wiring cable, 12V power cable, Main Unit, 32 Micro SD Card, 2K rear cam and a CPL filter. With cameras that can capture at 150wide-angle, you can be certain that nothing goes uncaptured.
Equipped with Anti file corruption technology, the device protects your files so you never lose footage to memory loss or corrupted files.
The THINKWARE U1000 Dual Dash Cam is built alongside the Thinkware cloud as the cloud 2.0 enables remote live view, vehicle location, driving and parking notifications.
What is the product for?
The product is used for taking video footage of vehicles while in and out of motion. It's basically a CCTV camera for your car. It's one of best dashcam like Vantop 4k Dashcam.
Who is the product for and how helpful can it be?
The product is for drivers who are concerned about the safety and security of their vehicles. It equally provides drivers with alerts and hence keeps them safe.
FAQ's Related too Thinkware
 Does it require a lithium battery?
Yes, the product requires a lithium battery. However, the device doesn't come with one. The user will have to purchase the battery separately.
 How do I get access to videos?
You can get access to videos using the Thinkware cloud. It also allows you to track your car. However, you will need to connect to WIFI.
 Is there a product warranty?
The device comes with a one-year manufacturer quality assurance. However, you can only get this if you purchase the product from an authorized reseller.
How to install it in a car
Simply read the owner's manual and follow the instructions. It can be easily mounted on your windshield.
Pros
 Dual camera
 Night vision technology
 Thinkware cloud
 One year manufacturer's quality assurance
 Anti file corruption technology
 G-sensor
Parking mode
Wide-angle cameras
Cons
 Pricey
 Doesn't come with a battery
 Doesn't record audio
 Lacks gesture or voice function
 Doesn't have a dedicated GPS function
 One year manufacturer's quality assurance is only valid when bought from an authorized reseller
● Lacks loop recording
Conclusion
The THINKWARE U1000 Dual Dash Cam 4K UHD is a dual dash cam created for the driver who seeks clear and quality video footage of his or her vehicle. The device is built with night vision technology so you capture quality footage in low light conditions.
Armed with a G-sensor, you'll never lose a video due to a collision and equipped with Anti-corruption technology, your footage is proofed against corruption.
However, the device lacks some features you might consider important such as audio recording and loop recording. Nonetheless, it's a good camera despite its price of $329 on Amazon; which is way pricey than that of some of its competitors with a lot more features.