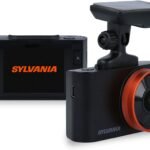 Getting a dash cam can be one of the best investments you could make for your vehicle. Even though most insurance companies do not value the action, it will help you immensely when you need to provide evidence and ensure the 24hour security and protection of your car.
If you want that, alongside a device that's easy to install and comes with several other features, you might need to purchase the Sylvania Roadsight Pro DashCam.
Among the array of choices, you would want to purchase a dashcam that is discreet yet has a screen big enough to reveal to you everything that you need to see.
About the product
The Sylvania Roadsight Pro Dashcam comes with a 130-degree view alongside a GPS feature and Lane departure.
It has other features, including a 2inch LCD IPS screen, loop recording, and a G-sensor that ensures that your video never gets overwritten.
Equipped with parking mode and night vision, the device can also ensure your vehicle is protected at all times.
Unlike some of its competitors, the package comes with the free offering of a 16GB SD card but doesn't come with batteries included.
The device can support up to a 64GB memory card, so you are promised at least 12 hours of video recording.
Thanks to the night vision feature, you also get clear and quality images at night and in low light conditions.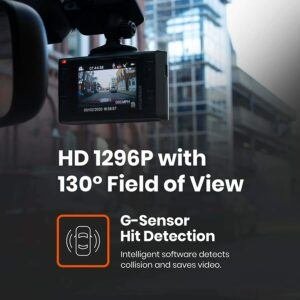 When driving in low light conditions, the device changes from colored recording to black and white. This way, your images appear clearer despite the lack of light.
The package comes with a dash camera, magnetic mount, the free 16GB SD card, trim removal tool, a recording window sticker, and a USB charging cord.
The device's cameras come on as your car is turned on and stops recording as you turn off your ignition.
Using the GPS feature, the SYLVANIA – Roadsight Pro Dash Camera can record your location, speed, and routes.
An added plus is that it comes with mobile phone compatibility, so it uses the WiFi feature to connect to your phone.
You can also view photos and videos from your phone using the Sylvania connect app. The application equally allows you to download video recordings to your mobile device.
Thanks to its magnetic mount, it is easy to install. The lane departure feature lets you know when you are too close to a car, so you can experience fewer accidents. It's a feature lacking in several competitors.
The SYLVANIA – Roadsight Pro Dash Camera goes for $132.99 on Amazon.
What is the product for?
The product is for recording events around and within a vehicle. It also performs tracking and security functions. It's one of best dashcam like AQP dashcam.
Who is the product for, and how helpful can it be?
The product is for drivers who would love a discreet yet functional dash camera in their vehicles to ensure security and protection.
It ensures that drivers get quality video footage of what goes on inside and outside their cars.
Besides helping drivers with evidence in times of accidents, it can also help prevent one, thanks to its Lane departure feature.
FAQs On SYLVANIA Roadsight Pro Dash Camera
● How large is the device?
The device is built with just a 2inch screen.
● Are there adapters for this camera?
There are no adapters for the camera.
How to install it in a car
The SYLVANIA – Roadsight Pro Dash Camera is easy to install.
Install the camera on your windshield. The magnetic best camera mount is adjustable and easily attaches to the windshield.
Use the trim removal tool to hide the USB Cord behind its inter trim.
Pros
● Easy to install
● WiFi
● Discreet design
● Memory card included
● Night vision
● Parking Mode
● Lane departure feature
● G-sensor
● Mobile App
● GPS function
● Black and white recording in low light conditions
Cons
● Battery not included
● Lacks a supercapacitor
Conclusion
The SYLVANIA Pro Dash Camera is a fantastic camera sold for a fantastic price. It provides the user with a discreet camera and yet a screen large enough to see all that is happening.
Equipped with lane departure detectors, enhanced night recording, and GPS function, you can be sure you are getting sufficient value for money. The camera produces impressive image quality both in day and night conditions.
Even in times when your lightning isn't perfect, the SYLVANIA Roadsight Pro Dash Camera automatically switches to capturing footage in black and white. Hence, you still get crisp and clear images.
One thing to keep in mind though, is that specific customer reviews point out that it seems to malfunction in hot weather, so you might want to consider that before you purchase.
Other than that, the device is a fantastic camera and should be among your choices when purchasing a dual dash camera.