Trying to protect yourself and your vehicle while driving is always of topmost priority as a driver. Spade mirror dashcam is best dashcam
Often, it isn't easy trying to navigate the road especially when you're stuck between too many vehicles, or in a situation where you have to reverse in a space that is tightly packed or dim.
As a driver, it is almost impossible to drive and monitor what is happening around your vehicle at the same time. This is where a mirror dash camera as well as a rear view camera comes in handy.
Prior to recent time, you might have had to purchase a dash camera and a rear view camera separately, but in recent times, you can get a device that doubles as a mirror dash camera as well as a rear view camera that allows you record and monitor all that is happening within and most especially, outside your car.
One of such multipurpose devices is the Spade 12 Inch Mirror Dash Cam and Rearview Camera.
About Product
The Spade 12 Inch Mirror Dash Cam is an essential car accessory that comes with a mirror dash camera, two rubber straps, a car charger, 4x cable clamps, an external GPS antenna, a pry tool, screws, tapes and cable for backup or rearview camera.
The product which cost about $160 has a dimension of 11.9 x 2.8 x 0.6 inch and also weighs about 0.37kg. Spade 12 comes with a SONY sensor that allows camera record pictures and videos in HD quality. It also comes with a display LCD screen of 11.88inch.
The Spade 12 Inch Mirror Dash Cam or Rearview Camera is also waterproof and can provide 1080p of highly defined images and videos. With an angle of 150° rear view camera, the Spade 12 ensures that your driving and reversing process is smooth and without difficulties.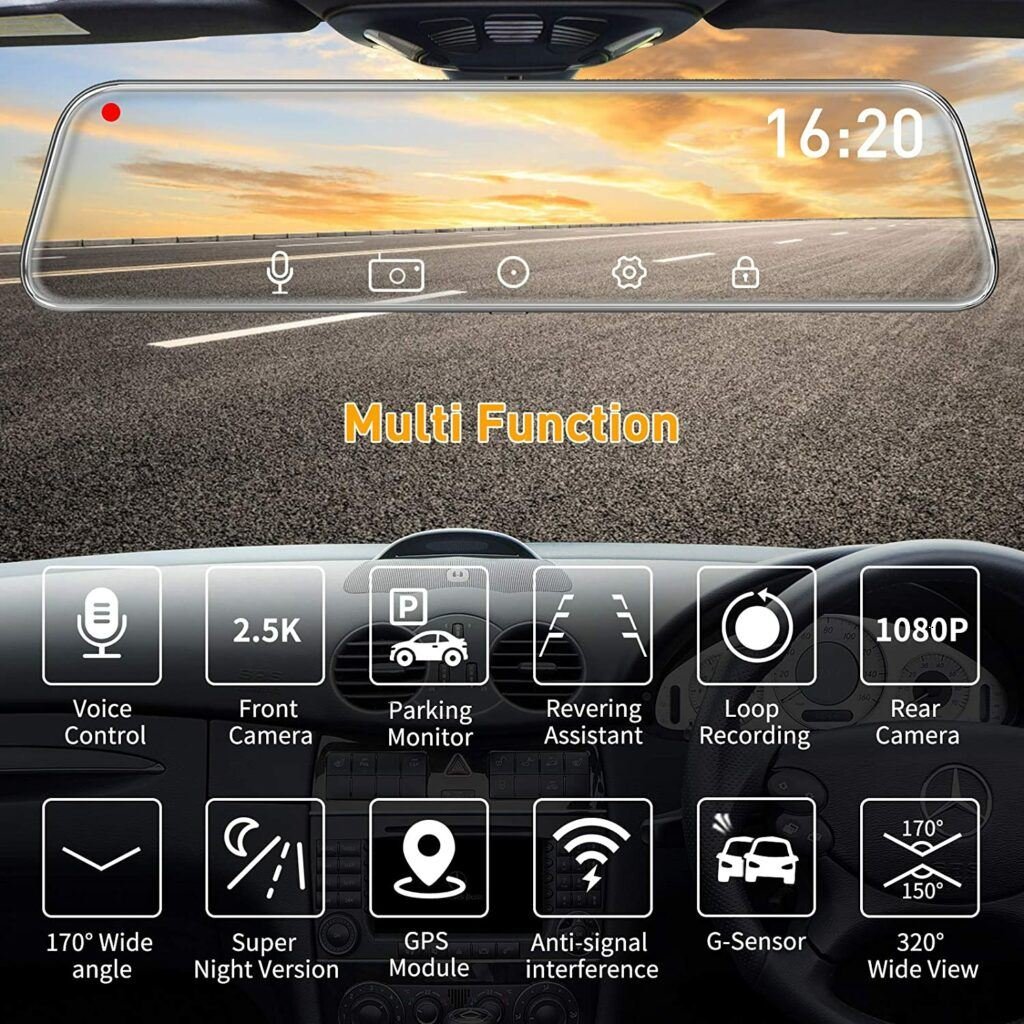 Equipped with an enhanced Night Vision feature that allows camera record clear images whether during the day or night, the Spade 12 Inch Mirror Rearview Camera offer seamless assistance to you as a driver.
Finally, the Spade 12 Inch Mirror Dash Cam/Rearview Camera also comes with a G-sensor technology that starts recording upon impact or collision to your vehicle and automatically locks and saves the recording to your files. The device also comes With a GPS feature that allows tracking of important routes, locations and your driving speed.
What is Product For
Spade 12 Inch Mirror Dash Cam and Rearview Camera is great for getting footage of all that happens around your vehicle and ensure that these recorded files are saved as evidence in cases of accidents and where there is a need for proof. It is one of best dashcam like azdome dashcam.
Who is It for and How Helpful can It Be
There isn't a specific user for the Spade Cam device. Basically every car owner concerned about the safety of his or her vehicle is qualified to use the device while driving.
Getting a rear view camera, especially one like the Spade 12 Inch Mirror Dash Cam, is beneficial to you as a driver because it saves you from accidents or running into other vehicles.
Also, it helps you reverse properly. Overall, it is helpful as it protects your vehicle and even you as a driver from driving mishaps.
https://www.youtube.com/watch?v=QBJSHhrkC8E
FAQs on Spade 12 Inch Mirror Dash Cam Rearview Camera
● How good is the Spade 12 Inch Mirror Dash Cam/Rearview Camera?
The Spade 12 Inch Mirror Dash/Rear View Camera is awesome as it offers 1080p picture quality that ensures clearer images and the backup camera also offers safety as you drive, reverse and park your vehicle.
● What's the maximum storage capability I can use for my camera?
You can install a 64GB or 128GB SD card with your Rear View Camera.
● Can this product record while in motion or does it only when collision to vehicle is detected?
The Spade 12 Inch Mirror Dash Cam and Rearview Camera can record while you drive, although recording automatically starts, locks, and saves whenever collision to your car is detected.
● Tried installing a 64GB memory card with my camera but it didn't work. What can I do?
You can solve this issue by first formatting your memory card from Micro SD card to FAT32 using a computer. Once that is done, you also format the memory card again in the dash camera and then it is ready for use.
How to install It in a Car
Installing this device is pretty easy. You can follow these steps to install.
1. Place your dash camera where your normal rearview mirror should be.
2. Attach one rubber strap to the top clip of your dash camera .
3. Attach the other rubber strap to the bottom clip of the dash camera.
4. Ensure that your camera is adjusted to a position that gives you a great view of what's happening behind you.
Pros
● Waterproof camera.
● Easy to use.
● Easy to set up.
● Clear night vision feature
● Comes with an advanced GPS support system.
● Great ability to multi function.
Cons
● Expensive
Conclusion
You might pride yourself as an extra careful driver but the truth is that no matter how much of an excellent driver you are, there are times when accidents (whether major or minor) might occur.
Getting a dash camera and rearview camera comes extremely handy as it allows you to have visual information on what's happening around you as you drive.
The Spade 12 Inch Mirror Dash Cam or Backup camera is a dual camera unit that comes with multi functions that is aimed at providing maximum ease for you as you drive.
There is really no issue with this device although user experience might differ.
However, if you're thinking of getting a dash camera that also doubles as a rearview camera for your car, then the Spade 12 Inch Mirror Dash Cam and Backup camera will be a good choice.