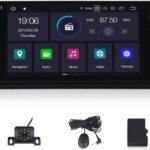 While going on long rides with your car, one thing that can comfortably cover the sound of the steaming engine and wind whooshing is music. And good music is best appreciated with sound stereos. The Rongji Android Car Stereo for Chevy delivers good music experience while at the same time serving a handful of other functions.
Rongji Android Car Stereo Review
The Rongji Android Car Stereo for Chevy is a product compatible with Chevy Silverado 1500 (2009-2012); Chevy Silverado 2500HD (2009-2012); Chevy Silverado 3500HD (2009-2012); Chevrolet Avalanche (2009-2011); GMC Acadia (2009-2011).
The product has a 7 inch LCD capacitive and multi-touch screen that displays a clear interface and also serves as a command input feature.
Sold at about $259, the multifunctional 2GB RAM stereo device operates with the Android 10.0 operating system which allows quick response and smooth operations while actively functioning with high efficiency.
It allows USB connection technology, and also wireless connections via Bluetooth and Wifi. This product's WiFi connection allows for uninterrupted 3G and 4G signals for surfing the internet and streaming audio songs while on the go.
This car stereo not only allow streaming of songs from the internet via the WiFi connection, it also supports the DVD playback function.
The product supports mirror links with Android/IOS devices and also has a clear front and rearview camera switch option which you can set as you'll like. This feature gives an unprecedented wider view of everything around the vehicle without you having to turn your head.
Furthermore, with already installed maps, the device's connection to the internet allows for more map data and navigational ease.
Also, the device supports a Hands-free feature with a built-in microphone which makes it easy to make and receive calls very clearly without having to be distracted from the wheels, plus its reception to radio AM/FM waves.
Note that the product's user interface has been sophisticatedly worked on to toggle between day and night modes. While at all times allowing access to quality audio performance.
The Rongji Android Car Stereo comes straight out of the manufacturer's desk with full customer support on installation. So no need to worry about installing this complicated beauty, although there might be a need for close supervision.
What Is Product For?
Rongji Android Stereo is a high-end product set to deliver high fidelity audio, superb video display, internet access to maps, and with it comes a combination of both rearview and front view camera. More like a cherry on top! For the best user experience.
Who Is It For And How Helpful Can It Be?
This product is designed to be used by all kind of Chevy drivers. Serving the hands-free function. You can concentrate on the wheels while making phone calls and listening to songs with quality audio fidelity. Plus its sleek and sturdy design, you get to have a good driving experience.
FAQ's Related to Rongji Android Car Stereo
Can I connect my phone via Bluetooth?
Yes, the Rongji Android Car Stereo is compatible with Bluetooth.
Does it support wheel control?
Yes, the product supports steering/wheel control.
How To Install It in a Car
It is advisable to ask for the help of a professional electrician knowledgeable in this field to have a perfect connection and output.
Service, electronic, and car shops will have a somewhat hefty price for installing radios. While they're not necessarily hugely expensive, you may see prices ranging from $50 to $200 depending on the complexity of the piece. The most complex radio systems may cost a little more to install.
Pros
3G and 4G WiFi connection.
Compatible with Bluetooth.
Comes with rearview and front view cameras.
A unique appearance and sophisticated design.
Highly efficient Android 10.0 Operating System.
Allows USB connection.
High fidelity audio.
DVD playback feature.
Cons
A little Pricey.
It is not compatible with all vehicles.
Conclusion
Although pricey, the $259 Rongji Android Car Stereo for Chevy device offers a highly impressive list of functions for listening to high-quality audio. And an impressive map navigation feature for the most comfortable ride.
A good stereo gets you a great music experience, you can check here for more car stereo options. We hope you find our Rongji Android Car Stereo review interestingly helpful. If you have a comment or Question Leave it in the box below, We will be glad to hear from you.