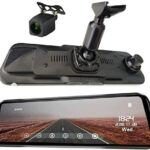 Your safety as well as that of your vehicle isn't something that you should spend a long time second-guessing. Most times what you have to look out for is the specifications and functions of these cameras. One camera that performs favorably and is great for motorists is the Nikomaku Mirror Dash Camera.
It is important that you get a device that is capable of providing safety for you and your vehicle while in transit. One of such helpful devices is a mirror dash camera, especially one that also functions as a rear view camera, great for backing up and parking.
Sometimes the normal rear view mirror that comes with your vehicle isn't usually enough to guarantee your safety behind the wheels. This is where a rear view mirror camera comes in handy.
In searching for the perfect dash camera for your vehicle, you might come across several dash cameras that promise quality performance, but how do you know which is the perfect one for you?
About Product
The Nikomaku mirror Dash camera with backup camera also known as the NikoMaku AS-2 Plus Dash Cam comes with a dash camera mount, a GPS antenna, 2 rubber straps, a rear camera with a cable that is 18ft long.
The product also comes with a car power cable, and an adapter.
The NikoMaku AS-2 Plus Dash Cam which is about $124. 99 offers full HD video quality at 30fps ensuring that your video appears very smooth and seamless. It also comes with an updated WDR technology that improves your video quality at night and even during daytime.
The Nikomaku Plus Dash Cam also comes equipped with an All Touch LCD screen system which allows you the access to view all that happens behind you as you drive, it comes with a wider mirror that allows you see all things clearly and performs even better than your average rear view mirror.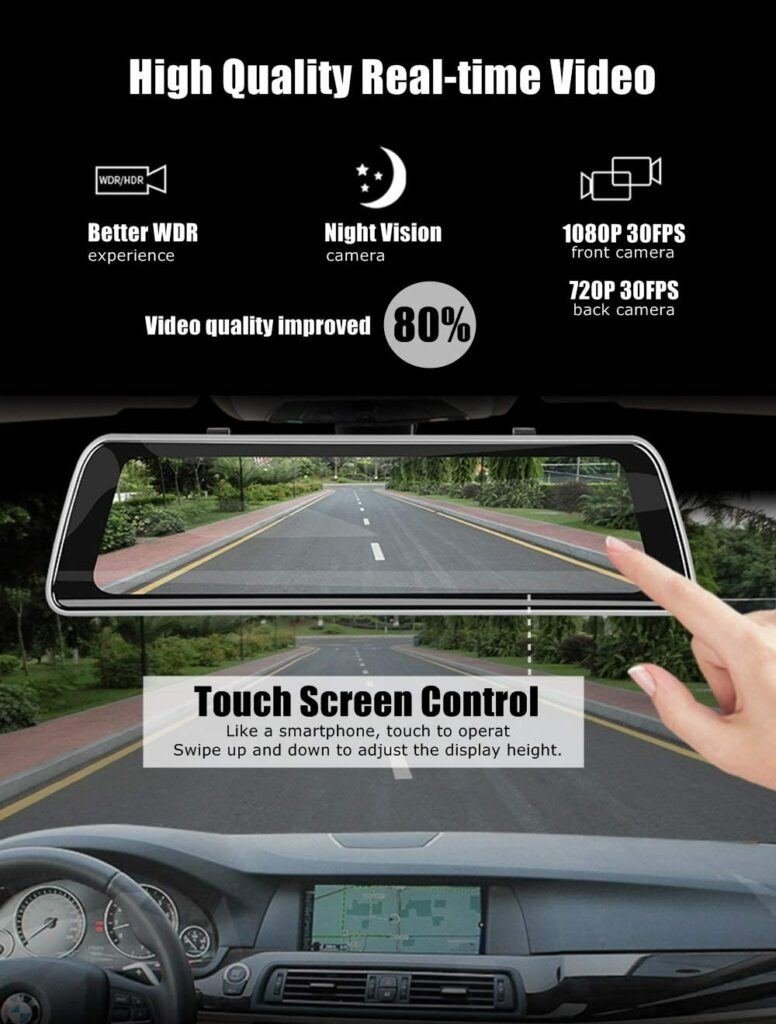 One amazing thing about this device is the fact that it is compatible with about 70% of all vehicles that ply the road daily. Also, when you're backing up, the screen automatically switches to your rear camera which gives you a full view of what's happening behind, and helps with a parking assist line that eliminates blind spots and ensures you reverse or park safely.
Nikomaku mirror Dash camera
The NikoMaku AS-2 Plus Dash Cam also has a GPS directional function that coordinates and oversees everything going on with your vehicle by recording your speeding data, routes, directions, location and all of these are displayed on the recorded file as a result of the GPS sensor that comes with the device.
Finally, this device comes with a G-Sensor parking monitor and Loop recording function. When there is any impact to your vehicle, the G-sensor automatically reacts to this and the Dash Cam comes and records a video that is usually 30 seconds in duration. After recording, the video is automatically locked and saved to avoid accidental deleting.
Meanwhile, the loop recording function helps to clear up video files that have been recorded earlier when your camera is already full. It is one of best Dashcam like Vizomaoi Dashcam.
What is Product For
The NikoMaku AS-2 Plus Dash Cam is designed to carry out the functions of your normal rear view camera with an extra touch by ensuring that you're provided with information about what's happening behind you as you drive.
Who is it for and how helpful can it be
This device is basically for all drivers, especially those who are fixate on getting a device that protects them from hit and run drivers.
The NikoMaku Mirror Dash Cam is highly helpful to you because you're provide with essential information and recorded clips of the scenery behind you and the stress of having to turn over every few minutes to see what's happening behind is eliminated.
Since the device is compatible with most cars, you're rest assured that it will work perfectly for you and ensure that you're safe in cases of emergencies or where there is a need for visual evidence.
FAQs on Nikomaku Mirror Dash Cam Backup Camera
How am I sure the supplied bracket of this device will fit my vehicle?
Before purchasing, it is advisable that you check bracket types available in the product description. If you still haven't found the perfect fit. You can send a picture of your rear view mirror to the company or via Amazon and request for one that fits perfectly.
How long is the length of the rear camera extension cable? Will it fit into my car?
The length of the rear camera extension cable is about 18 feet long. Although there's the option of getting a 9.8 feet long extension cable if it is not long enough. Altogether, you'd be using about 28ft long rear cable. Since most cars are usually between 18 – 20ft long, this length should be great for you.
Does my Nikomaku Mirror Dash Cam come with a warranty?
This device comes with a one year warranty when purchased from the company.
How to install it in a car
Installing this device is quite simple for those with a mechanical inclination. However, it can be a difficult task for a beginner. It is important that you follow the instructions that come with the user manual or consult the help of a professional who will help you with installing the device successfully in your vehicle.
 Pros
High camera quality
Serves as a parking assistant
High compatibility with other vehicles
Has a GPS directional feature
Provides wide viewing angle
Comes with a touch screen streaming media screen
Installation is simple
Simple user interface
Has G-sensor and loop recording function.
Shows both front and rear screen simultaneously.
Cons
Too much reflection makes it hard to use during the daytime.
Installation isn't as easy as it appears
Dash Cam might become loose after a while.
Conclusion
If you are looking for a nice mirror dash/backup camera, then the Nikomaku Mirror Dash camera is one you should try out as it has some functions that might just turn out to be best for you.
The product comes with a 12″ LCD touch screen that is super bright that is adjustable. And also provides a wider view and angle of all that's going on around you.
The NikoMaku Mirror Dash Cam Backup Camera has a camera quality that can be describe as top-notch as both cameras operate at a 1080P and provides a wide viewing angle of 170° giving you a concise view of all that's happening around your car. For a device that sells at $124.99, the design of this device is quite sturdy and portable.
Perhaps the most outstanding thing about this device is the fact that it is compatible with over 70% of all car models available and how efficiently it works with hassles. With a GPS system that is also reliable, there is absolutely no reason why you shouldn't go for the NikoMaku Mirror Dash Camera .