Music is an integral part of our everyday lives. It entertains us, allows us to focus, inspires and motivates and allows us to connect to our deepest feelings. You don't have to be an audiophile to enjoy music when driving, almost everyone does. A product of high quality speaker tech company – Massive Audio FC6 speakers were made to reproduce crystal clear sounds as you drive with it's 6.5 inch high powered drivers with high energy Y-30 made magnets.
An overly good speaker that produces quality sound enhances your listening experience as you drive.
These high powered speakers reflect quality and durability as they produce smooth and accurate treble courtesy of its 25mm solid silk dome large ferrofluid liquid coolers. It is one of best Speaker like  JBL GTO629.
 About Product
Currently selling at 148.35 dollars on Amazon and other digital stores, the massive audio FC6 advanced speakers come with ultraviolet protected low mass woven cones that bounce on a Cloth Nomex Spider producing 93dB sensitivity. It is attached to the surrounding of soft flexible Butyl rubber ensuring smooth, fast, hard hitting sonic playback.
These high powered speakers come with 6.5 inch woofers with grills, 3 inch midrange drivers, 25mm silk tweeters and two competition grade external crossovers. The device also guarantees you highly sensitive and quality audio representation as its high energy Y-30 magnets provide sufficient magnetic force.
Another notable feature is its 12dB linksworth Riley crossover that blends highs and lows together with excellent equilibrium creating a balanced sound for every genre.
Massive Audio FC6 – 6 Inch / 6.5 Inch 150 watts Review
Additionally, the device is built with rugged materials that enables it to withstand long hours of use ,resist high and low temperature conditions and harsh mobile conditions.
Built with durable materials such as Custom woven fiber paper cones with butyl rubber surrounds and custom designed pole piece, the massive audio FC6 is built to last so you don't have to worry about your speakers snapping or cracking or blowing at any time when you use them.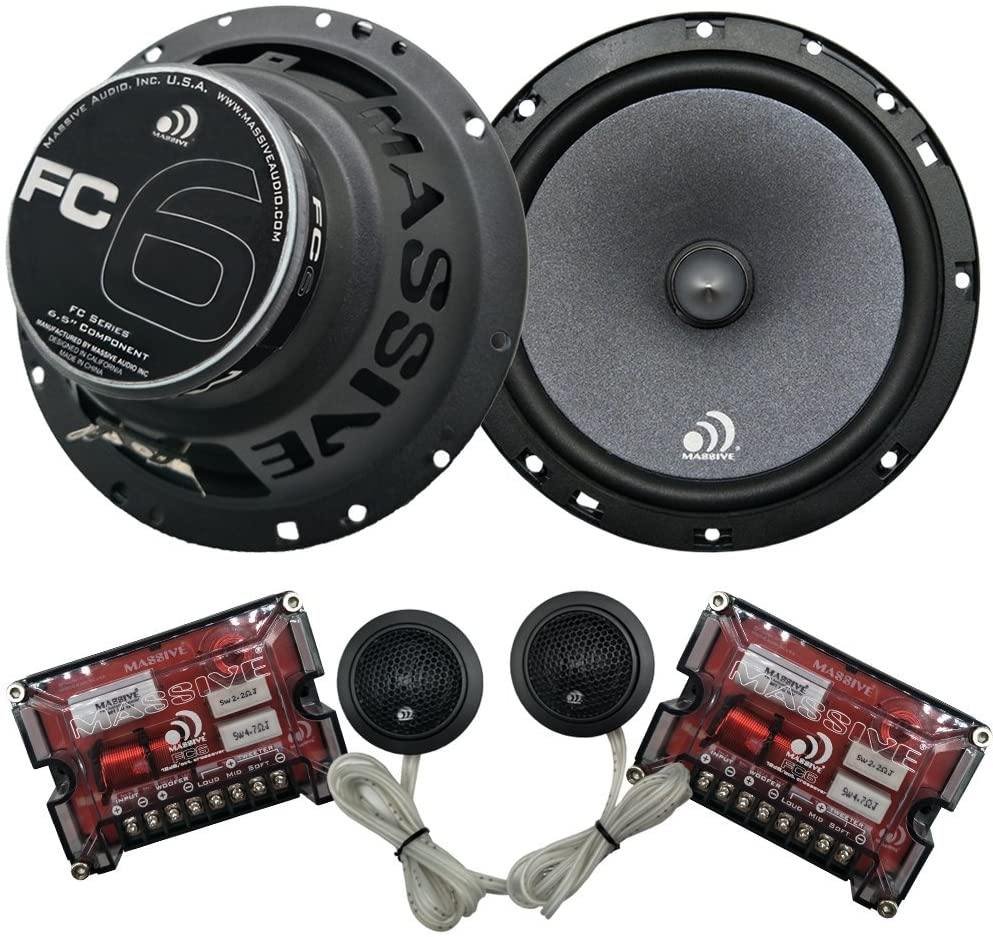 The brand new massive audio FC6 speakers pack comes with the following:
2 Speakers
two Tweeters
And two Midranges
2 Crossovers
2-Piece Custom Paintable Metal Grilles For 6.5 in speakers
What is Product For?
This three way kit massive audio FC6 speakers makes use of custom external 12dB linksworth Riley crossover to blend together the highs and lows in perfect harmony, Y-30 magnets with high energy for high powered handling and 1 inch high tempo voice coil to reproduce audio on high volume and excellent quality.
Who is Product for and How is it Helpful?
Constructed with high quality materials, its long lasting nature and sound quality the price is not so outrageous if you contrast its quality. These speakers are for every driver who appreciates quality music on the road.
FAQ's Related too Massive Audio FC6
Should an amplifier be used for this device?
Yes, an amplifier should be attach to this device for maximum effect.
What model series does the device fall under?
The device is a FC series massive audio device.
How to Install it in a Car
Installing the speakers requires a bit of expertise in installing electronic devices. Please, contact professional assistance for installation,.
Pros
5 Inch Driver with High-Energy Y30 Magnets
High Sensitivity And Accurate Sound Reproduction
Fully Isolated Tinsel Leads To Eliminate Crosstalk
External 12dB Linkwitz–Riley Crossover
Custom Designed Pole Piece for Low Distortion and Sound Quality
Rugged Construction to Withstand Harsh Mobile Environment
Guaranteed to last
Fully Isolated Tinsel Leads to Eliminate Cross talk 25mm Silk Diaphragm Tweeter With Ferrofluid Cooled V.C.
Cons
Requires a lot of electric current to operate, consumes your car battery quickly
High cost price
Conclusion
There are various benefits that come with purchasing the FC6 massive audio speakers. One of them is that it comes with a 6-1/2 in. drivers, 3 in. dynamic audiophile midranges, and 2 large ferro fluid cooled 25 mm soft silk dome tweeters that come with multiple mounting options, all of which help the device extend its playback up to 20 kHz with a precise balance between power handling, frequency response, and speaker location and 2-Piece Custom Paintable Metal Grilles For 6.5 in speakers.
Its multiple features and perks gives it great value for its price. With these functions, it's hard to see why the Massive Audio FC6 isn't a great car accessory for your vehicle.