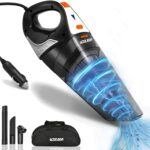 When you talk about convenience and luxury, Lozayi is a household name that is well recognized for its top-quality Tech products, ranging from outdoor solar lamps to portable, rechargeable blenders. Now, they have a car care product called the Lozayi High Power Handheld Car Vacuum Cleaner which serves as a perfect cleaning assistant for your vehicle.
This handheld device is great for cleaning up debris and other dirt particles from your car and doing these thoroughly.
About Product
Using the Lozayi 100W High Power Handheld Car Vacuum Cleaner is like getting a professional car cleaning service for your vehicle. It comes with a 5000PA suction which can clean dirty spots whether wet or dry quickly and conveniently. It could even pick up minute particles like cigarette ashes, hair, specks of dust, etc.
When you purchase the product. You get quality cleaning materials like brushes, crevice nozzles, and other materials all used to ensure that your car is kept fresh and neat. You get to store all of these in a carry bag you can easily take with you to clean as you drive.
Perhaps the most important feature of the Lozayi High Power Handheld Car Vacuum Cleaner is that. It has an upgrade HEPA filter that will help you release fresh air, clean the car's dirty surface easily while ensuring dirt doesn't block the filter as you use it regularly.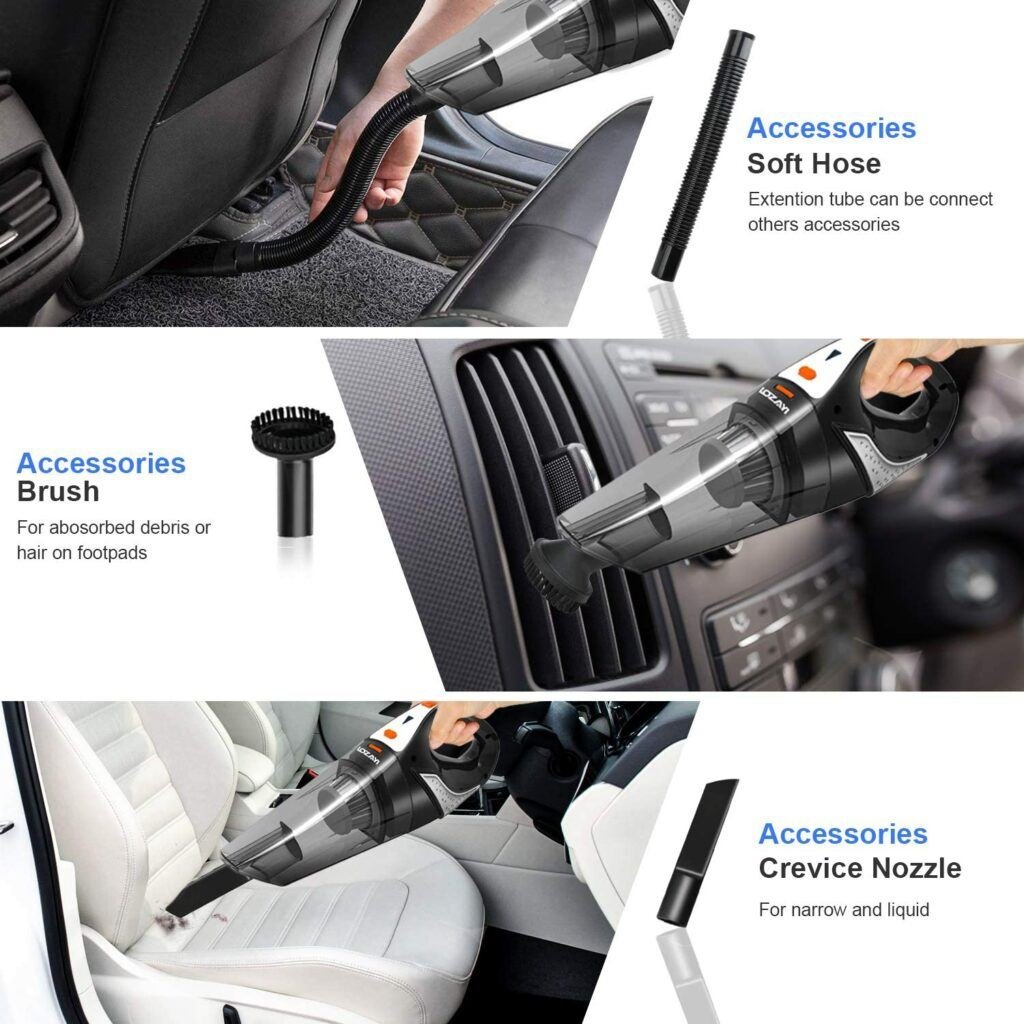 This car vacuum cleaner is very lightweight, so you can easily operate it. Even your kid can use this device for cleaning as it weighs just 1.85 pounds. It also comes with a 300ml translucent dust bowl that helps you gauge the dirt level to know when to empty it.
With its 16.4ft cord which you have to connect to the car's cigarette lighter unit, you don't have to stress yourself with reaching certain areas of your vehicle as you can conveniently use the long cable to carry out your cleaning activities comfortably.
Finally, you get to experience the best customer service. When you purchase the Lozayi car cleaning product as you get a 1year warranty and customer support. So whatever issue you might encounter during the period of purchase will be attend to within the duration of the warranty.
What Is The Lozayi High Power Car Vacuum Cleaner For?
The Lozayi Handheld car vacuum cleaner is design to give your vehicle a fresh and spotless appearance.
With the Lozayi high-power handheld car vacuum cleaner, you can clean your car in style and convenience.
Who Is The Lozayi High Power Car Vacuum Cleaner For And How Helpful Can It Be?
The Lozayi car vacuum cleaner is for all drivers and it works on all types of cars. From four-wheel drives, automatics. Moreover, stick shifts to RVs and your foreign-built Kias, basically suitable for most car types.
It doesn't matter what type of car you drive. You can still make use of the powerful car vacuum cleaner by Lozayi to make sure your transporter stays fresh and clean all day long.
FAQ's Related too Lozayi High Power Car Vacuum Cleaner
How powerful is this device?
This device works well and works perfectly because it comes with a 5000PA suction.
How often should the filter be changed?
You should change the filter almost as soon as you're done using it to clean your car. That way, it has a longer service life.
Is the product designed to only work for cars?
The Lozayi Handheld Car Vacuum Cleaner is designed to be used for only cars as you'd have to plug the cable into a car lighter to power up.
Can this device clean wet surfaces efficiently?
Yes, this product can clean up wet surfaces efficiently. All you have to do is use the crevice nozzle to clean up the wet area of your vehicle.
How to Install it in a Car
Installing the Lozayi high-power handheld car vacuum cleaner doesn't need too much effort as it can be done in a few seconds.
All you have to do is plug the cable of the vacuum cleaner into your car's 12V cigarette lighter and your device is ready to use.
Pros
 Handheld
 Portable
 Inexpensive
 Nice packaging
 Comes with a HEPA filter.
 Comes with quality cleaning attachments/tools
 Powerful 5000PA suction
 Cleans hard to reach spots and corners
 Comes with a carry bag for storage and mobility.
Cons
Isn't wireless
Emits loud piercing noise
Conclusion
This portable vacuum cleaner works like magic and will surely save you and your pocket the stress of using public vacuuming services at gas stations and car washes. Which probably would not do a better job thorough cleaning job as you would like.
Perhaps the major flaw of this product is that it emits piercing songs that a lot of people would find cringe-worthy. Aside from that, it performs quite well for a product sold at just $17. 25 dollars.