Acquiring a multi functional digital utility device that suits your car can be quite the task. Most extra car gadgets appear too conspicuous as they consume space and cause clutter. Hence, a replacement device is most ideal when getting a car gadget.
The Kingslim DL12 pro 4k mirror dash cam is a perfect epitome of a multi functional replacement gadget as it replaces the front mirror and comes with double cameras, one in front and the other fixed at the rear part of the car.
The device carries a 12-inch touch screen giving a wide surface for clearer view and its touch screen for easier connection and control operation. It features Gps tracking device just like Rexing 4K UHD DashCam Review.
Kingslim DL12 Pro 4k Mirror Dash Cam Review
The product is an upgraded version of a mirror dash camera which records events around and inside the car as you drive. Captured data is recorded and displayed on the screen as well.
The front camera captures native 4K UHD of 3840 x 2160 at a 30 frame per second footage with clear details while the rear camera captures at 2.5K which is 2560×1440 at a 30 frame per seconds resolution, capturing every tiny detail within its reach.
The Kingslim DL12 pro 4k mirror dash cam also features a dual Sony STARVIS sensor for night vision which enables the device cameras to capture details clearly in the night and under low light conditions, that way your camera captures even the tiniest details of the scenery around you.
The device is also built with quality and durable materials and is strong and highly resistant to extremely high and low temperature conditions, hence purchasing the product gives you a guarantee of durability and longevity.
Its 12-inch wide touch screen also enables you to view captured events on the rear area of your car which makes parking and reversing more easier and decreases the risk of accidents.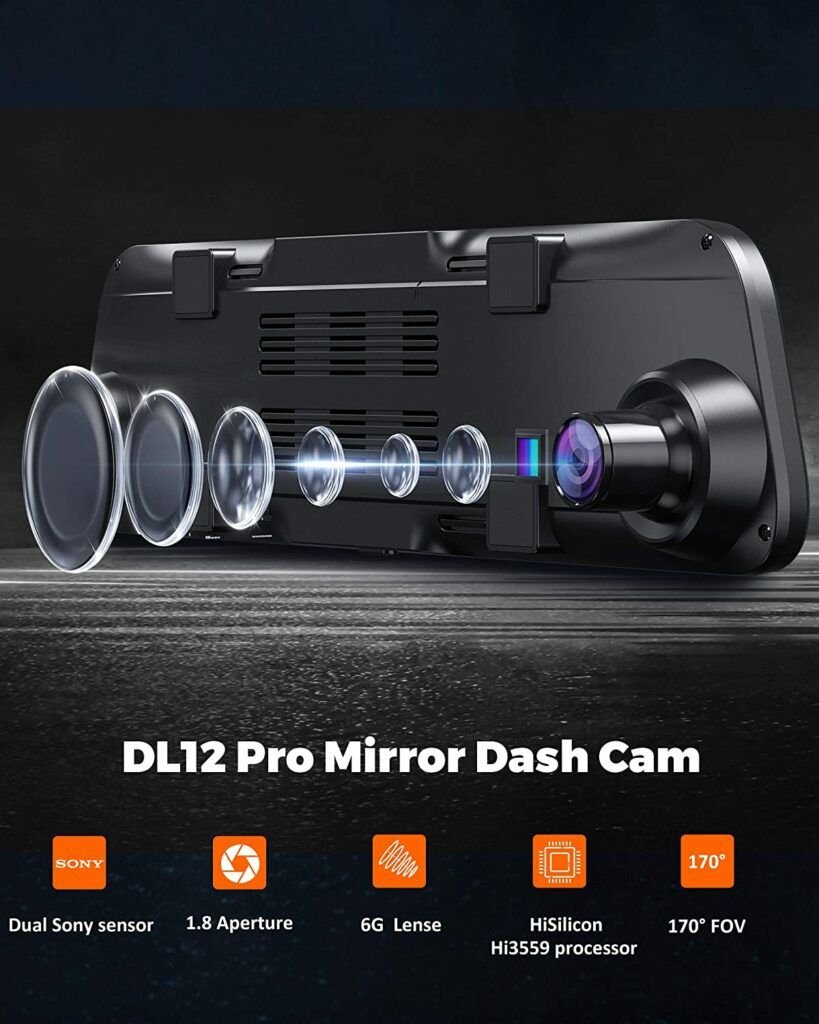 Additionally, the DL 12 kingslim mirror dash cam is GPS supported which enables tracking and monitoring of the current location of your vehicle and also speed tracking. It tracks important data and helps you navigate your way easily. Moreover, the gadget supports the Loop Recording function which allows the device to overwrite existing saved data when the storage capacity is filled. That way, you don't always have to worry about getting a new SD Card.
Along with its G-sensor feature, the kingslim DL12 also automatically saves and locks recorded events in the case of car collision or sudden hit, eliminating the fear of losing important video clips that might serve as evidence whenever you need them to back up your claims.
What is Product For?
The Kingslim DL12 pro 4k mirror dashboard camera comes with a double camera feature, fixed at the front and rear area parts of your car, the camera records captured events and displays them on the mirror screen while you drive.
The device also serves as a surveillance monitor when your car is parked as it records events all day round.
Who is Product for and How is it Helpful?
This multi functional utility device screen can also be used as a mirror gadget when turned off as it displays reflected images even while off. Imbibed with a GPS location chip, you don't have to panic when a car is stolen as the device automatically transmits its current location.
Despite its high cost price, the DL 12 kingslim mirror dash cam is an ideal replacement gadget for your car.
FAQ's Related too Kingslim DL12 Pro 4k Mirror DashCam 
Does this product come with a warranty period? If yes, for how long?
Yes, the Kingslim DL12 pro 4k mirror dash cam comes with a 2 years warranty.
Does the device support other languages besides English?
Yes, the device supports various other languages. Check the manual for the list of supported languages.
How to Install it on a Car
Gently remove the original dash mirror and replace it with the device, following the procedures set in the manual.
Follow the instructions to set the rear and front cameras firmly on the base of your car.
Pros
4K UHD resolution
Dual resolution modes
Night vision
Crystal clear capture and display
Resistant to extreme temperature
Professional and innovative design
Loop recording
G sensor enabled
GPS tracking
Multi functional like VIOFO DASHCAM
Compatible with every car
Cons
High cost price.
Not readily available on most digital stores
Conclusion
This gadget embodies so many features in one making it a monitoring and a surveillance device. Its picture perfect camera resolution enables the device to capture and display even the tiniest of objects and movements within its range. Despite its high cost price, the Kingslim DL12  dash camera's features and importance allows it to be just as valuable.
Sold for $199.99 on Amazon and other digital stores, the cost price is quite over the bar but the device maintains its value for the price, which is a top choice if you're the type that chooses quality over price.