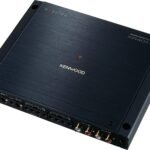 One intriguing thing about a great power system is that it can convert a sound system from average to high class. Some amplifiers can improve the quality of the overall sound system and add clarity to and bass levels to your audio output. Kenwood Excelon XR401 is very popular and powerful amplifier.
About an inch and half tall, this tiny size requires an operating voltage of 14.4V (11 – 16 V allowable range). If you're a lover of high bass level, you can use the amp in 2-channel mode to drive a couple of subwoofers with up to 200 watts RMS each. Its small sized nature enables it to maintain a low profile as it can fit into almost any part of your car.
Sold for $379.00 on Amazon and readily available in other digital electronic stores, the device is quite expensive when compared with similar amplifiers with common features.
 Kenwood Excelon XR401-4 Class D 4 Channel Power Amplifier | 75 watts RMS x 4 Review
This excelon series power amplifier comes with an ultra high frequency response up to 40,000 hz which helps in the reproduction of sounds that redefines your audio tone and sets the space even above hearing range. A combination of this amp and a high grade speaker will grace your ears with the best audio quality any car sound system can offer.
By utilizing the down firing subwoofer and superiority. This device can still maintain its compactness. While delivering high quality sound and superb bass level so you get to feel every tempo from your speakers.
Built with specially selected inductors and capacitors for this amplifier's LC filter so the device can resonate high quality sound which exceeds CD standard all around the clock.

Its small sized nature, coupled with its class D function which reduces the quantity of power supply (device has a current consumption of 37A to operate)  and its reduced power and connecting terminals and cables which reduces cluster and gives the interior of your car a clear and professional look.
Additionally, the device comes with a wired remote control that allows you to adjust and control the device's settings from the front seat when it is connected to the head unit.
What is Product For?
An amazing quality associated with this device is its capacity to a balance between the low pass filter frequency and the high pass filter frequency allows this device to deliver constantly high quality sound.
Its specially selected materials for capacitors and inductors for its LC speaker also allows the amplifier to clear out noise and distortion, ensuring you enjoy the delivered quality sound to the fullest.
Who is the Product for and How is it Helpful?
Complemented with a sleek design and great features which enhances its high performance and long lasting quality and having undergone and passed the CTA 2006 system test. This amplifier has managed to meet up the value for its price. It is one of best amplifier like CT SOUNDS AT 1400.
FAQ's Related too Kenwood Excelon XR401
What is the total watt level each channel requires for the device to operate?
Below are the current requirement for channel use;
Stereo 4 Ohms 75W x 4 Channels, or
Stereo 2 Ohms 100W x 4 Channels, or
Bridged 4 Ohms 200W x 2 Channels.
Can this amp power extra high grade car speakers?
Yes, the device is capable of powering high powered speakers. The device manual contains the list of subwoofers the device is compatible with.
How to Install it on a Car
Read the manual and follow the instructions carefully to install the device.
Refer to professional assistance if you contact any trouble during installation.
Pros
Deep bass sound
Noise cancellation
Specialized circuit design
Wired remote control
CTA 2006 supported
High resolution sound
Enhanced for optimal performance
Space saving size
Cluster free
Class D enabled
100W x 4 At 2 Ohms Power Output
100 dB Signal To Noise Ratio
Two year warranty period
Cons
High cost price
Difficult to install
Not resistant to harsh temperature conditions
Conclusion
This device, the Kenwood Excelon XR401-4 amplifier's  noise reduction system employs a special layout that separates the analog circuit, digital amplifier circuit and power supply circuit.
Also, it keeps interference between the circuits to a minimum, decreasing noise and thereby achieving high performance and sound quality.
Despite its high cost price, the device is still very much valuable as it embodies performance, class and quality.
Additionally, the device comes with a 24 months warranty period span.