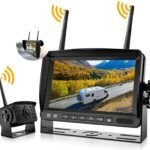 As technology advances, life keeps getting easier and more comfortable. Reversing and backing up of vehicles has evolved from a strenuous, prone to accident quest to an easy and more safety venture because of the advent of backup cameras. The Iposter Wireless Backup Camera is no different and you'll be learning more about it's unique features in this IPOSTER Wireless Backup Camera review.
These amazing devices, are connected to a monitor mounted on your dashboard and shows a vast angle of what's behind your vehicle all the time, thus, ensuring safe backing up and safety also whilst you drive. Many of these backup cameras automatically become surveillance cameras once your vehicle is parked providing ultimate security for it whilst on transit and even when backed up.
With its DVR recording function, a 170o wide view angle for a more enhanced view, an IP69 Waterproof camera that ensures stable transmission whether you're driving under heavy rain, or high temperature and a super night vision rear camera that gives you quality pictures regardless of the darkness of the environment you're in.
This wireless backup camera guarantees all this and a safer drive, great backing up experience and much more.
About the Product
The Iposter wireless Backup Camera comes with dual antennas that provide stable signal transmission while you drive. It also comes with a 7inch monitor with 1080P widescreen pictures for good picture quality display and a unique IP69 waterproof camera to brave the fiercest weather conditions.
It also comes with a Super Night Vision, and an inbuilt DVR recording function that saves you from traffic scam, and with this device. Riding in the dark is no longer as dangerous as it use to be.
The product is needed by vehicle owners regardless of the kind of vehicle you drive. The easy wireless installation makes installing it so very much easy that you don't need to go through the rigors of wire installation.
When you drive at night, you need not worry about what lies behind the camera as it has a super night vision that delivers quality pictures as you drive. The video feeds are still very much clearer for you to see what's behind. Under the rain, in extreme heat. Your camera will still work because it is designed with a waterproof cover to keep it safe.
This unique product also has dual antennas for effective transmission signal strength. You can be sure of minimal interference even while you're on speed. It also comes with a 3 monitor brackets, 2 stands and one suction cup
Price Range
Prices begins from $250
INSTALLATION
1. Fix the camera to your plate number at the back of your vehicle and connect it to the wireless transmitter.
2. Now, connect the red wire of the transmitter to the positive reverse light and the black wire to any metal ground screw.
3. You can now install the monitor after removing the original mirror on your windshield, plug it to the car charger.
Voila! Your camera is ready to use.
PROS
● Super quality picture at night.
● Strong transmission signal without lagging.
● Effective working even in harsh weather conditions.
● Very easy to install
CONS
● Limited function
FAQs on IPOSTER WIRELESS BACKUP CAMERA
● Can I add more than one camera to my device?
Yes. This device supports the addition of other cameras.
● Can this camera record whilst in a loop?
Yes. It has a DVR recording function that helps with loop recording.
● Can it record even when I'm not driving?
Yes, the IPOSTER wireless backup camera can record even when the car isn't in much as long as it is connected.
● How much of memory space does the IPOSTER wireless backup camera support?
The device can support up to 128GB memory card.
● Can it serve as a garage door opener?
No, the product cannot serve as a garage door opener.
Conclusion
The IPOSTER Wireless Backup Camera is very effective in securing your vehicle. The product guarantees an uninterruptible night vision recording and delivers excellent pictures, with a system that is easily installed and guarantees extra protection as you drive and whilst you are parked.
With a 7″ monitor for better pictorial display to serve you better when the light in the environment dims or becomes excessively bright, this product is highly recommended.
We hope you found our IPOSTER Wireless Backup Camera review interestingly helpful. If you have a comment or question, leave it in the box below, We will be glad to hear from you.