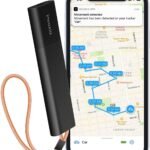 Used to check the course in which an object moves or progresses, trackers have come in handy with a full function of keeping real-life time relation with devices they have been mount, vehicles they have been implant in, or people that have it on them. The Invoxie Cellular GPS Tracker is one amongst such devices with the full effect of monitoring locations of items they have been install in.
Trackers come in different shapes and sizes with different modes of installments a few being more complicated than others. The Invoxie Cellular Tracker is comfortably small, lightweight, and concealable and does not need to be plugged in while in use. It can be placed in bags, on bicycles, in vehicles, and in valuables. Even on people, too.
About Product
This device comes in mostly black color and is relatively small. And weighs about 1.05 ounces which are considerably lightweight and offer discretion while in use.
It is fix to function and begin tracking once it is outside the box without further configurations or electrical installments.
The Invoxie cellular GPS tracker has an outstanding battery life that can last months between charges. Moreover, Which serves as a comfort to places with disturbingly poor power supply.
This product can be used to track anything at all that navigates anywhere across the United States of America and all this is possible with one installation of the product's application into your mobile phone.
This product includes a 2-year subscription to 4G LTE-M networks and it is an amazing offer because no one else gives such a free trial. Upon exhaustion of free duration, subsequent subscription goes afor about $39.90 annually.
What is Product For
We often worry about the safety of our valuables and require assurance concerning their movements. It might be our children, our automobiles, or company supplies.
The Invoxie Cellular GPS Tracker serves as a means of helping us keep an eye on the real-time locations of any such valuable, offering peace of mind and sweet relaxation.
Who Is It For And How Helpful Can It Be?
This product comes with the sole purpose of protecting against anti-theft and keeping real-time locations and feedback on the present places where valuables are.
It works as a measure against cases of lost goods, missing children, vehicles, bicycles, and overall, any automobile or generally everything we find important enough to keep under close check.
If the children have a record of getting lose in the next street or have the tendencies of forgetting their bikes in places they visit to play or meet up with friends. Then the Invoxie Cellular GPS Tracker would serve the perfect function of tracking them.
FAQ's Related to Invoxie Cellular GPS Tracker
● Does the product work in New York?.
Though dependent on the network signal strength of AT&T's network coverage, the device works anywhere in the United States of America.
● What is the return policy in case it doesn't work properly in my area?
The Invoxie Cellular GPS Tracker operates on the standard Amazon return policy.
● Is the product waterproof?
The product is not waterproof and can be damaged upon impact with the water. It is, however, advisable to put the product in a ziplock bag when in use.
How to Install it in a Car
The product is rather easy to install. All that has to be done, is to ensure the device is properly charged, and its appropriate application is installed on the device with which the tracking function would be monitored, and then turned on and ready for use.
Pros
● The product is relatively easy to install and operate.
● The corresponding application that needs to be install in the mobile device is easy to operate and set up.
● The product is lightweight and can be discreetly place in desired items and on necessary valuables.
● The product has real 4G and 5G connections.
● It also has a tremendously durable battery life that can last up to several weeks.
Cons
● The product is sadly not waterproof, and may not be able to be utilized in tough weather conditions.
● The device would not function without a mobile device to keep records of its navigation.
● The product is considerably expensive.
Conclusion
If you've needed to keep anything in check regarding its location or progress during transit. Moreover, the Invoxie Cellular GPS Tracker would run the job.
To keep a close eye on family members and goods to be supplied. Everything precious that might leave your presence and would be at the risk of jeopardy or theft can be fix with one of this product. We hope you found our  Invoxie Cellular GPS Tracker review interestingly helpful. Moreover, If you have a comment or question, leave it in the box below. We will be glad to hear from you.