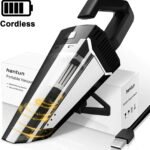 Vacuum cleaners are important equipment for cleaning our home and surroundings. A lot of people would testify to how using this has made the cleaning chore easier. Now vacuum cleaners aren't limited to the house alone. One useful product that should come to your mind when trying to purchase car care products is the Hantun Car Vacuum 5000PA Cleaner with a  Suction box.
Thankfully, there are now car vacuum cleaners made available for people to easily clean their cars. Sometimes, it can be a bit difficult to use the traditional brush or sponge to clean up your car. Furthermore especially hard-to-reach corners but with these car vacuum cleaners, you get to perform this chore easily without stress.
About Product
The Hantun Car Vacuum cleaner is a very sophisticated handheld and easy-to-use device that comes with two HEPA filters, a crevice nozzle, extension hose, brush nozzle, and a user manual, all put together to give your car a spotless look when cleaned.
At last, The handheld car vacuum cleaner which costs $19.99 comes with a powerful 5000PA suction that makes cleaning a seamless process especially as it helps with both wet and dry cleaning, and does this thoroughly.
Another admirable and useful material the Hantun Car Vacuum cleaner comes with is that it comes with a detachable HEPA filter (along with a spare) that is washable. With this, you can clean both the wet and dry surfaces of your car more efficiently. It is however important that you wash the filter to ensure they last longer.
With its translucent 800ml large dirt bowl. Moreover, you get to see the dirt level and know when to detach and dispose of this dirt properly.
Finally, you can be rest assured that all areas of your vehicle are well clean as the product comes with a 16.4ft ultra long power cable that allows you to clean all areas and corners of your vehicle as the cord is long enough to go through all surfaces for an overall cleaning effect.
What is Product For
Firstly, The Hantun Car Vacuum cleaner comes with a 5000PA strong suction and 120W motor, designed to clean your car well. Secondly, It can easily pick up dirt, food crumbs, hair, and other particles that leave your vehicle untidy.
Who is it For and How Helpful can it be
This product is great for all drivers especially for parents with kids. It's easier for the car to get dirty when you have kids as your vehicle's regular occupants.
Furthermore, Getting this device is helpful as it is easy to use and you get to clean your vehicle conveniently as it absorbs both wet and dry dirt/spillage quickly and easily.
At last, With its 16.4ft power cable, you don't have to stress yourself moving the device back and forth as it is long enough to get the cleaning job done comfortably.
FAQ's Related to Hantun car vacuum 5000PA
● Can you use the vacuum cleaner at home?
Unfortunately, you can't use this vacuum cleaner at home as it needs to be connected to a 12V automotive DC plug to work
● How long is the cord and can it reach my car trunk?
The cable that comes with the device is 16.4ft long and can reach all parts of your vehicle, including the trunk.
● Does the product come with a replacement filter?
Yes, the Hantun Car Vacuum cleaner comes with two HEPA filters, with one acting as a spare.
● How efficiently does this work?
This product works well as advertised. It helps clean your vehicle thoroughly and efficiently.
How to install it in a car
Moreover, Installing the Hantun Car Vacuum cleaner is quite easy. All you have to do is simply connect the cable to a 12V automotive DC plug.
Pros
● Lightweight
● Strong suction box
● Affordable
● Compact storage box
● Comes with a long cable of 16.4ft
● Suitable for most cars
● Comes with 2 HEPA filters
● Comes with a detachable dust collection cap
● Can easily clean up corners.
● Easy to carry around
Cons
● Not cordless
● Can't use it at home because it needs to be connect to a 12V plug.
Conclusion
Moreover, This is one product that has gotten a lot of positive feedback from users. It has prove to be very easy to operate and it carries out its functions exceptionally.
Another reason why it is a favorite among drivers is because of its budget-friendly price, and it offers really great value for the price.
Although some people might have issues with the fact that it isn't wireless, it still performs above average.
With the Hantun Car Vacuum cleaner with a 5000PA suction, you can't go wrong. You might have other options to choose from, however, this still comes recommended as it performs excellently and works as advertised.
We hope you found our Hantun Car Vacuum cleaner review interestingly helpful. If you have a comment or question, leave it in the box below, We will be glad to hear from you.