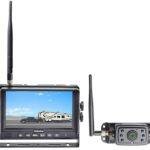 Reversing your car properly shouldn't be time consuming and stressful. Looking for a device that will aid you reverse and keep tab of everything happening behind you both while you drive or try to park? The haloview MC7109 7Inch 720P Digital Wireless Rearview Camera is that perfect device, as it is equipped with a 7" full color IPS monitor delivering 720P HD picture regardless of the time of the day.
This unique monitor comes with a 2.4GHz digital wireless feature that is saddled with rear parking assistance marker lines for reversing sagely, and a video recording function.
The Haloview MC7109 comes with a waterproof camera that ensures stability in delivering quality pictures and recordings and gives a 120o wide-angle view behind the vehicle.
About the Product
The Haloview MC7109 7Inch 720P Digital Wireless Rearview Camera weighs about 4.14 pounds and comes with a 7" IPS screen and can display up to 4 cameras views at once.  With its inbuilt 720P HD Digital Video Recorder for high quality recording, it has adjustable marker lines that help you reverse properly, and with its inbuilt microphone camera, it easily picks up sounds around your vehicle.
This unique brand with a dimension of 11.3 x 9.17 x 4.8 inches comes with a Furrion camera mounting bracket adapter plate that fits like the original.
The Haloview MC7109 7Inch Rearview Camera costs $290 and is a waterproof camera that helps stable capturing in both sunny days and rainy days, strengthening its reliability of capturing while you drive no matter the weather day.
The product is also equipped with a built in DVR that delivers 720P HD seamless recording, and saves it without interference. This device supports a memory space of up to 128GB, has a DC 10-32V power supply and can easily transmit from an amazing distance of up to 300m.
Who is the product for and How is it beneficial?
This device has an image resolution that's far better than its predecessor, the MC7108 as this comes with a stronger and better lens, and can transmit from a longer distance bringing you super clear images while driving as it comes with a 1280×720 resolution.
Its unique wide viewing angle feature that's up to 120o eliminates blind spots while driving, and this is really useful especially when you're reversing up in poorly lit areas.
The Haloview MC7109 7 Inch Rearview Camera is also equipped with a long monitor antenna that provides better and longer signal reception range, as well as a wireless signal range of up to 984ft. Its 7" monitor can display views from 4 different cameras. No doubt, this device comes in handy to drivers of all categories of trailers and large vehicles.
Installing this device
Ensure that the antennas are vertically line to the ground. Please ensure there's no obstacle around the antennas.
Attach the magnet base extension antenna to the top of the vehicle.
Mount the camera higher than the roof of your vehicle but as close as it can be to the roof whilst the antenna is vertical.
Move the antenna outward to a degree of 15-30, ensuring it has no proximity to any metal surfaces on the vehicle as any proximity may hamper the signal strength of the antenna.
PROS:
Ensures clearer view of happenings behind both night and day.
Easy to use.
Easy to install.
Convenient to use.
Excellent picture quality
Wide range transmission strong DVR signal.
CONS:
Camera quality can be hampered while the vehicle is on speed.
The memory space is relatively low in comparison to other rearview cameras.
FAQs on Haloview MC7109
Hey, I want to purchase the MC7108, why should I purchase the MC7109?
There are many factors that you need to consider as to why the MC7109 is the most viable and they include
(a) The screen brightness. The MC7109 comes with a brightness of 900cd/m2 as compared to the 550cd/m2 of the MC7108.
(b) The camera size of the MC7109 is more compact and portable, and despite the fact that it looks more aesthetic after installing it into the Furrion bracket base, it ensures a wider range of transmission and capture as compared to the MC7108.
Must the distance between the camera and monitor be 33ft for a reliable signal? What if I want to make mine 36?
Even if it is possible to use a 36feet to get reliable signals, it's advisable to fix your camera at 33ft distance to your motor, as this guarantees non-interference and free receptions even while you're at top speed.
Does the Haloview MC7109 come with a Furiion Mounting adapter?
Yes, the Haloview MC7109 7Inch Rearview Camera comes with a Furrion Mounting adapter for easy use.
Can I see the vehicle behind whilst driving on the highway?
Sure, you can. The rear view camera is specifically design for this purpose.
Conclusion.
Apart from the limited storage space, and the fact that the recordings may be a bit hazy or unclear if you are on high speed, there really isn't anything wrong with purchasing this camera for your vehicle. The smaller size of the camera of the MC7109 ensures a larger spectrum of coverage and easy mounting ability.
Dear car or trailer owners, this is your best option for an efficient rearview camera, especially one at this price range. The Haloview MC7109 7Inch Rearview Camera delivers excellent capture quality and great video feedback, wide range of transmission, no interference while transmitting
As a waterproof camera that ensures that the recordings are not in any way hampered regardless of the weather condition, relatively cheap while offering optimal security and less stressful reverse, the Haloview MC7109 7Inch 720P Digital Wireless Rearview Camera is one product you should totally go for.