The Freedconn tmax motorcycle helmet intercom device is a system that allows a biker to speak into a microphone and be heard via active speakers by their colleagues.
Communication takes up a great percentage of our daily lives. We need to constantly keep in touch with loved ones. We need to talk to the receptionist at the hotel. We need to talk to the bus driver. We need to talk to our teammates, and most times, we even need to talk to ourselves.
With the certain need to communicate, a lot of devices have been manufactured. The mobile devices, telephones and cell phones. But what happens when you're on a bike and need to talk with your fellow bikers?
It's obviously not possible to turn your head while riding and shout against the whooshing wind with hopes of being heard.
To ease communication between bikers during races or leisure rides, a lot of intercom devices have been wired to come to play.
About Product
The Freedconn tmax motorcycle helmet intercom is sold at $82 on Amazon and is totally waterproof— so you don't have to worry about it functioning properly during tough weather conditions.
Powered by a rechargeable DC 500mAh battery with working time of about 6 hours when connected via Bluetooth and about 7 hours of mobile talk time. The device has a standby time of about 7 days, a full week. And it is beautiful to see that the device isn't too bogus as it fits perfectly in any helmet.
This product can link up to about 6 users with a 1000m intercom range and about 500metres for separated riders' distance. The device is also designed to receive FM radio waves.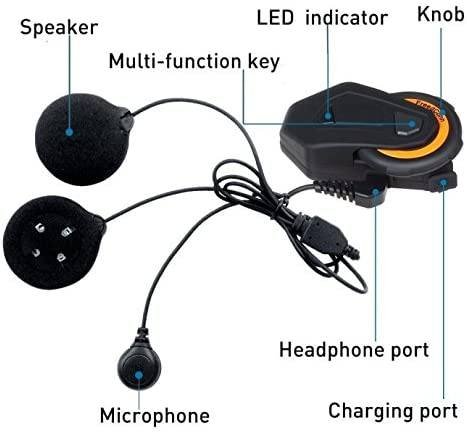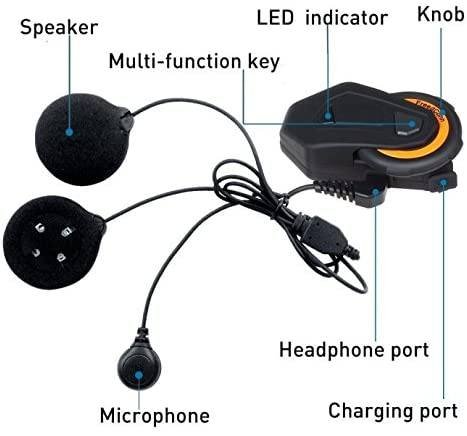 The device operates on a frequency of 2.4GHz and is in full compliance with Bluetooth v4. 1. This makes the device an outstanding Hands-free device for making and receiving calls while driving.
The system automatically receives incoming phone calls, allowing you to keep your hands on the wheels without having to make a fuss.
Its Bluetooth feature also allows for the device to be paired with up to two different devices at the same time, the connected devices might be either two mobile phones or one mobile phone and one GPS router device.
Freedconn Tmax Motorcycle Helmet Intercom Review
An added advantage is the device's compatibility with mp3 audio format. And you can listen to high fidelity audio streaming of your choice.
The Freedconn tmax motorcycle helmet intercom has an active wind suppression technology and an active noise and echo cancellation system that allows ease of communication.
Communication while on the drive, will be smooth and clear without difficulty comprehending what is being said.
This device is totally user-friendly and you have no worries about power outage while in use. Because, just as you can listen to music while riding, you can also charge the device while it's in active service.
The Freedconn tmax motorcycle helmet intercom device is one unit that you wouldn't need to worry about in conditions of unfavorable weather.
It has a durable water-proof and sun-proof function that would ensure you get the most while on the road.
You get to connect it to a power bank in case of low to recharge. However, this doesn't stop it from fully functioning  while that is ongoing.
What Is Product For?
The Freedconn tmax motorcycle helmet intercom device is a system design to keep you in touch with your fellow riders while giving you the option to listen to cool mp3 music of your choice or FM radio service.
Who Is It For And How Helpful Can It Be?
This product offers easy hands-free calling options with the feature of keeping up communication with co-riders while on the move.
FAQ's Related to Freedconn Tmax Motorcycle Helmet Intercom
Can you still communicate with other riders if there's no cell service and the other riders don't have cell phones?
No. You would not be able to once the network is out.
Will these freedconns connect/pair to other brands i.e. Sena, for example? Or just between themselves?
The Freedconn tmax motorcycle helmet intercom device will be able to connect to another device with the proper configurations and appropriate steps.
How To Install It In A Car
To install this device, you'd have to refer to the user manual. Although, installing is quite breezy as all you have to do is fix the intercom to the helmet of your motorcycle.
Pros
Easy to install and set up.
Good value for money.
Bluetooth compatible.
User friendly.
Good sound quality.
Good battery working time.
Cons
At a moving speed of about 160mph, the active noise cancellation features aren't wholly reliable.
Inability to listen to music and use the intercom feature at the same time.
Conclusion
With convenient handsfree function, the Freedconn Tmax motorcycle helmet intercom device is a top product at a fair price and offers a good value for money. It has high quality stereo speakers that should deliver information to you clearly without complications.
We hope you found our Freedconn Tmax Motorcycle Helmet Intercom review interestingly helpful. If you have a comment or question, leave it in the box below. We will be glad to hear from you.