Car owners are constantly looking for new ways to improve their in-car audio systems. Amplifiers, subwoofers, and now speaker baffles, also known as Boom mats, have all been applied to improve car audio. While amplifiers and subwoofers have proved valuable, speaker baffles are still a thing of contention. Motorists are still anxious about the real value it adds to their car audio, and if it is worth the price and stress of installation. Do car speaker baffles work? Or are they yet another unnecessary car accessory that simply takes space and reduces your audio quality. Let's find out.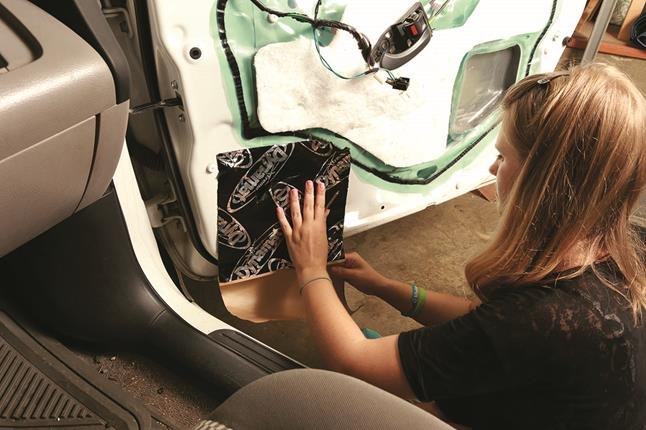 Speaker baffles are thin-formed foams that house the different car speakers, especially those in your car door. Speaker baffles improve in-car sound quality and prevent sound collision and interference while also protecting the tweeters, subwoofers, and woofers from dust and water damage. Speaker baffles also level out the high and mid-range frequencies to reduce mechanical vibrations to ensure correct reproduction of sound from the speakers.
Motorists are installing speaker baffles for the protection of their speakers and to ensure proper sound fidelity. This useful speaker accessory is an inexpensive way to improve sound quality and can be installed by just anyone. How do you install a speaker baffle? And does it last?
How does Speaker Baffles Work
Speaker baffles cushion the speakers on the mounting surface, preventing vibrations from the speaker to resonate throughout the entire vehicle. Depending on the quality of the baffle brand, vibrations are either reduced or eliminated, providing drivers with high sound fidelity that is free of vibrations by completely sealing the speaker.
Boom mat offers amazing speaker baffles that are capable of protecting your subwoofers, woofers, and tweeters, and ensures great sound output.
How To Install A Speaker Baffle In Your Car
 Anyone should be able to install a speaker baffle in their car. The installation process is simple as long as the instructions are properly followed. However, the complexities of advanced cars might create certain hiccups. We advise car owners to also consult their manufacturer's manual before commencing new installations or car adjustments.
Before you start the installation, there are some necessary tools to have in your possession.
Screwdrivers are easy-to-get tools that can be found in any home. However, screwdriver requirements differ from car to car. Some car speakers and wires are bolted with tiny screws that may fall off if not properly fastened to the screwdriver. We recommend using a magnetic screwdriver with a tight handle grip to ensure that the screw doesn't fall off.
Speaker baffles are big, therefore, require a good amount of space to cushion between door chassis and speaker. You'll need to make precise cuts and blade knives are your best tools.
You may need to remove your door panel to install a new speaker baffle. While it is possible to use other tools, a panel removal tool is your best choice as it not only ensures precision but prevents damage to the panel, wires, and speakers.
Advanced panel removal tools have up to 13 separate trimming tools for all types of cars. However, check to see that it fits your car before making a purchase.
Step by Step Guide on how to Install a Speaker Baffle 
Using your newly acquired panel removal tool, gently remove the door interior panel to reveal the speaker. Ensure that you don't damage other components in the area by slowly removing the panel rather than yanking it off as it could damage the panel, wires, and plastic clips. This is a fairly easy step. Follow the above instructions and your car will be in good condition afterward.
Next, you should remove the speakers using a screwdriver. Disconnect the wires at the back of the speaker before gently removing them.
Create a tiny hole in the baffle to pass the speaker wires before placing it in the mounting hole.
Connect speaker wires to the speaker through the baffle. The speaker should now be placed inside the baffle.
Using your screwdrivers, screw the speakers back to the metal panel.And install your door panel back. Ensure that all the wires are properly connected before sealing the panel.
Purpose Of Speaker Baffle In Your Car
 The baffle covers the front and back of the speakers, thereby holding the drivers in place. It also prevents the sound coming from the back and front of the car from colliding and causing noise interference to enhance sound quality. Baffles are manufactured with plastic, metal, or wooden materials, the same as the enclosure of the speaker to prevent vibrations.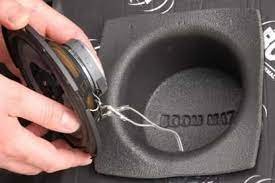 Do Speaker Baffles Reduce Bass
 Some motorists have claimed that the installation of a speaker baffle reduced the bass of their in-car audio. While this may be true, speaker baffles simply thrive to produce quality sound rather than higher bass. Better sound quality might mean reduced or increased bass. Improved sound dynamics will ensure clear distorted sound even in high frequencies.
Do I Need Speaker Baffles in My Car
 While speaker baffles are useful for enhancing the quality of in-car audio, not all cars need a speaker baffle. Speakers equipped with multiple drivers produce a range of frequencies that may cause pollution, and vibrations, which are antecedents for reduced sound quality. Speaker baffles become necessary with multiple drivers.
If your car speakers are exposed to water and moisture, then installing a speaker baffle is also a necessity. Speaker baffles are reasonably priced and perfect for speaker protection. The most expensive speaker baffle cost less than $20, so investing in one wouldn't cause a dent in your finances.
Dust is another major problem with speakers. Motorists residing in or commuting through dusty areas would need to install speaker baffles to protect speakers from dust and sand.
The Best Speaker Baffles To Buy
 InstallBay Acoustic Speaker Baffles
Price: $14.80
 Install Bay provides car owners with the best installation kit to complete a seamless speaker baffle installation. Trusted by both professionals and novices, the Install Bay acoustic speaker baffles are one of the best choices for speaker protection and audio enhancement. Manufactured with the best available materials to prevent vibrations, you can enjoy clear and high-fidelity sound while driving.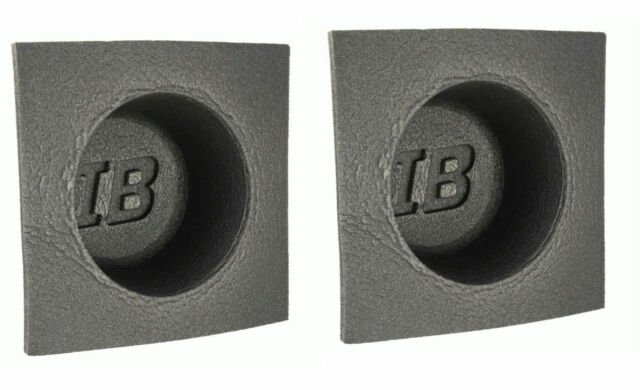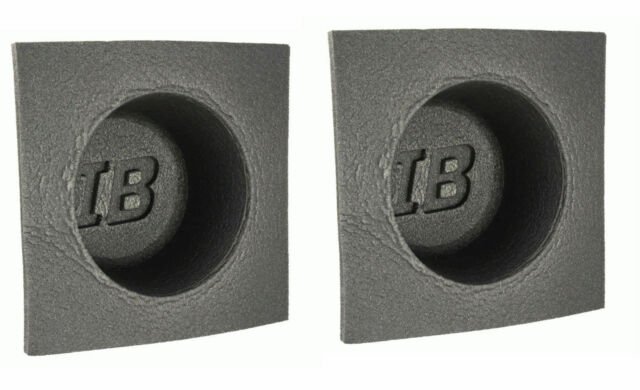 Although inexpensive, the product comes with a complete installation kit for quick installation. Motorists can simply park by the roadside to quickly add a speaker baffle to their car speaker. Manufactured by the best professionals in the market, the installed bay acoustic speaker baffles are made to last.
 Pros:
Inexpensive
Great design
High sound fidelity
Cons:
Metra 81-4300 Universal Speaker Baffle
Price: $10.15
 The metra 81-4300 universal speaker baffle is reasonably priced yet features several functions. Manufactured for all car types and door panel sizes. Can also be trimmed to fit your mounting hole and for better bass enhancement. It is designed to tightly seal behind your speakers for better sound quality and protection against dust and water.  The Metra 81-4300 is also durable. According to most buyers, this product needs to be cut to achieve the best results.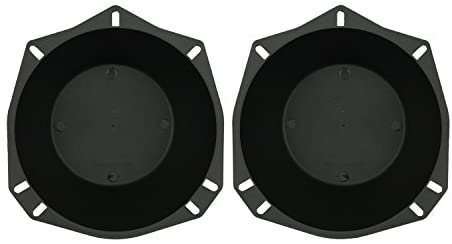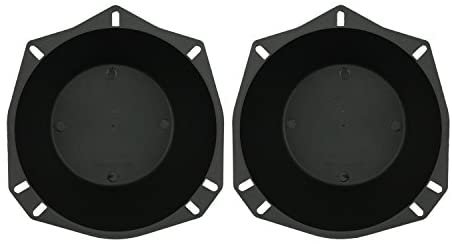 Pros:
Expensive
Durable
Protects against water and dust
Cons:
Install Bay Speaker Baffle 6 By 9 Inch Oval Pair- VXT69
Price: $16.46
 Install Bay offers a great design for all types of cars. Can be trimmed to fit numerous car types and it works well in preventing water damage. It also seals tightly behind your speaker to prevent vibration and enhance sound quality and fidelity.
It also features a large frame to enable it to fit into bigger vehicles. Loved by both professionals and novices alike, install without any prior technical knowledge and enjoy clear sound on the go.
Pros:
Inexpensive
High Sound Fidelity
Protection against Water and Sand
Cons:
Install speaker baffles today to protect your woofer, subs, and tweeters.