Having GPS trackers placed in a vehicle is a common thing now. We like to monitor our cars against things like theft, or communicate our exact location in case of an emergency. However, we still get the "do car GPS blockers work" question from time to time.
This question can arise from a number of reasons. Maybe because they are not getting adequate feedback from the tracker in their vehicle, or like in some field transport service where drivers do not want to share their exact locations. Well, the simple answer is yes! Car GPS blockers work, and they work very well. Next up, what is a GPS blocker and how does it really work?
Car GPS Blocker and How They Work
A Car GPS blocker is usually a small, enclosed unit, used as a transmitting device to hide vehicle location by giving out radio signals with the same frequency as that of the car tracker. When this happens, the car tracker is unable to determine its own location because another device is interfering with its own frequency.
Car GPS tracker often have low power supply but are very quick to start up. This means they are only used in the very instant they are needed. No more no less. These car blockers come in different forms to intercept car trackers. They could be remote controlled, spy cameras, drone blockers, Wi-FI or Bluetooth, physical shields and so on.
A car GPS blocker is usually found in the cigarette lighter port of a vehicle and some of these blockers have wavelength so strong that they can intercept GPS reception from miles ahead.
Having understood what a GPS blocker is, let us now consider how they work.
It is plugged in the cigarette lighter compartment or automotive auxiliary power outlet of the vehicle.
It is careful to be placed very close to the GPS car tracker.
When it is activated, the car GPS blocker creates an interference signal with radius of about 5 to 10 meters which is strong enough to counter a GPS signal.
In a nutshell, a car GPS blocker is the exact opposite of a car GPS tracker. So if you understand what a car GPS tracker does, you can now begin to get the hang of it.
Misconceptions About Car GPS Blocker
At this juncture, it is important to note that using a car GPS blocker is considered highly illegal in the United States of America, Canada and most of Western Europe. However, some of these trackers are placed knowingly or unknowingly by people who do not want their locations easily detected, without knowing the implications this has on the on them by the law. So find below, are the top most misconception people have about car GPS blockers.
If it is my device, it not illegal
People often think that so far they did not install the blocking device in someone else's car or without their consent, they have not done anything wrong. Well, this is not correct because any device that transmits and interfere with radio signals is still illegal. The only exception here is that you are being given override by the government to do so. And this has to be for specific reasons.
It is suspicious if I send out wrong locations
Vehicle drivers of transport companies who use GPS trackers often feel they are being suspected if their vehicle location shows a different position than they are on the map. Well, this is not entirely correct because for the fact that your signals are being blocked does not mean that it is coming from a GPS blocker.
This is so because really, there are some other factors that can interfere with the transmission of GPS. Factors like extreme weather conditions, driving through a tunnel or under a bridge, driving in over populated areas could hinder direct GPS from the sky and this can also impede broadcasting your true location.
So understand this so you can now have peace.
It is used only against my manager
This is another very dangerous misconception. A car GPS blocker has wider implications than just pinging wrong locations to your line manager at the office (for people who work in transport companies and the likes).
It has far-reaching effects and consequences because it can cause substantial interference to emergency communication lines like the police, fire fighters, ambulance and any other services that can respond in times of emergency.
This is why in the United States of America, steep penalties are given to people who use car GPS blockers.
It makes my real location invisible
Masking your location might not be the issue, but your vehicle showing up on the map in places that it should not be in the first place is the real issue. This is sneaky behavior that could break trust and cause harm to your reputation.
So the thing to note here is that a car GPS blocker will not make your vehicle disappear completely from the map. No! instead, it broadcasts a different location. Also, on the map, a line can be seen where the jamming started immediately the drive but the GPS blocker in the cigarette lighter port of the car.
People with high-end GPS trackers can even set an alarm on their mobile App to notify them if there are anomalies with their GPS signals.
It is used by only rich criminals
This conception is very wrong. In fact, anybody who is somebody can afford to buy a car GPS blocker. With as low as $50, you can buy a GPS blocker on any online retail store. Furthermore, you do not need to be a tech guru to now how to install it.
You simply put into the cigarette lighter compartment of the vehicle and that is all. This also puts a risk on the mobile App you use to track your vehicle.
The interference from the GPS blocker will cause misinform the App and this can make it shut down repeatedly.
That car GPS blockers are easy to acquire and install is by itself dangerous to the society at large.
Types of Car GPS Blockers
Matrix International mini tracking GPS Signal Blocker
This jammer can be used in any country of choice and has a working frequency of about 1500 to 1600MHz and can intercept frequencies up to 2mW. With a power rating of 12V, this GPS blocker can cover a 3 – 6-meter radius range. Body dimension is a merger 20x105x35mm. It is quite handy with its body size and easy to carry about.
Solute technologies high power vehicle GPS Blocker
With a jamming frequency of about 1620MHz and a jamming radius of about 5 – 20 meters, this car GPS blocker can be plugged straight into the car cigarette lighter port and it is ready for operations. It weighs just 80g and has a body dimension of about 105.70x30mm.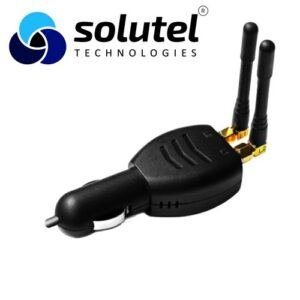 Omnidirectional

 Antenna

This device is marketed and distributed by Shree Ashtavinayak Electronics Private Limited. It is one of the most sought after car GPS jammers in the market.

Just like others, it can be mounted in the cigarette lighter plug of the vehicle so it is plug and play and there is no need for a battery at all. It has a power supply range of about 12V to 24V. It is also small in size and easy to carry.
HOW TO COMBAT CAR GPS BLOCKER?
Physical inspection
Periodically, make sure you check that there is not electronic device in your cigarette lighter port that you did not put there yourself. If you find one, make sure you report to the authorities.
Install quality car GPS Trackers
Having good GPS trackers gives you the leverage of monitoring your vehicle with your mobile App. Now recall, that we have already stated that a line is drawn on the map when a car GPS blocker is activated. If you already have a set an alarm on your device when this happens, you will be given a notification and you can alert the police.
Conclusion
Car GPS blockers work, and can be purchased readily. But you must bear in mind that it is illegal in most countries and there may be consequences if you are caught.