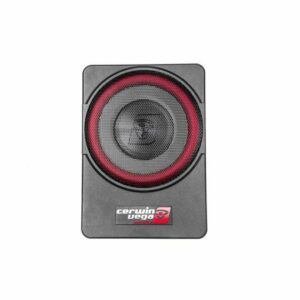 Cerwin Vega VPAS10 is a 10 inches subwoofer that is built with stamped-steel slim mount frame and encapsulated motor to give you the best crispy sound anytime. It comes with 2 0hm impedance in vented motor structure for optimal thermal heat dissipation, oversized parabolic dust cap that endorses its rigidity and prevents unwanted dusts from entering it for distortion.
Hence, an award-winning Vega Active powered subwoofer that provides the ultimate all-in-one Bass Solution Package without taking up any valuable trunk space.
With a fully integrated amplifier packaged in a cast aluminum heatsink in conjunction with the subwoofer, your simple task of achieving continuous and perfect operation of 'plug and play' is easily achieved.
Also, It comes with innovative spare tire application product offerings which provide its custom-fit look for most vehicles and endears it the more to most vehicle owners.
Who Is It For
Built to be carefully installed in your SUVs and mini trucks. It is designed especially for those that loves great bass as it is engineered with the new Vega Active technology that provides the ultimate all-in-one bass solution package for a pounding heavy bass sound that creates attention when you pass-bye your neighbor.
For those who value the available space in their cars and trucks for something else, it is a good buy because it is made apt to fit in just perfectly without taking up any valuable trunk space.
Key Specifications
Stamped-steel slim mount frame
Encapsulated motor
2 0hm impedance in vented motor structure
Innovative Spare Tire Application Product
10 inch size
Pros
Made of dual coil
Comes in stamped-steel slim mount
Comes with heat dissipation mechanism
Its cooling system guarantees longevity
Engineered with an over-sized cap for dust prevention
Patents award-winning Vega Active powered subwoofer's capability
Made to provide the ultimate all-in-one Bass Solution Package
Constructed with a uni-mount gasket surround rubber
Produces great bass for your classic enjoyment
Manufacturer's 1-year warranty
Carries great frequency response
Its dual voice coil makes for wiring options
Cons
The over-sized dust cap is loose and may fall off in excessive bump unnoticed
Recommendation
Cerwin-Vega VP AS is a 10-inch subwoofer built to deliver. In my opinion, you need not change your subwoofer every now and then with the performance this product will give you compared with what to obtain from competing brands.
It is packaged with better customized stamped-steel slim mount frame to endorse the manufacturer's confidence for high performance.
You get value for your money with longer performance and delivery of crispy sound courtesy of its 2 Ohm impedance built in its vented encapsulated motor to dispel thermal heat.
And its oversized dust cap that prevents unwanted dusts that can cause frequent distortion. If you care for great bass production in a compactly built and classic looking subwoofer, this then is what you have been looking for.
We hope you found our cerwin vega vpas 10 car subwoofer review helpful, if you have a comment or question, leave it in the box below, we will be glad to hear from you.