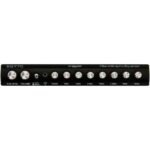 For most of us, when we own a car, an essential system is a car audio system for our driving enjoyment, as well as for those who drive. We would be considering one of those products in this review— the Cerwin VEGA EQ-770.
VEGA EQ-770 Review
Purchasing the CeRWIN VEGA EQ-770, you get a product with an unbelievable sound quality alongside its very sophisticated compact design that allows you to customize any location in your vehicle for it. Sold on Amazon for a price of about $78, this device comes in color black.
Considering its size and dimensions, it comes in really handy with dimensions of 20 x 14 x 9 (L × W × H) inches and weighs about 1.75 pounds— which makes it relatively lightweight and fit for your car, without giving you reason to worry about where to mount it.
With this device, manufactured with the highest quality products from Cerwin-Vega, you have full access to experience high fidelity audio with clear, live sound. You will, also, definitely hear parts of songs you are probably not aware of. The hidden notes and low frequencies. It is designed and manufactured so that you not only hear the music, but also "feel" it.
If distortion-free performance is a must for you, then this product is exactly what you should have. Made from first-class materials, each unit from this brand guarantees nothing less than long-lasting performance, while providing the best live concert experience.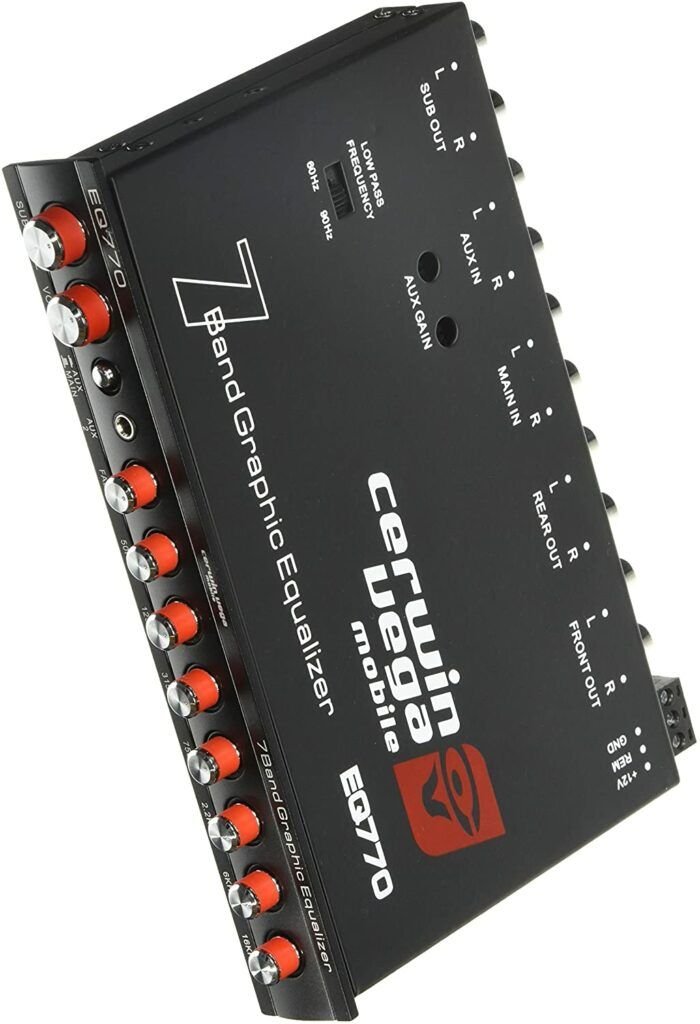 This device also features a 7 Band parametric EQ to control the frequency response of the Booster or cut with the fortune controls each: 50Hz, 125Hz, 315Hz, 750Hz, 2.2KHz, 6KHz, 16KHz, up to 7 volts RMS out, separate subwoofer level to adjust output subwoofer level, adjustable low-pass filter to switch controls of the Low Pass Frequency of 60Hz/90Hz, selectable MP3 input, AUX/main switch.
These features enhance the full function of this product to  reproduce extreme bass in your vehicle.
What Is Product For?
Perhaps the primary function of the EQ-770 is to customize your sound system according to your own listening preference.
Who Is It For And How Helpful Can It Be?
This devivry plays an important role in the music that will emanate from your car speakers.
In simple words, the car audio equalizer regulates the sound and music of your car's audio system. This means that it regulates the various frequencies that occur in sound and music.
So, it is for all audiophiles behind the wheels that want the best sound quality from their car stereo system. It is one of best Equilizer like Audiopipe 7band.
FAQ's Related too VEGA EQ-770
Can you use your deck to control volume or do you have to use the equaliser volume button?
This device can be used to control both volume as well as balance.
I am looking for an equalizer to use for bass and my compression drivers for hi and mids. Will they send bass to my drivers?
Vega EQ-770 is an awesome product and it is fully able to separate your highs, mids and lows. There is also a separate bass controller.
What color are the lights? Red, blue or white?
The backlight color feature is red.
Yeah, the knobs are backlit.
Can this be connected to a stock radio that does not have RCA connections?
Yes, it can.
How To Install It In a Car
Select the desired location to mount the unit under the dash board.
Drill (4) 4.2 m/m diameter holes. Fix the mounting bracket under dash or hump (4) 4x15m/m tapping screw. Be careful when drilling so as not to damage existing wiring under the dashboard.
Mount unit to the mounting brackets with four (4) 3×10 m/m machines.
There is also a need for electrical connection, hence the need to ensure close supervision of a professional during product installation for full functionality.
Pros
One 3.5mm auxiliary input.
Subwoofer frequency and level controls.
Compact design.
Rich, clean and clear sound.
Accurate bass control.
Great value for money.
Cons
There may be distortion in some frequencies.
Conclusion
Priced at a rather budget-friendly amount, the EQ-770 offers good value for money, and it is specially design for those who want more than just a lot of volume and bass from a subwoofer and an amplifier.
This premium quality product from Cerwin – Vega allows you to fine tune your car stereo sound. It is made of first-class materials, guaranteeing that it is reliable and would provide a long service life.
We hope you found our CeRWIN VEGA EQ-770 review interestingly helpful. If you have a comment or question, leave it in the box below, We will be glad to hear from you.