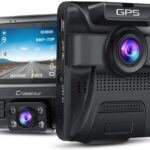 A dashcam ensures the security of your vehicle. While driving, a dashcam acts as your eyes outside and within your car, taking video footage of events taking place that you would otherwise not have noticed. Dashcams don't have to be noticeable. Some come in discreet design and include GPS functions and super night vision to provide you with quality footage both during the day and at night. One of those dash cameras is the Car Camera Uber Crosstour GPS-DashCam
About the product
Going for the budget-friendly price of $80 on Amazon, the Dash Cam – GPS Dual Car Camera Uber Crosstour provides you with incredible quality for much less. The dual dash cameras enable you to capture events that happen as you drive and ensure your vehicle is protected 24 hours of the day.
The dashcam works amazingly well for commercial drivers by monitoring passengers without having to take their eyes off the road. The device uses a micro SD card. The company instructs users to use a class10,32GB max SCHD card. It is noteworthy to mention that the package doesn't come with an SDcard.
The device comes with a battery; however, the battery can only be used in the event where you need to backup files and video footage urgently. Otherwise, you are advised to use the device on external power.
The device comes with incredible features such as loop recording, motion detection, a G-sensor, and parking mode. The device is equipped with dual-lens to capture footage of what happens outside and inside your vehicle. The GPS function of the device monitors and tracks your location, speed, and route. This information can be viewed in your designated player.
Equipped with an intelligent parking mode, you can be confident your vehicle is protected against theft and accidents even while not in use. The device only records when it recognizes an external force in order to save your car's battery.
It comes with super Night vision, a 170° wide-angle camera, and a 1.5 inch LCD screen. The package comes with a car charger, suction cup, user manual, adhesive mount, and a dash mount.
One advantage it has over its competitors is its ability to work underneath a wide range of temperatures. The device functions properly both in a hot and cold climate. No matter the weather, you still get fantastic footage and protection.
What is the product for?
The product is for recording video footage of scenery within and outside your vehicle. It also provides 24-hour protection with its intelligent parking lot. It is dashcam one of best dashcam like DMYCO DashCam.
Who is the product for, and how helpful can it be?
Whether you are a private or commercial driver, the Dash Cam – GPS Dual Car Camera Uber Crosstour was made for you. Using the product, you can record happy family trips for private drivers or observe passengers for commercial drivers.
You can also protect your vehicle all day long and possess video evidence in the case of an accident, whether involving you or someone else.
FAQ's Related too Dash Cam – GPS Dual Car Camera Uber Crosstour
Does the device come with infrared lights?
Yes, the super Night vision feature possesses four infrared lights that can provide sufficient lighting even if the scenery is pitch dark.
Does it require batteries?
Yes. The device requires a single lithium-polymer battery. However, you do not need to buy this separately as it comes with the package.
No, the product lacks a wifi camera, so it's impossible to view footage using your mobile device.
How to install it in your car?
The camera can be mounted using an adhesive or suction cup. Follow the instructions in the user manual.
Pros
Intelligent parking more
GPS features
Super night vision
Dual lens
Budget-friendly
Audio recording
Ability to work in a wide range of climate
G-sensor
Motion detection
Loop recording
Wide-angle camera
Cons
Needs external power supply
Lacks wifi
Inability to view videos from a mobile device
Doesn't come with an SD card
Lacks gesture or voice control
Conclusion
The Dash Cam – GPS Dual Car Camera Uber Crosstour is a device possessing a lot of unique features but also lacking some key features. For example, the inability to watch video footage directly from your mobile phone can be a major deal-breaker for a lot of drivers. Also, the device requires an external power supply.
However, with its price, it provides excellent features like the G-sensor, loop recording, intelligent parking mode, GPS features, and of course, the ability to work under any climate whatsoever.
When you consider these features and compare them with its pricing, it's safe to say that the Dash Cam – GPS Dual Car Camera Uber Crosstour is a worthy buy.