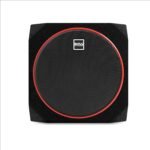 Clearly, a subwoofer is not a new term for some technological advancement. They were first invented in the 60s to add some bass to cinema soundtracks. Well, the Boss Audio systems Cube8 subwoofer optimizes this performance and enhances car audio output.
Nowadays, it has become a 'thing' to have these bass monsters in the boot of your car from the 80s onwards, today the modern subwoofer in a car needs to be powerful to handle the low frequencies clearly.
These devices are usually, but not always, placed in the boot or trunk of the car and are facing towards the back seat and are used as part of the car's entertainment system. It is important to understand that they, however, are not THE system.
Common car implementations for multimedia and infotainment from the radio and other wireless connection technologies include video head units, headrest mounted screens; and the in-car multimedia system can rely on physical media like DVD and Blu-ray discs or a combination of both.
Notwithstanding, none of these car devices would make any sense without an audio unit. Car audio units complete and complement the car multimedia units. Most units deliver an average sound system, while most give access to high fidelity audio and beautiful sounds.
About Product
Boss Audio Systems have come up with another audio appliance for car systems that would offer top-notch sound output: The BOSS Audio Systems CUBE8 Car Subwoofer.
For the pricing, this product is sold at about $184 on Amazon and, though it appears a bit overpriced, it offers rather good value for money. Let us consider the possible components that make this item a 'boss'.
Boss Audio System cube8 has a built-in bass EQ with a remote bass level control. The low pass crossover is adjustable, allowing the frequencies you want to pass through. To achieve the highest level of performance, there is a closed-loop design. This ensures the speaker and amp inside the enclosure are working together.
Another thing with this product is that it is driven by a built-in 400 Max watt amplifier that powers the 8 inch subwoofer. The device also has a phase control feature that allows you to switch and/or control the speaker performance if it is out of phase.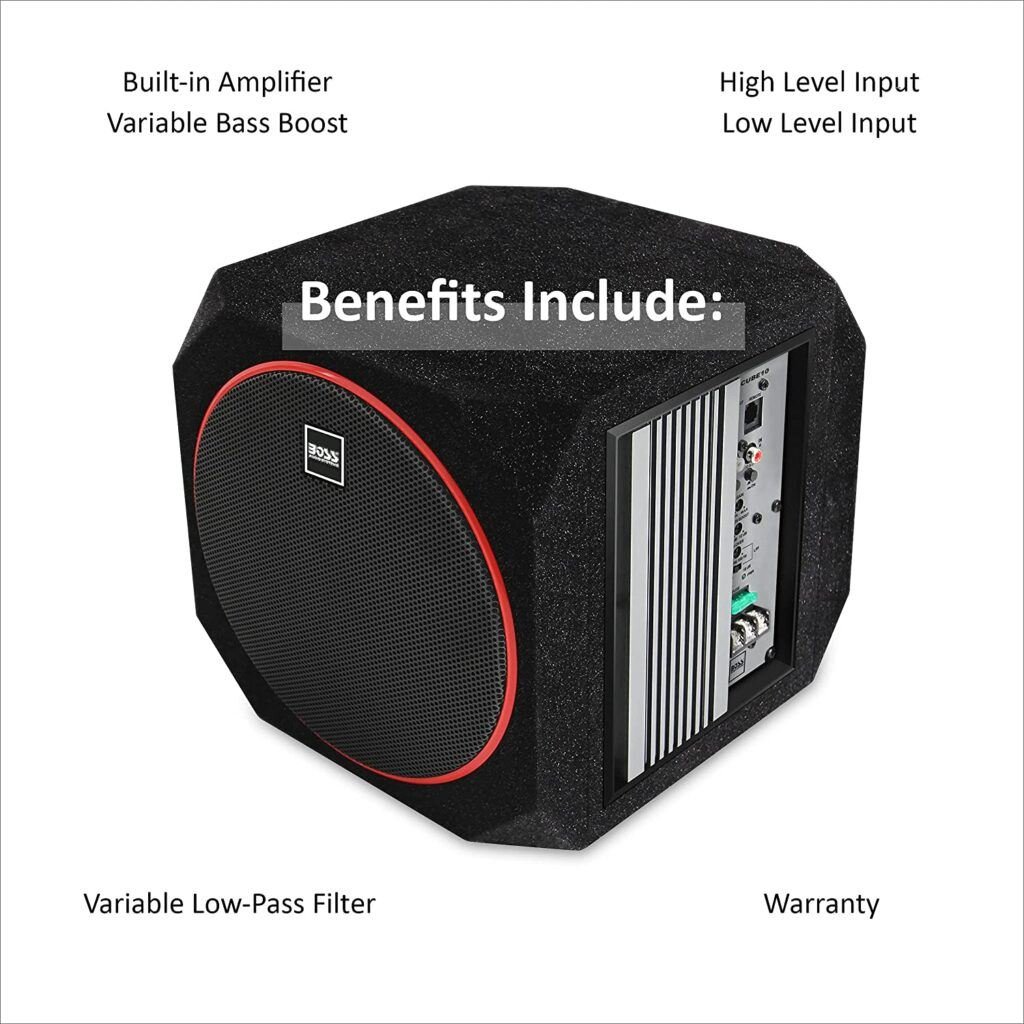 Also, the Boss Cube8 subwoofer also has passive radiators that, basically, helps create a larger port area, without the airflow noises that might otherwise occur, and help control the frequency range over which the port is effective, enhancing access to high fidelity audio output with an enriched bass delivery.
Boss Audio Cube 8 System Review
Car audio amplifiers come in a variety of configurations that can contour perfectly to your installation scenario. An aspect of an audio amplifier is the way it accepts a signal from your audio source. More often than not, factory radio systems do not have RCA connections coming out of the back designated for an amplifier connection.
Considerably, Boss audio CUBE8 has provisions made for both high level inputs and low level inputs, otherwise known as RCA inputs. These input methods give great flexibility when installing into vehicles regardless of their system type. It's one of best Subwoofer like Damore Engine subwoofer.
What Is Product For?
This is a high-quality woofer that not only produces a clear and powerful bass but has a big effect on the audio as a whole. It is one of the best car subwoofers for sound quality.
Who Is It For And How Helpful Can It Be?
Purely designed to help drivers, BOSS CUBE8 is for car owners who seek to lift their possibly rather mundane car stereo sound. It delivers real, deep throbbing bass that, at times, may be overpowering.
FAQ's Related too BOSS Audio Systems CUBE8
Yes, it does.
What's the weight of the device?
A little bit weighty, the Boss Cube8 subwoofer weighs about 16.87 pounds.
How To Install It In a Car
It is encouraged to get professional installation of this product to ensure proper and safe functionality.
Pros
Good design with good components.
Produces a good bass sound.
All-inclusive unit with subwoofer and amplifier
Cons
The amplifier lets it down a little.
Conclusion
Surprisingly, Boss Cube8 subwoofer is a tough, well-built unit that weighs 16.87 pounds and has dimensions: 9.65" x 9.65" x 9.84", which makes it quite the right size for the average car size. The price point is reasonable.
Powerful and well-equipped, it must not only be considered as one of the best car subwoofers, but also as one of the best under seat subwoofers you can buy.
Considering the price, it's safe to say it is in the middle range and is, therefore, good value for an average driver, especially one looking for a device with this much power.