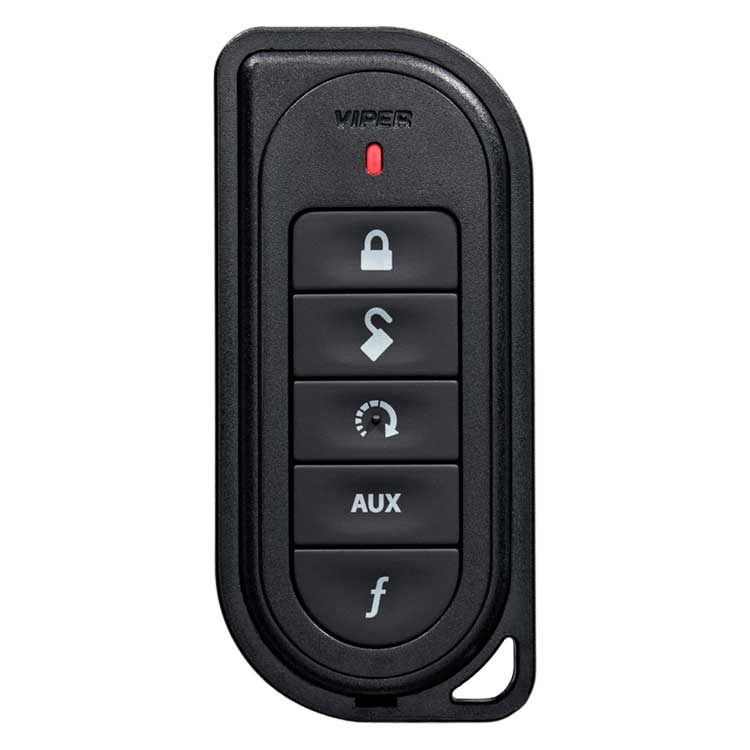 Our tastes are not and can never be the same. While some will just be okay with a remote car starter that performs one function, some will want theirs to do all things ranging from opening the door of the car to alerting them of threat to their expensive luxury car or even working on more than one or two brands of their numerous automobiles.
Our best remote car starters reviews here is based on this background. We have examined some and we try to review them based on their notable features with answers to some questions you may wish to ask as regard the above teasers.
What is a remote car starter?
A remote car starter is a device that operates on radio signals installed in a vehicle during or after factory production by factory engineers or aftermarket installers. Very much like every other remote control appliances, the remote helps to ignite the vehicle's engine.
Usually, the aftermarket remote car starters are universal, but the factory fitted remote may be meant just for a certain vehicle model alone.
8 Best Remote Car Starters
1. Python 5706P Responder LC3 SST
Python 5706P, a 2-Way security gadget with remote starter packaged with the user's manual and rechargeable battery is from Directed Electronics. Its slim 5-button SST 1-way companion car starter as well as the responder LC3 SST 2-way LCD pager car alarm confirms commands with tones, vibration, text and icon display from as far as one mile.
Python is a versatile gadget used basically for security, remote start and keyless car entry. The alarm works and sounds as loud as your programming can go. It carries highly sensitive buttons on the key fob and gives you quick response when required.
5706P is one of the highly rated and better valued alarm and keyless device one can think of currently, it is being recommended and utilized by professional auto alarm and keyless device installers. It works well with varieties of vehicles most especially Mercedes-Benz and Toyota.
However, the battery needs constant recharging to avoid disappointment while great care is needed as regards handling of the hyper sensitive key fob buttons to prevent against mis-functioning. This device is affordable and available in most leading online shops.
Pros
It comes in slim, compact and fashionable package
Gadget is three-in-one device
Quick button response
Confirms command with tones, vibration and texts
Works with most high-end cars
Effective even on a longer distance – 1-mile
Cons
Key fob buttons too sensitive
Installation is technical and required patience
Battery needs constant recharging for effective performance
Technical Specifications
Product Dimensions 6.5 x 6.5 x 6 inches
Weight 2.64 pounds
ASIN B00AHQF4VC
Model No. 5706P
Batteries 2 CR2 batteries required.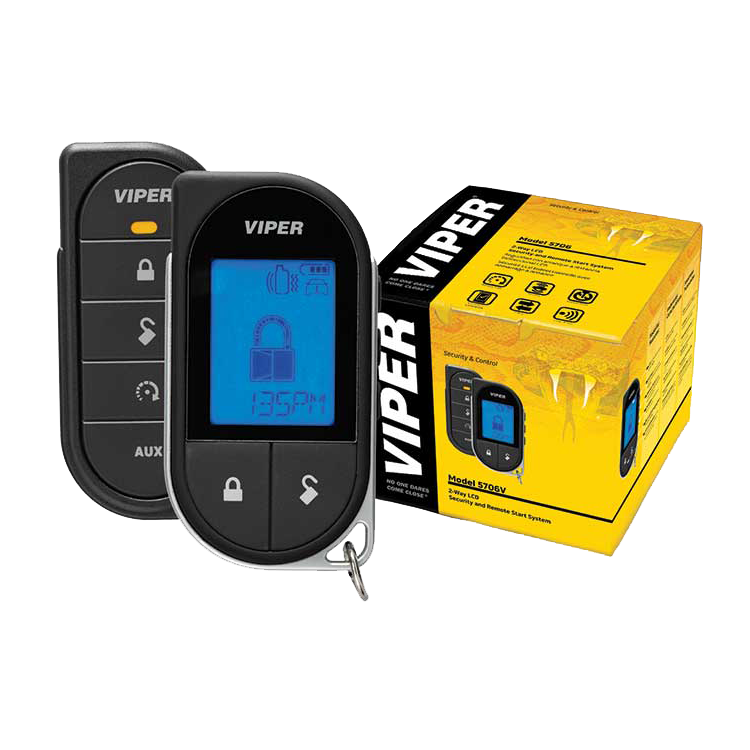 2. Viper 5706V 2-Way
The Viper 5706v Responder LC3 is more than a security remote and car starter if what it combined to perform is taken into account.
This device work from a full one-mile range with its easy-to-understand text screen on LCD display and priority icons which allows car owner to monitor, command and control his car with just simple and prioritized buttons.
It comes with 5-buttons that carries out not less than 24 different functions in two different cars of the same owner.
Not only that this slimmest display 'wizard' is capable of variety of functions more than just a security remote and car starter, it also checks temperature once you select 'Active Temp Check' option as the responder will quickly display the inside temperature of your car instead of the normal time it should.
With this, you are pretty informed before actually hopping in or you can adjust it if what is obtained is not suitable for you. If not exactly what you desire, you have the option of using the run time to reset to your preference.
Also, this third-generation device notifies you of anything that happens to your car with its siren tones if you are within range.
Viper 5706V Flex is built with on board relays for Remote Start and Light Flash that eliminates the need for additional relays 80% to support its functions.
The device enables you to silence your car's siren and activate only the alert by just pressing Silent Mode. You are not disturbed with having many unused icons displayed as only those needed are visible thus keeping the screen clean and simple.
Key Features
Comes with remote starter working from 1mile range
Active Temp Check device
5 button controls about 24 different functions in 2 cars
Hazard notification security alarm system
Comes with easy to understand priority icons
Displays only important icons
Installed with D2D Serial Data Por
Built with Virtual Tach – No tachometer wire connection required
It has Flex Relays Onboard for Remote Start and Light Flash
5-button sidekick remote control transmitter
4-Channel vehicle security system
Door and trunk triggers
Technical Specifications
Weight 7 ounces
Dimensions 4.7 x 3.8 x 1.2 inches
Model No. 5706V
Batteries 1 CR2 batteries required.
Voltage 12 Volts
ASIN B00GT2GA6Q
Pros
Responder LC3 comes with SST One Mile Range signal
Can conveniently work for two cars of the same owner
Comes with priority Icons
20% larger liquid-crystal display that enables you to read its text messages
An onboard lithium-ion rechargeable battery with micro-USB recharging
Cons
One may forget it is on when put in 'silence mode'
Revenger may give false alarm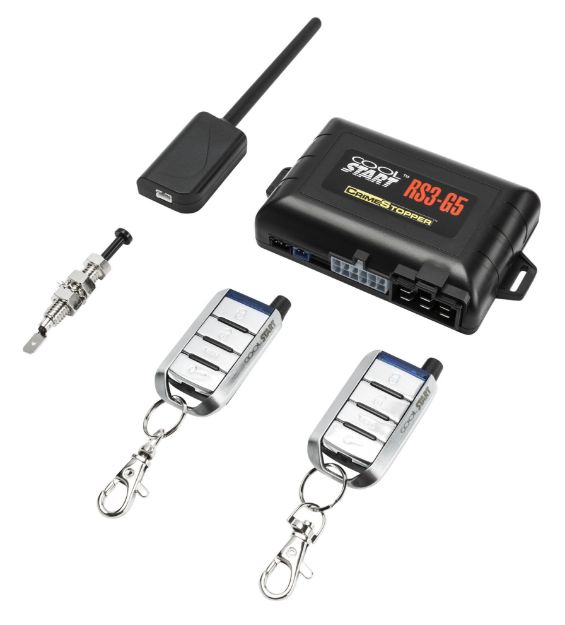 3. Crimestopper RS3-G5 Cool-Start
RS3-G5 is a 1-way cool keyless entry car starter from Crime stoppers Security Products and can be used in dimensional ways by varieties of vehicles because of its compatible nature.
The device is built with 2-way data port which enables you easy connection and adaptation. It can conveniently work with hybrid, petrol-engine or diesel-engine vehicles.
This product comes with 2 sleek brushed metal and 4 button transmitters to deliver its service at a range above 1,500 ft. The remote will start your vehicle from far off and give you access to your keyless entry just at the click of a button.
It is highly suitable for pickup trucks or any other vehicle for that matter that need no trunk pop as its transmitter comes with no trunk-pop button but features only keyless entry and remote start functions.
Pros
Two 4-button transmitters with 1,500ft range
2-way data port for integration module connection
Keyless entry
Multi-vehicle functionality
Horn honk confirmation
Gas, diesel & hybrid compatibility
Manual transmission mode activated by e-brake or remote
Returnable after 30 days if unsuitable and money refunded
Cons
Too many programming options, can be confusing
Not made for variety of vehicles, usage restricted to few
No trunk pop up button
4. EASYGUARD EC002-NS PKE
EasyGuard EC002 NS PKE car alarm and keyless entry remote system is one of the fast selling remotes made by Zhongshan EASYGUARD Electronics Limited.
This passive remote starter serves three purposes as an alarm gadget, as a passworded keyless entry device as well a remote car starter with just a soft touch on its push button.
It also comes with a shock alarm sensor that warns ahead of eminent danger. Remote-starting your ignition assists to pre-cool your car especially in acute summer or pre-warm in cold winter.
With this device, you need not stress too much over a forgotten key, just input the password to lock or unlock then drive away in peace!
The gadget works within reasonable proximate range to lock and unlock, start your car's ignition and anti-theft alarm device mechanism which is suitable for wide varieties of cars like sedan, coupes, SUVs, pick-ups and mini trucks.
This device makes operations performed on your vehicle more sophisticated and convenient with its unique performance and sustainable quality as you open your doors easily and quietly, on the ignition to drive around and reverse the operations once you are done driving.
Has additional function of securing your car by activating the anti-theft alarm all thanks to soft touch button of EasyGuard EC002-NS PKE. Mostly, the gadget is designed and preferred by professionals to be suitable for DC12volts petrol-engine vehicles generally.
For diesel engine cars, you may need to ON your car first to pre-warm the spark plugs for few minutes or add a timer delay switch for effective performance.
Should you desire to install this gadget yourself, endeavor to go through the manual provided by the manufacturer and follow the instructions carefully.
Also, get an extra bypass module (such as ASIN: B07NSLPBG7 or BOOMEHBVIC) if your factory fitted OEM key fob comes with a chip immobilizer. Get your car updated and upgraded with this wonderful device.
This device automatically unlocks your car door when you approach the vehicle in 3-6 feet and locks it when you walk away from the car in 6-9 feet with key fob.
Key Features
PKE-passive keyless entry
Manual arm/lock & disarm/unlock
Panic mode
Valet modes on/off setting
Remote engine start/stop
Anti-hijacking
Emergency override
Automatic window closing (optional, extra window closer module may require,4 door window closer
Password revise & reset
Parameter prolong setting
Programming method
Technical Specifications
Dimensions 9.69 x 7.28 x 4.21 inches
Weight 2.64 pounds
ASIN B00MBKVWJU
Model No. EC002-NS
Batteries 2 Lithium Metal batteries required. (included)
Pros
Comes with shock alarm warning device
Car horn will beep when the alarm is triggered
Push button start and stop
Mute and audible alarm
Central door locking automation
Touch password entry to lock or unlock the car
Cons
One may forget the password for entry
Device allows Password revise and reset exposing the car to theft risk
Programming method is too clumsy
Panic mode device may send false alarm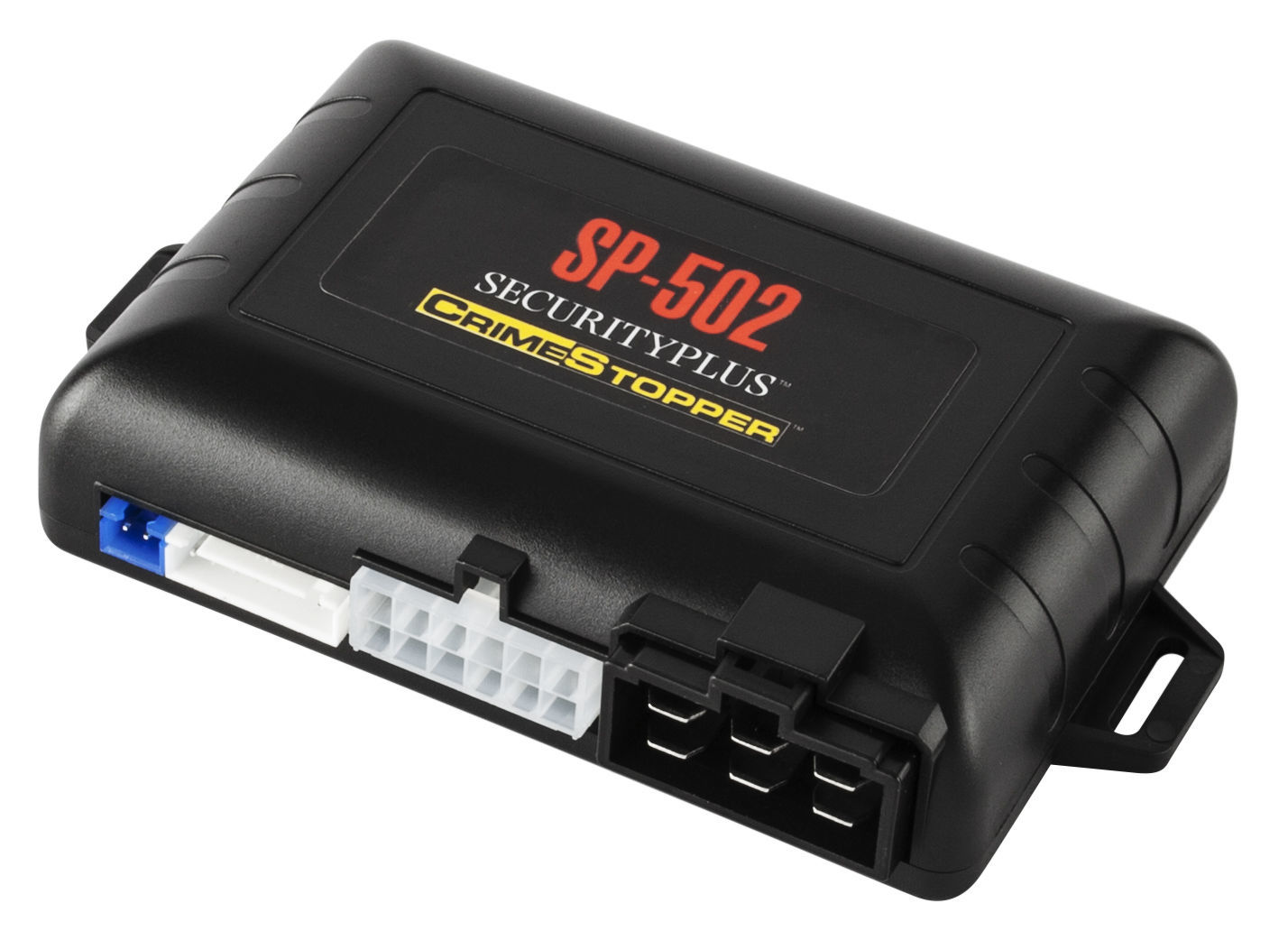 5. Crimestopper SP-502 2-Way LCD Paging Combo Alarm
Another Crime stoppers' Security product, SP-502 new sleek-style rechargeable FM/FM LCD paging remote car starter comes with LCD graphics and real-time page-back for confirmation of alarm status and triggers including standard USB cable and wall charger up to 3000 feet range and out-of-range signal read out on LCD remote for optimum performance.
The wonder of this device is that it can work for two vehicles alternatively. SP-502 LED has both audible tones and vibration which can be shut includes 'sidekick and its 5-button non-paging remote can change its color to indicate vehicle number 1 or 2 as pre-programmed.
It comes with 20 Watt high-power single-tone sirens, a dome light supervision, (5) on-board relays for remote starting, carjack protection, remote panic, starter kill output, horn honk output and dual stage high performance shock sensor for protection.
You can silent-arm or disarm your vehicle with the aid of this device's OEM keyless entry remote system.
Key Features
5-button companion transmitter with 2000ft of range
Comes with in-built remote device
Car can be disarmed with Trunk release key
Priority unlock Feature
New sleek style rechargeable FM/FM LCD paging remote
LCD graphics and real-time page-back for confirmation of alarm status and triggers
includes standard USB cable and wall charger up to 3000 feet range
Offers a full 2-way rechargeable LCD remote and companion 1-way 5 button remote with up to 3000 ft.
It comes with deluxe security systems and remote start systems all in 1 complete package
Features dual stage shock sensor, 120 dB sirens, starter kill output with relay and our dual full 2-way data to data port
Technical Specification
Dimensions 9.3 x 4 x 6.1 inches
Weight 2.9 pounds
ASIN B00ATZC4SC
Model No. SP502
Batteries 5 CR2 batteries required.
Pros
Comes with keyless Entry and rechargeable remote Start System
Remotes capable of (2) vehicle operation;
24-hour time start mode
Two or four-hour automatic start mode
Parking meter countdown timer modes on LCD transmitter
Improved custom code override
Selectable and programmable Automatic Arming/Locking
Cons
Its single tone siren too loud
Custom code override can be manipulated by thieves
Too many functions and buttons may kill the battery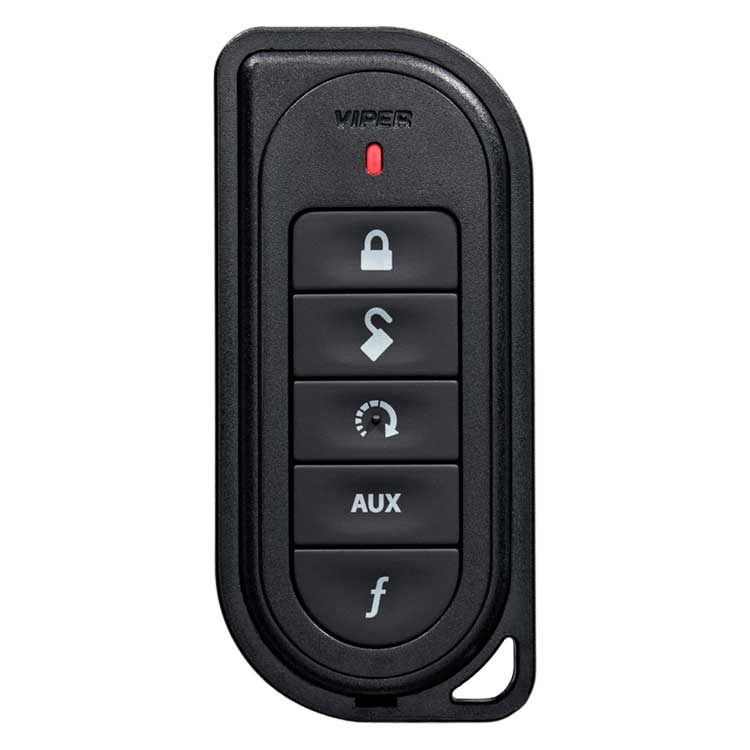 6. Viper 5906V Color Remote Start and Security
Viper 5906V colored remote starter and security system is made by Viper Security Organization. The company parades one of the hot-selling car security and remote starter brands using cutting edge technology to ensure buyers are in control within a proximate range loaded with reliable features with unfailing capabilities.
This device comes as a build-up on Viper 5706V 2- way remote car starter but with robust innovative installation of a LED confirmation device that tells you if your car is really on or not after putting on the ignition from a range.
Just like its predecessors Viper 5706V works with more than one car, it comes with 'Active Temp Check' button that displays your car's interior temperature via the responder thereby giving you prior opportunity to adjust to your taste before getting inside your car once you are within the range.
This will be a good buy for you most especially if you reside in extremely cold and wintry geographical location!
Pros
Comes with LED confirmation device
Can conveniently work for two cars of the same owner
Built with Priority Icons
5-button sidekick remote control transmitter
1-mile remote activation range
4-Channel vehicle security system
Cons
May fail command if battery is down
Many channels and buttons may put pressure on the battery life
7. Prestige APS997Z remote car starter
The prestige APS997Z is a 2-way LCD confirming remote starter and security alarm device that has earned its reputation for quality and durability. It comes with 5-button 1-way transmitter flash logic FLCART and compatible glass mount antenna that is built with LED light for effective signal delivery.
This gadget is manufactured to give you comfort within a close range by selecting various life made-easy options that will cool or warm your car.
Comes with an advantage of being used for more than just a car with separate programmable control outputs.
Provides the luxury of two to four hour automatic start mode parking meter countdowns whereby your car is working outside while you are busy getting ready inside and so on. Is that not just amazingly incredible?
Pros
Comes with five Button 2-Way LCD Confirming Transmitter
Packed with five Button 1-Way Transmitter Flash Logic FLCART
Has a compatible Glass Mount Antenna with Built-in LED Light
Can service two vehicles of the same owner with separate control outputs if programmed
Single Double Triple press to start Selectable run times 24-hour temp check/selector
Two-to-four-hour automatic start mode Parking meter countdown timer
LCD transmitter Remote panic in all modes
Improved custom code override user
Cons
Custom code override is risky
Too many buttons and functions may kill the battery
Too many options may trigger confusion at times.
8. Compustar Firstech FT-DC3-LC
This Firstech FT-DC3-LC 'Start It' remote starter from Compustar Security systems comes as a replacement for DC3S 7200S bypass module specifically made for high and low-current draw vehicles.
It comes with Compustar RF remote kits and drone mobile telematics for additional range signal. It combines the strength of starter brain and the technology of a bypass module together to deliver high-level performance.
Want it to work better? Just add the harness FT-HRN-DC for low current or FT-HRN-DC3-PWR for high current if required.
You may also wish to add an iDataStart T-harness for seamless plug and play installation if desired but they are being sold separately. Works well with Mazda and Toyota but not so well with Honda cars.
Pros
Comes with idatalink Compustar BLADE-AL
Constructed with Web-programmable data immobilizer
Comes with bypass and door-lock integration cartridge
It is a two-function device for starting and security
Good for Toyota and Mazda cars
Cons
Requires additional harness to perform better
Not good on Honda and some other car brands
Additional cost to install iData Start T-harness
Technical Specifications
Weight 10.4 ounces
Dimensions 9.7 x 6 x 2 inches
Model No. SG_B079NGGNYG_US
ASIN B079NGGNYG
Types of remote car starter
There are two basic types of remote starter, the universal remote car starter and the individual remote car starter. The universal remote car starter is usually the aftermarket installed vehicle remotes.
Many a time, the production is not targeting a particular product or model so it avails intending consumers to program it to their own vehicle.
On the contrary, the individual car remote operators are usually manufactured by factory makers of the vehicle and so, the vehicle remote operators are only programmed not just for the particular brand or model but for the very vehicle.
Can you install a remote car starter in an old vehicle?
This is the function of aftermarket remote car starter, it is produced to enable old cars without remote car operators or on occasions where the remote car operator for the vehicle is damaged or lost, but it usually comes with a separate installation process compared to getting the exact remote car operator from the manufacturing company.
Can you install your remote car starter yourself?
Yes you can and you will be saving a lot of expenses and you will be proud to boast of another skill. It is easy but you have to follow all the guidelines correctly else you will be starting the whole process all over and that can be frustrating sometimes, but if you can keep up with the guidelines in the manual, you can be sure to save yourself about 125USD, but in cases where you can easily wave the price, you might want to consider bringing in a professional to do the job to avoid any mistakes.
In cases where you just feel you can do it yourself, you might need the reminder that your battery should not be connected during the process to avoid any never-to-be-forgotten experience due to error.
What you need to consider before purchasing your remote car starter
Firstly, you will have to consider your financial capacity. Some remote car operating system are a luxury and you might want to consider not living beyond your means, you can always get budget friendly one which will still render a desirable result.
Secondly is the compatibility with car models, this is very much were the universality comes in. It is advisable to purchase a universal remote operator for your vehicle except for cars that do not all too well support the universal remote car operators. Whichever way you are choosing, be sure to purchase a device that will be compatible to your car.
Thirdly is the foot range. Some cover more distance than the other, for your convenience, where you might need to give additional commands like preheat or pre-cool to create a desirable condition as soon as you get to the car. Or in a case where there are so many cars and you need to locate your vehicle in no time, pressing the panic button from a distance of 3000 foot range so you can easily locate your vehicle.
For better convenience, you might want to be considering a remote car operator with distance of about 3000 to 5000 foot coverage.
Just before you get carried away by this feature, you might want to consider how many times if ever, you will find yourself in similar situation. It might be unnecessary in some cases.
Also, you might want to consider the two-way communication which enables you to verify if your command is being carried out when your vehicle is out of sight and you cannot physically verify. This feature enables the car send signals back to your remote that the command is received and has been executed.
Something else you might want to consider before selection is the Smartphone control feature. You can readily give controls to your car from your phone if your remote car starter has an app attached, these mobile apps are readily available on app stores, but not all remote car starters have this feature, for more convenience you might want to consider this feature.
Keyless entry is another important feature. Just before you do away with your car key be sure your remote car starter has this feature, because you might end up in an unpleasant situation if you ignore this feature.
Your car's Security should and must not be compromised on the basis of ignorance, as a follow up to this you might want to consider remote car operators with distinct security features such as alarms or sirens, panic button, valet modes and the likes.
You might also want to consider purchasing a device compatible with your vehicle's LCD screen.
What you need in preparation for installation?
Generally you will have to look into how much it is going to cost you. Depending on the model and type you are purchasing, the price varies.
You might want to get everything you will be needing ready before starting to prevent last minute hood rush to procure required materials. Required materials are made available in the user's manual.
Do you need a spare key for remote start?
You might want to consider keeping a spare key just in case you lose possession of you remote car starter, but if properly installed you might never be needing keys again. Be reminded that your car remote operator must have a keyless entry feature in this case.
How long does it take to install a remote car starter?
Very little time, at most in a couple of hours depending on how complex the installation of your model is, but the time required should not be an issue. Just make sure the installation is error free to avoid any future damage or malfunction which will take more time to repair.
How do you install your remote car starter?
Installation varies with product so you will preferably check out the installation guide for your remote car starter on your user's manual.
Conclusion
We hope you found our best remote car starters reviews helpful. If you have a comment or question, leave it in the box below, we will be glad to hear from you.