Dashcams come in different models. While some have just a single camera, others have a front and rear camera. Some models, however, come with a camera that captures the interior of your vehicle.If you consider purchasing a dashcam, an excellent purchasing decision would be to buy the AQP Dual Dashcam, 4K Single Front Camera 2560P.
Despite how pricey they could get, a good dash cam can be an invaluable asset. You can trust your dashcam to have video footage of an accident, irrespective of whether it involves you or other drivers. Some dash cams also go the extra mile by providing the driver with alerts such as speed or lane departure.
About the product
The AQP dual dashcam is equipped with a 4K single front camera 2560P, dual sony sensor, and parking mode to protect your vehicle at all times. It also comes with a 1080P inside dash camera, Wifi and GPS functions, and infrared Night Vision support, so you get fantastic footage irrespective of the time of day.
The company; AQP declared the device as the most advanced dash camera on the market, and this could probably be true for a host of reasons.
Unlike its competitors, the device doesn't stop recording when your car goes off. Instead, it can still be powered via your vehicle's battery and still take video footage even when your vehicle is turned off! You can be confident that your car is protected 24 hours a day, seven days a week.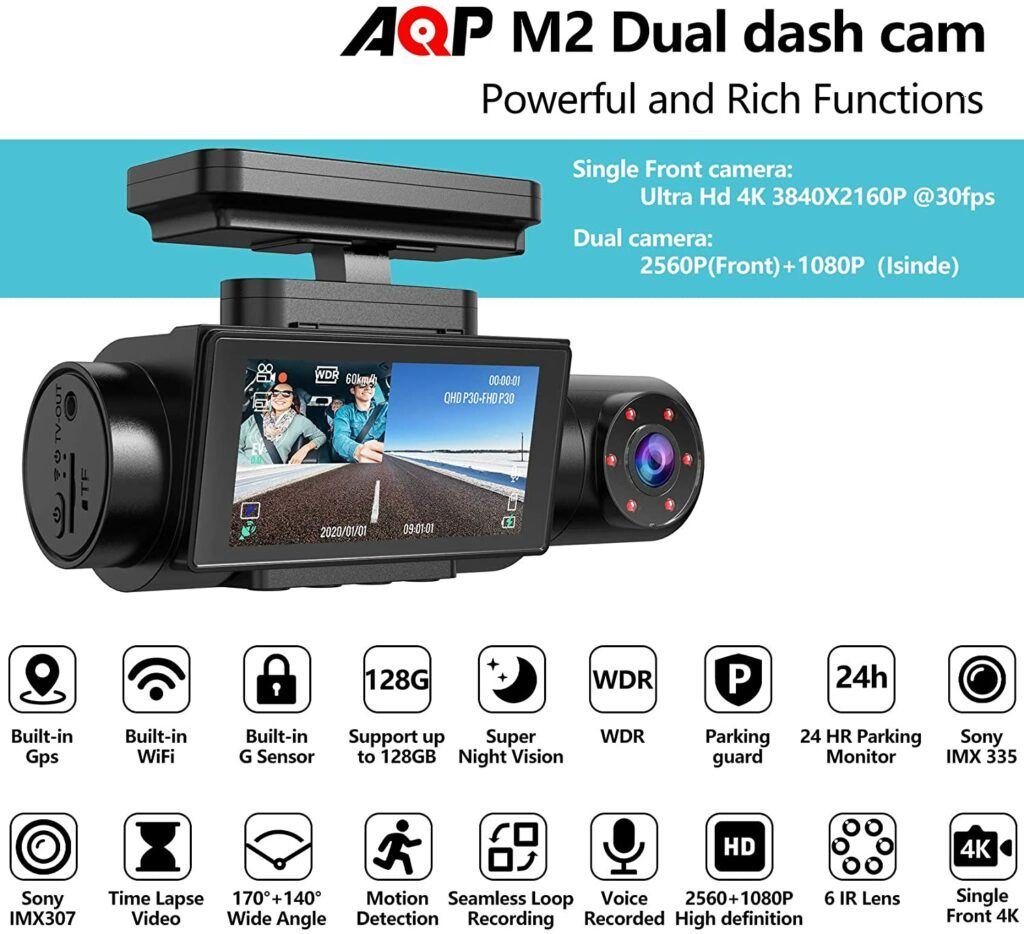 The AQP Dual Dashcam, 4K Single Front Camera 2560P does its best to encourage ease of use. This is possible because it uses a more convenient installing system. This way, you can take out your SD card at any time without any hassle.
The G-sensor of the device protects your videos from being overwritten in the occurrence of an accident or collision. With this device, you will always have evidence and protect yourself from being wrongly accused.
AQP dual dashcam
The package comes with an AQP M2 Dash Cam, the owner's manual, one trim removal tool, and a GPS Module. It also includes a car charger with an 11.5 ft USB cable and two 3M adhesive mounts.
The device possesses a 2.1-inch screen and NOVATEK processor, so you are provided with the best technology. Unlike some dual dash cams, it doesn't just record video footage alone but also includes the audio recording. You do not need to purchase an external microphone. The device records excellent audio on its own.
Equipped with a GPS feature, the device has the ability to log your route, location, and speed alongside the date and time. Using the Wifi function of the device, you can easily connect to the AQPAPP, which is a mobile application. This app allows you to watch and download the videos in real-time. You can also share them via your social media handles.
The product comes with a one-year warranty and fantastic customer service support. The company pledges to attend to any customer issues or queries within 24 hours. This also includes providing solutions to your questions.
The AQP Dual Dashcam, 4K Single Front Camera 2560P is built with loop recording and video compression preservation technology. While the loop recording ensures that the device automatically deletes the oldest video for the newest one, video compression technology helps to reduce the size of your videos.
This way, they never take up too much space. The good news is you do not have to format your SD card very often.
What is the product for?
The product is used for capturing video and audio footage of the vehicle. It also provides GPS function and ensures the security and protection of your car. It is one of best dashcam like Apeman Dual Dashcam.
Who is the product for, and how helpful can it be?
Whether you drive a taxi, personal or family car, or if you are an Uber or Lyft driver, this product is specifically made with you in mind.
It ensures the 24-hour security and protection of your vehicle. It also provides quality video and audio footage that can be used as evidence.
FAQ's Related too AQP Dual Dashcam
Does the product have a wide-angle camera?
Yes. The device comes with a wide-angle camera. It can also simultaneously record the exterior and interior scenery of your vehicle.
Are batteries included in the package?
Yes. The device uses a lithium-ion battery which is included in the package.
How to install it in a car
The AQP Dual Dashcam, 4K Single Front Camera 2560P, prides itself in ease of use, making it effortless to install. Follow the installation instructions on the owner's manual.
Pros
Excellent customer service
One year warranty
G-sensor
Parking monitoring feature
Wifi and GPs function
Mobile app
4K front
Records audio
Loop recording
Video compression preservation technology
Infrared Night vision
Cons
Lacks a supercapacitor
Lacks voice control
Conclusion
The AQP Dual Dashcam, 4K Single Front Camera 2560P is a fantastic camera with unique features. It provides you with loop recording and a G-sensor. You can be confident that your car is protected 24/7 as it has the capacity to record video footage even while your vehicle is turned off.
It also records audio footage, which is a feature lacking in its competitors. It uses advanced infrared night vision technology, so it can still provide you with helpful footage even in total darkness.
The device is sold for $174 on Amazon. If you are still doubting purchasing the device, you must know that 75% of customer reviews made on the product are positive ones. So you can be sure that the AQP Dual Dashcam, 4K Single Front Camera 2560P will meet your cam needs.