Apple carplay stereo make it easy for you to access a lot of your iPhone applications, music, in fact media system in general and even GPS navigation through your car dashboard.
This gadget does make your life easier when you're in your car and you might be looking to get one or replace one.
Your intention is definitely to choose the best in the market and as we all know, there are a lot of this car players available. However, we have done our in depth research to make your buying decision easy and we have our top 7 best apple car players listed. You can go ahead to choose whichever suits your driving style.
Sony XAV AX5000 7" Digital Multimedia Receiver
Sony XAV-AX5000 comes with a clean and user-friendly interface. Engineered with an in-built amplifier and it can be fitted in double-DIN dash openings. This device is compatible with most factory fitted steering wheel audio controls and CTA-2006 compliant.
It comes with 1-year warranty and 60-day money back guarantee from the manufacturer so you are covered in case of any disappointment.
This gadget integrates beautifully with Apple CarPlay and Android Auto to allow you access your media with easy-to-use icons and pages. Also, you might as well use your voice to make commands so your eyes stay on the road while driving.
In today's digital multimedia receiver market, this device from Sony carries one of the most beautiful and sharpest display screens at the moment.
Sony XAV-AX5000 comes with dual rear USB inputs, rear-view camera input and 5-channel pre-amplifier outputs (that is, 2-volt front, rear and subwoofer).
Its Apple car play allows you to access directions, make calls, send or receive messages and listen to music, making your driving safe by you focusing on the road.
The Android auto connect is compatible with your Android Device to help display applications on your vehicle's screen for you to enjoy instant access to maps, music or your phone book.
On its 6.95 inch touchscreen, you see and control everything ranging from maps, playlists and phones numbers to call, all with just a soft tap on the touch controls.
With the dual USB ports, you can enjoy your favorites from your music library while your phone handles directions.
Sony XAV-AX5000 is Sirius XM Radio satellite tuner compliant for you to enjoy commercial-free music, sports, news, and entertainment while driving. It also works with Pandora and Spotify control on iPhone and Android; it comes with a 10-band equalizer with digital time alignment.
Pros
1-year warranty from the manufacturer
Remote controlled
Compatible with factory steering wheel audio control
Packaged with rear-view reversing camera
Guaranteed money-back within 60-days of purchase if not satisfied
Cons
Its compatibility with factory steering wheel audio controls needs adapter support.
It must be connected via USB.
The screen may malfunction if gadget is not properly connected.


2.KENWOOD DMX 7706S 6.95" Digital
This is a Digital multimedia player with AM/FM tuner that does not play CDs but plays media loaded MP3, WMA, AAC, WAV, FLAC and DSD music files. It has 6.95 inches screen with resistive and clear touchscreen display. For the touchscreen operation, you can touch, tap, hold, swipe or flick to the left or right. The product weighs just over 4 pounds.
This device is engineered with in-built Bluetooth for hands-free calling and music streaming as well as a double-DIN (4 inch tall) dash openings.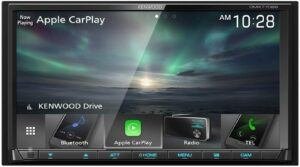 It is Apple CarPlay and Android Auto compatible as it displays and enables music selection, navigates and carries out other app-compatible functions using iPhone, voice command. You can also view your engine performance data displayed on the screen as you go.
This device features 13-band graphic equalizer, DSP digital time alignment, bass boost and loudness controls. It is engineered with expanded in-built iPod, iPad control and rapid Android charging via its USB port.
Furthermore, it shares compatibility with SiriusXM satellite radio tuner with rear USB inputs, rear analog A-V input (via its mini jack), 6-channel pre-amplifier outputs of 4-volts rear and front sub and a built-in amplifier of 22 watts RMS and 50 peaks by 4 channels.
Other distinct features include its customized ability to work with iDatalink Maestro as it retains factory features in a wide selection of cars
Pros
Displays car engine data on the screen
Easy to install
Features iDatalink Maestro for wide range selection
Very responsive touchscreen
Features in-built Bluetooth for hands-free calling and music streaming
Apple CarPlay compliant
SiriusXM satellite radio tuner compliant
Cons
Can only work with factory fitted steering wheel audio control if supported with adapter
Does not play CDs
Sometimes freezes and restart itself


3.Alphine iLX-W650 7"Mech-Less Receiver
Alpine iLX-W650 7 inch Mech-Less Receiver is compatible with Apple CarPlay and Android Auto. This is a digital media receiver that does not play compact discs but comes fitted with AM – FM tuner with Bluetooth compatibility.
It comes in shallow-mount chassis design of 2-7/16 inch deep and engineered with touchscreen swipe control which will be pair-able with the soon-to-be-released Alpine's KTA-450 power pack amplifier.
Its hands-free control lets you access apps using your voice, with it you can enjoy music apps like Pandora and Spotify. Fitted with USB port that accommodates various devices and thumb drives. It is designed to work perfectly with iPod, iPhone, and iPad control through USB. Other additional features include rear USB port, rear auxiliary input, 6-channel preamp outputs (4-volt front, rear, subwoofer) and two backup camera inputs.
Alphine iLX-W650 is compatible with most factory steering wheel audio controls if supported with an adapter, although it has an external microphone and in-built amplifier.
This gadget is simple to install and easy to use, its intuitive controls are quite responsive. You plug everything in, connect and set up your phone with a couple of clicks and everything just starts to work perfectly.
Pros
FLAC compatible
Compatible with SiriusXM satellite radio tuner (not included)
Features 7 inch capacitive touchscreen
CTA-2006 compliant
Simple to install and easy to use.
Siri Eyes Free Control compliant
Works with Google Assistant
Cons
SiriusXM satellite radio tuner not included
Has to be supported with an adapter before it can work with factory steering wheel audio control


4.BOSS Audio Apple Car Play
BOSS Audio apple CarPlay comes with a perfect audio streaming that is nicknamed 'audio protocol' of Bluetooth technology. This profile allows for audio to be streamed wirelessly from your compatible device – such as a Smartphone – to the source unit so that you can enjoy your favorite music or streaming music services such as Pandora or Spotify wirelessly.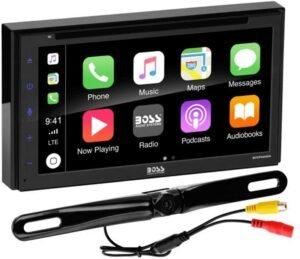 Boss Audio Apple CarPlay is engineered with Audio-Visual input which allows you to connect to the video and/or audio output of an external device so you can enjoy your audio and video content through your system.
This unit is built ideally for people who take their music with them digitally as it comes with no CD playing mechanism.
The BOSS Audio Apple CarPlay unit can play digital media files directly from SD Cards, USB Flash drives and connect with external devices such as your Smartphone thru the Aux input or via Audio Streaming device.
Its USB port will support a USB flash drive up to 32 GB and can be used for music playback as well as photo and video viewing (on source units equipped with a monitor).
You can communicate via the in-built microphone on most of its types (or through external microphone if provided) and listen out via your car's speakers.
This device comes with in-built preset equalizer that allows you to choose from preset EQ curves for a variety of music styles (POP, Classic, Surrounds etc) such that will suit your listening pleasure and preference any time.
It comes with ID3 Tag that allows the audio file to store and display additional data such as title, the artist of the music you play, the album, track number and much more. It also comes with multi-colour backlight illumination options.
The Boss comes with the Radio Broadcast Data System (RBDS) which delivers information on the radio display such as the Call Name of the station, Programming format and allows a broadcaster to send up to a 64-character message that could scroll things like sports scores, song titles, artist or album names, traffic and news across your radio's display.
Pros
It is built with Pre-amplifier outputs that allows for up to 3 additional system connection
You can receive radio broadcasts in either the US or Europe.
It is built to accommodate back-viewing camera input
Built with touchscreen panels that give access to the unit's control functions
Cons
Its Steering Wheel Control-compatible unit requires additional interface to work with
Can only be easily installed in standard double-din openings.
Additional cost of installation kits, wire harness and other aftermarket install accessories may be required depending on the vehicle.


5.Pioneer AVH 2400 NEX 7"
This unit of networked entertainment experience (NEX) line of receivers features an innovative and powerful new user-interface which is highly customizable and responsive. The NEX models are designed especially for today's smartphone driven lifestyle as it features Apple CarPlay, a safer and smarter way to connect and use your iPhone in your car wherever you go.
This Apple CarPlay gives iPhone users an incredibly intuitive way to make calls, use maps, listen to music, and access messages with just a word or touch. The intuitive interface is formatted and designed specifically for safer in-vehicle operation.
The AVH-2400NEX also features an extended Android platform of Android Auto into your car's audio and visual cuisine to automatically deliver useful information which it organizes into simple cards that appear just when they are needed.
It is designed to minimize distraction so you can stay focused on the road ahead. However, Android Auto is compatible with 5.0 Android phones which is not universally available.
With AVH-2400NEX, you will experience control of compatible apps directly on your dash when connected to an iPhone 5, newer versions of the iPhone or any compatible Android smartphone with the correct interface cable and loaded with Pioneer's free AppRadio application to enjoy full on-screen access and control of your contacts, calendar, maps, and lots more!
It is designed to enable you stay safe and obedient to local hands-free laws with its in-built Bluetooth (HFP). Pair easily with a Bluetooth-enabled phone to the AVH-2400NEX without having to go through complicated settings.
When a registered Bluetooth device is in proximity to the receiver, the auto connection function automatically pairs the two units.
From hands-free calling, wireless audio streaming (A2DP) with artist, album, and song search, simple pairing, and control audio (AVRCP), Bluetooth wireless technology has made life on the wheels much more convenient.
The AVH-2400NEX with Bluetooth also includes better call quality reception using the new Wideband Speech Handsfree Profile 1.6 to nearly doubled the bandwidth of the frequency enhancing the call quality similar to FM reception.
IPhone users can take advantage of Siri Eyes Free functionality. With a simple touch of the NEX touchscreen, Siri starts listening through the NEX unit's external microphone and answers your questions and requests over the vehicle's speakers, helping you keep your eyes on the road and your hands on the wheel.
Its Wi-Fi certified Miracast provides additional wireless connectivity, enabling seamless display of multimedia content between compatible devices and the Pioneer receiver. Whichever way you choose, connecting to an iPhone device using either a wireless connection or a wired USB, connection is simplified.
Also, you get a dual back up camera input which enables you to add reverse and front facing cameras that can assist with front and rear visibility while towing or parking. AVH-W4400NEX is Pandora supported
*Pandora is a personalized internet radio that is designed to help you discover new music while having access to your favorite ones.
The AVH-2400NEX is Sirius XM-Ready for you to get over 140 channels, including commercial-free music plus the best sports, live events, comedy, news, exclusive talks and entertainment.
You can receive SiriusXM programming through the SiriusXM Connect Vehicle Tuner (sold separately and subscribed to SiriusXM).
Simply connect the SiriusXM SXV300 tuner to the Pioneer receiver and amazingly receive additional features like TuneMix, SportsFlash and Traffic and Weather Now.
Pros
It is compatible with Apple iOS as well as Android devices that support the Bluetooth Serial Port Profile (SPP).
Siri Compliant
It offers Bluetooth supported hands-free calling, music streaming and so on.
AVH-2400NEX comes with personalized Pandora internet radio
AVH-W4400NEX comes with WiFi-certified Miracast
Cons
Android Auto is compatible with 5.0 Android phones which is not universally available.
The SiriusXM is sold separately and additional subscription to it is required.


6.Sony XAV–AX 1000
Sony XAV-AX1000 comes compactly in 6.2″ (about 15.7 cm) with Apple CarPlay Media Receiver and Bluetooth device. Just install it in your car and enjoy an intuitive and simple control for every journey with a responsive 15.7-cm diagonal touchscreen display that wakes up two and a half times faster than previous models with powerful Apple CarPlay connectivity.
Apple CarPlay makes for a smarter driving with intelligent voice control while you drive. It is easy for you to navigate, communicate and play music on the road by just connecting your iPhone to the XAV-AX1000 to see everything you need on the large touchscreen. This device serves as your personal navigator by showing directions in real time without ever taking your hands off the wheel. Better and easy way to navigate to your destination or search for stopovers mid-journey. With Sony XAV-AX1000 6.2", everything you need is a quick tap-away thanks to the sheer size of its full-colour, clear and responsive touchscreen which we mentioned earlier.
Its ergonomic rotary dial makes operation distraction-free. Turn it to control volume, or push the integrated button to launch sound control menus or alternatively, hold the button to use voice commands.
It is engineered with rear-view camera input which allows you to feed its view through the screen, along with customizable guidelines that help you reverse with ease. The multiple customization option of the gadget allows you to adapt the audio experience to your liking. With the in-built 4 x 55 W amplification, music sounds detailed and clear even at high volumes.
It is easily installed with a compact rear chassis- notwithstanding its double-DIN display. The rear chassis is far smaller than conventional double-DIN units. This makes for much easier installation and leaves plenty room for cabling and other accessories in the space behind the display.
Pros
It can serve as your personal navigation instructor
Voice control with Apple CarPlay
Built with ready rear-viewing camera for easy parking
Activation is super fast
Rotary volume for easy operation
It allows for smartphone integration with voice control
Large and clear touchscreen
Smarter driving with intelligent voice control
Cons
It just comes with the back up camera input not the device
Too many functions will have adverse effect on the car's battery


7.SONY XAV-AX8000 1DIN car play
This is a bigger display with full smartphone connectivity and comes in a single DIN installation. This display seamless hovers on your dashboard and works in a single Din space as you can adjust its sturdy mount in 3 dimensional ways to suit your taste and preferred installation direction if your vehicle has the wide space for this action.
Sony XAV-8000 delivers safer and easier driving experience to you with the updated technology support for smartphones and other multimedia devices.
This gadget comes with massive anti-glare 8.95" touchscreen display to offer more intuitive and safer control over music playback and smartphone functions. Connect your compatible Apple or Android smartphone to get directions, stream music and more.
This unit offers you smarter driving with intelligent voice control by connecting your smartphone to the XAV-AX8000 media receiver and speak through the supplied microphone. Voice control makes it safer and easier than ever to navigate, communicate and play music on the road.
It is easy to access your iPhone features that you know and love just by talking to Siri while its fitted Apple CarPlay enables you access to music, maps, phone book and calls as well as messages under your perfect control.
You can use voice commands to dictate messages, take phone calls or get help from Google maps or even control music playback just by talking.
It is engineered to work well with WebLink Cast6, a lightweight app delivery platform designed especially for in-vehicle use. Using the Android or iOS device connection, it is now possible for you to mirror your smartphone screen right on the XAV-AX8000 display, for reliable, responsive infotainment anytime on the road.
You can get directions in real time without ever taking your hands off the wheel and easily navigate to your destination or search for stops mid-journey.
You can also use Google maps to get directions and traffic updates whenever you need them by just telling Siri where you're going, and it will give you real-time directions as you drive on.
Pros
Voice Control with Android Auto
SiriusXM compliant
Compatibly works with your Smartphone, iPhone and iPad
It is WebLink Cast6 compatible
Packaged with Google maps to give directions and traffic updates
Cons
To be fully operational, additional devices may be needed to enjoy most of the multimedia supports.