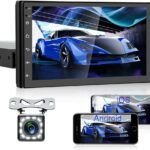 These days, a lot of Android car stereo devices are available everywhere in the market but acquiring one that suits your style and has good quality might prove to be a challenge. Are you in need of a car stereo that is both innovative and elegant?
Does your driving experience come off as bland or boring and you need something to improve the experience as you drive?
The AMPrime SingleDin Car Stereo with Bluetooth which you'll learn more about in this AMPrime SingleDin Car Stereo review might just be the device you're looking for.
Over time, AMPRIME has developed diverse types of  car stereo which makes the Android 9.0 single version an excellent product for improved listening experience.
Sold at a market price of $109.99, it is quite affordable for it's value and can be gotten at most electronic store or any popular online store.
Product Review
The AMPrime Android 9.0 Single Din Car Stereo is an advanced car stereo device which is bluetooth enabled.
With it's 7 inch screen and 1024 x 600 super high definition display resolution, the device is conspicuous and clear, saving you the trouble of straining your eyes.
The device comes with a 1GB RAM device operating speed and a 16gb storage space to ensure smooth sliding operating without glitch.
Accompanied with its touch screen feature, the AMPRIME single din stereo also supports steering wheel control buttons making it easier for you to control the device while you focus on the road.
Its two-way connection module allows you to connect your smartphone to the device as it is both bluetooth enabled and Wi-Fi enabled which allows you to enjoy hands-free calls as you drive.
The product also comes with a built-in microphone that enhances every call as you can speak comfortably from your seat.
Additionally, the device has an inbuilt GPS application named "here we go" where you can manually download different maps to navigate easily to your destination.
The AMPrime car stereo also supports android from version 4.0 – 8.0 two-way connection and IOS 5s – 8s one-way projection.
Furthermore, AMPrime has a mirror feature as it is connected to the a rear camera which displays images on the screen of the rear part of your vehicle when you are parking and switches to radio mode automatically when you finish parking.
This device also comes with diverse language supported feature as it can operate on over 40 different languages such as Chinese, English, French, Italian, Korean, Japanese, Arabic, Spanish, Portuguese, Russian, Turkish, Vietnamese, Hebrew, Polish, Germa, etc.
What is Product For?
The AMPrime 9.0 Single Din is an advanced android car stereo designed to enhance your driving experience with its multiple amazing features making it a source of entertainment, direction etc.
Who is Product for and How is it helpful?
The AMPrime Single Din Stereo multiple features makes it outstanding in terms of class, support and style.
This car radio supports MP5 video, high-quality format and lossless music playback, operating like a mobile phone.
Sold at a market price of $109.99, the device is quite affordable. The device is for every driver in need of an advanced car stereo device.
FAQ's Related too AMPrime Android 9.0 Single Din Car Stereo with Bluetooth
Can I connect the car stereo to an amplifier?
Yes, the device can be connected to a car amplifier through the various connection modules.
 Does the device support road navigation?
Yes. The AMPrime Android 9.0 Single Din Car Stereo with Bluetooth has an inbuilt GPS application.
How can I install this device on my car?
Please read the manual and follow the instructions carefully.
How to Install it on a Car
The installation procedure can be quite tasking if you are not familiar with installing car stereo devices. Connecting the stereo, antenna and rear camera requires a bit of expertise.
Read the manual and follow the instructions carefully to install this device.
Pros
Rear camera
Steering wheel control
FM receiver
GPS navigation
Bluetooth enabled
Easily to control
Wi-Fi enabled
Recording function
Comparatively affordable.
Voice search
Cons
Device controls are quite difficult to operate.
Conclusion
The AMPrime Android 9.0 Single Din Car Stereo with Bluetooth is a unique type of radio stereo with superb features. Weighing an average of 2.7 pounds, its weight allows it to hold firmly when attached.
It's voice search feature allows you to give commands when driving without getting distracted.
The device embodies multiple features and programs to heighten your driving experience.
The AMPrime stereo is worth the purchase if it suits your driving needs.
We hope you found our AMPrime Android 9.0 Single Din Car Stereo review interestingly helpful. If you have a comment or question, leave it in the box below. We will be glad to hear from you.