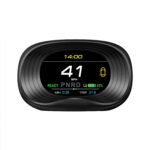 Maintaining eye contact with the road is important when driving. A lot can happen in the two seconds you take your eyes off to stare at your dashboard, and this could even be fatal. To ensure the safety of drivers, the heads-up display was invented.The Acecar Tesla HUD was specially created for Tesla cars
HUD is a device that displays data of your driving status on your front windshield while you drive. Data such as speed, water temperature, and RPM are displayed, allowing you to monitor your performance and vehicle's status without getting distract. Vsctool HUD with GPS is best for other cars.
It reveals the Speed Per Hour, Battery Power, the Speed limit on the current road, etc.
Acecar Tesla HUD Review
The Acecar Tesla HUD is sold for $599.99 on Amazon and is available on popular retail electronic stores.
Its GPS allows it to read and reveal the vehicle's speed per hour, current date and time, altitude, driving distance and direction, longitude and latitude, etc.
The device also comes with a clear display feature that enhances high clearness projector to eliminate unnecessary reflections and makes the displayed information sharper both in the daytime and at night.
Its multi-color feature also enables displayed data to appear more vivid and you can adjust the brightness to your preference.
Additionally, its ODB system full-on read mode allows the device to read and display over hundred data from your vehicle. Data such as speed per hour, battery status, vehicle's gear, speed limit, latitude, longitude, turn signal, mileage range, energy meter, corner shows, near the beam, high beam, etc.
So you don't have to worry about your vehicle breaking down or you faulting speed limits on different roads as you drive as you're constantly updated on the current status of your car and environment as you drive on.
The Acecar Tesla Heads Up Display protects you from losing focus when driving by taking a look at your dashboard. Specifically designed for Tesla cars, the device is an advanced version of the regular heads-up display devices.
Its interference display makes display data come out clearer as its brightness automatically adjusts to the light conditions around. The device also comes in multiple colors so you can pick any one that suits your car color.
Additionally, the device supports multiple languages so you can adjust it to display data in any language you're most conversant with.
The Acecar Tesla Heads up display is build in a simple but classic design that makes it stand out.
What is Product For?
The Acecar Tesla HUD is especially engineering for Tesla cars for monitoring car speed, distance covered, water temperature, and current date and time.
It is for assisting drivers to keep the focus on the road and monitor data at the same time to avoid distraction while driving.
Coupled with its superb features and classy design, the device is ideal for everyone who drives a Tesla car. Lufi XF is also one of best HUD
Who is Device for and How is it Helpful?
Acecar Tesla's heads-up device is more of a safety gadget for all Tesla owners, as it allows you to concentrate on the road and monitor data while you're driving.
Its advanced features make it worth the price to most drivers
FAQ's Related to Acecar Tesla's HUD:
● What is the installation procedure for this device?
The installation procedure can be quite complicate. Please, read the manual and follow the instructions carefully.
● Does it permit the plug and play function?
No, this device does not accept plug-and-play.
● Would this device function on car models besides Tesla cars?
No, the Acecar Tesla heads-up display was specifically build for Tesla cars only.
Pros
● Quality service
● Clear display
● Sleek design
● Artistic design
● User friendly
● Multiple superb features
Cons
● Expensive
● Tesla cars specific-only
● Difficult installation process
Conclusion
With very clear display features and advanced qualities like latitude and longitude, current date, and time, the Acecar Tesla HUD stands out in the world of head-up display devices.
It has distinctive functions that keep you updated as you drive. Its design may not also suit many drivers' tastes, especially if you don't own a Tesla.
Sold at a market value of $599.99, this device is quite expensive making it out of reach for most drivers who are working with a budget.
Although installing the heads-up display device might be challenging and might require professional assistance, it is worth the trouble when connected.